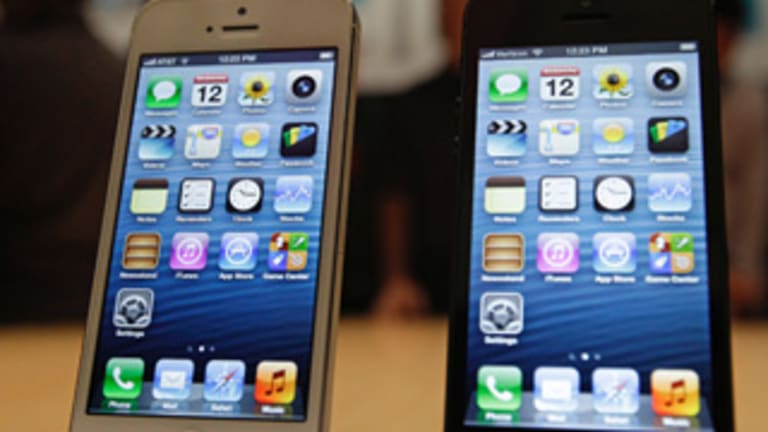 Apple's Problem in One Chart
Apple makes phenomenal products but its stock is flat because it hit the top of the S-curve.
NEW YORK (TheStreet) -- The former analyst and newly announced venture capitalist, Benedict Evans, had the tweet of the night in assessing Apple's (AAPL) - Get Apple Inc. Report latest earnings results Monday night.
Here's his tweet, Apple growth question in one image.
It shows Apple's trailing 12-month revenues in billions. And what it shows is that it has hit the top of the S curve. It's mature market time, even though we all think of the smart phone market as new and dynamic.
Horace Dediu also had an interesting visual image in his roundup of Apple's earnings.
Note the bottom left graphic which shows how iPhone's revenue contributions have exploded over the last four years for Apple from a relatively small amount to a juggernaut.
For Apple's stock to start growing again, it has to fix the Ben Evans flat line of the S-curve problem. Of course, as everyone has been talking about, that will take new products. But new products alone which aren't blockbusters will still make it tough for Apple to keep boosting its stock price.
And heaven forbid if the new Apple products are duds. That flat line may even be at risk of contracting if that happens.
And don't think that a stock buyback is a panacea here for Apple. We saw Microsoft (MSFT) - Get Microsoft Corporation Report do a one-time dividend which was a dud and then followed that up with steady stock buybacks. Yet the stock went down for more than a decade. Why? Investors didn't care about the steady revenue increases every year. They wanted to be dazzled with supernova growth.
Apple right now needs supernova new product growth. I didn't say new product growth. I said supernova new product growth.
Will it be TV? Will it be a watch? Will it be payments? Will it be a phone with a larger screen? It's really hard to say today until we actually see them.
However, to move up from these levels, Apple needs to keep selling all its existing stuff at at least the same pace and then add meaningful new revenue streams. Incremental growth -- even if it's adding new iPhone sales through China Mobile (CHL) - Get China Mobile Ltd. Report or NTT DoCoMo (DCM) for example -- just won't do, from a stock price perspective.
It's still quite possible that Apple can surprise us here to the upside, but when you look at Ben Evans' chart and you think about the sheer size of what Apple sells today, it's no slam dunk to just whip up a few new multi-billion products.
At the time of publication the author had no position in any of the stocks mentioned.
This article was written by an independent contributor, separate from TheStreet's regular news coverage.