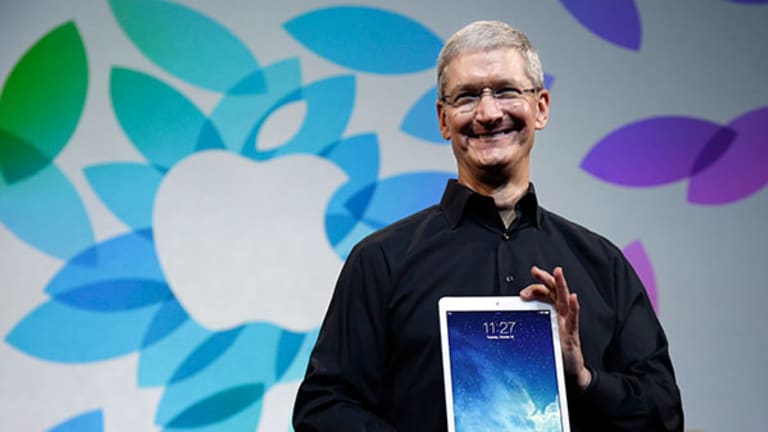 Apple's Plan to Destroy Microsoft
With a free OS and improved software products, Apple will do to Windows what it did to BlackBerry.
NEW YORK (TheStreet) -- Before I justify the seemingly wacky and zany headline to this story, I need to, in the spirit of full disclosure and total honesty, admit to being wrong. That is, before I brag about being so very right.
Earlier this month, I started writing the present article under its original title:
Final Nail Meet
Microsoft's
(MSFT)
Coffin
. I had planned to give a nod to an article I saw over at
, "
Apple
(AAPL)
Eyes 13-Inch iPad Hybrid?"
On some level, the notion that Apple would take the concept of Microsoft's Surface tablet and do it right sounded feasible to me. However, Tim Cook shot that idea down at
Wednesday's iPad (and a whole lot more) event
. Cook might be head faking, but, really, it doesn't matter much; he's still set on effectively putting Microsoft out of business.
For about a year now, I have been piecing the puzzle together. The ingredients that define Apple's software strategy as it relates to its hardware dominance and its developing plans to obliterate Microsoft much the same way it did
the artist formerly known as RIM
,
BlackBerry
undefined
.
Looking at Apple from afar you must attempt to thoughtfully connect the dots, knowing full well that the company -- at least at its highest levels -- sees the big picture. After all, they're the ones who devise it, not us.
Apple Puts the Final Nail in Microsoft's Coffin
On Oct. 30, 2012, to a chorus of laughs and claims I was drinking the Apple Kool-Aid, I published
Yes, Apple Can Kill Microsoft Office
. In it, I considered (and advocated) the possibility that Apple would up its game
vis-a-vis
its iWork productivity software suite to crush Microsoft not only in the consumer space, but in enterprise, the way it did with BlackBerry in hardware:
Despite protests from IT and software nerds, there's no reason why the same exact thing (Apple did to the BlackBerry) can't happen (with) Office ...
The only real advantage Microsoft and the whole Windows platform has in this new market that blends business and pleasure is the comfort of the status quo and Office.
Apple broke the BlackBerry habit ...
If you're not at least taste-testing the Apple Kool-Aid, you probably need to start studying history. It's littered with once-living, now-deceased unfortunate assumptions about the why and how of tech.
iWork in every cubicle across America sounds kind of silly today. I give you that. But it's no more silly than predicting the demise of the CrackBerry obsession ...
With several other articles fleshing out the same theme in between, I published
Apple Killed Microsoft: The Media Buried the Lede
on September 11, 2013:
I'm not sure Steve Ballmer realizes just how big this is. But he'd better take a look, because there was a time when the demise of the BlackBerry sounded like a crazy prediction.
Apple will offer iWork, its productivity suite, free to buyers of all new iPhones and iPads. And don't be surprised if Apple keeps upping the ante, particularly by making Pages (its version of MS Word), Numbers (Excel) and Keynote (Power Point) better and better across platforms.
That's from the Apple event where we all focused on the new iPhones. Now, at Wednesday's event, while we were all hyper-attentive to the new iPads (and they do look fantastic), Apple further drove the stake into Microsoft's wounded heart.
Or, as
Fortune's
Dan Primack put it:
When I wrote the following in September, I had no idea just how far Apple would take the strategy I have been outlining for the past year:
Apple doesn't need to profit on iWork. It just needs to make iWork so good and so accessible, that it eliminates the one remaining factor that differentiates Microsoft from Apple, and keeps millions of individuals and businesses hooked on PCs they're hardly excited about being forced to buy.
In far fewer than 140 characters,
TheStreet's
Tech Editor Chris Ciaccia said it best:
Not to mention the fact that, on Wednesday, Apple announced and released its first major iWork refresh
. And, oh by the way, the software is now free in both desktop and mobile environments. Actually, to get free iWork (as well as iLife software) on a Mac you'll need to be running OS X Mavericks, which, Apple is now offering at no cost.
As I have argued, Apple is a hardware company, meaning Apple makes its money, its profit and its margin off of hardware. Software helps drive these otherworldly metrics, but Apple does not conceive platforms such as Mavericks, iOS 7 and all that they contain to generate direct revenue. Instead, they drive sales of iPhones, iPads, MacBooks and Mac desktops.
Apple murdered a deaf, dumb and blind BlackBerry as employees insisted to lackeys in IT departments they wanted to BYOD (bring your own device). In other words, people got tired of carrying two devices -- one for work and one for personal use. RIM management had no idea what was going on, while the company's mindless bulls cited security as BlackBerry's advantage.
We know what happened there.
Now, the same type of narrative continues to play itself out with relation to Microsoft and Windows.
Apple has already made considerable inroads with iPhones and iPads in the enterprise (as well as education markets). It's not going to be all that difficult for Apple salespeople to convince companies, particularly those with the types of employees who use Apple products -- from mobile devices to Macs -- to ditch Microsoft and the attendant junk for premium Apple hardware and FREE Apple software. Why would any company in its right mind pay another fee to license Windows when it can switch to a superior operating system at no cost and, as they did with their workers' mobile devices of choice, come into line on the laptop and desktop?
Poke fun, but check yourself.
Microsoft will make the same mistake BlackBerry did. It will not take this Apple threat seriously. But, even if it does, it won't matter. There's no way -- barring some sort of miracle (like Steve Jobs rises from the dead and replaces Steve Ballmer as MSFT CEO) -- Microsoft can regroup to fend off a salvo Apple started tossing months and months ago. Like Jim Balsillie and Mike Lazaridis, Ballmer and his crew didn't see it coming. Now it's simply too late to do much about it other than your best to mitigate the inevitable damage.
--
Written by Rocco Pendola in Santa Monica, Calif.
Rocco Pendola is a columnist and
TheStreet's
Director of Social Media. Pendola makes frequent appearances on national television networks such as
CNN
and
CNBC
as well as
TheStreet TV
. Whenever possible, Pendola uses hockey, Springsteen or Southern California references in his work. He lives in Santa Monica.