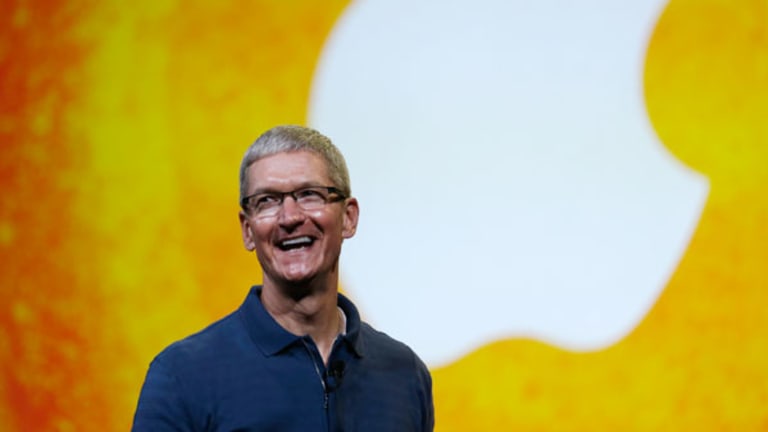 Why Apple Should Buy Netflix
With Netflix's market cap right around $22 billion, an offer at a 30% premium to Netflix's Tuesday closing price would get this deal done.
NEW YORK (TheStreet) -- "Content is king" is now the prevailing mantra in subscription businesses. Investors will casually remind you whenever they need to feel good about their positions.
But they forget that there's no content without money. And very few companies can stack their wallet side by side with Apple's (AAPL) - Get Apple Inc. Report and feel confident.
To that end, while Netflix (NFLX) - Get Netflix, Inc. Report does have a strong content library, the stock has traded as if that library is filled with history books. Investors have begun to wonder if there's a future. Netflix stock closed down 2.13% Tuesday at $370.84. Although the stock is up roughly 1% on the year, shares have plummeted 13% in two days. Investors aren't wasting time.
Read: Microsoft's BlackBerry-like Collapse Is Already Happening
Apple reportedly is in talks with Comcast (CMCSA) - Get Comcast Corporation Class A Report, the nation's largest cable provider, to reinvent the way consumers watch television. Reports suggest that both companies are negotiating terms on a joint streaming-television service using an Apple's set-top box, currently known as Apple TV. In return, Apple wants "special treatment" on Comcast's public lines.
Apple seeks assurances from Comcast that there will be no congestion. For this to be possible, Apple would need an exclusive line that allows it to bypass the "last mile" congestion, or the part of the transmission that reaches the customer.
Apple plans to allow users to stream live and on-demand programming stored in "cloud" servers. If this deal does go through, Apple would have already been successful at re-inventing collaborative efforts between "old media" and a tech power. But there's something else that needs "re-inventing," according to Tim Cook, Apple's CEO.
Read: Here's Why Pandora's Crashing
With investor fear rising about Netflix losing a substantial portion of its customer base, Cook should go after Netflix now and use its offer with Comcast as leverage. If Apple is successful at improving viewer engagement, Netflix may see a mass exodus of its customers.
Netflix has begun to model itself after HBO by offering original programming, an added benefit and an extra stickiness factor to the service. But Netflix has had issues with rising content costs. With the success of iTunes, Apple has already shown how well it can monetize content. No one does it better. And Netflix's content is its strength.
If Apple is in position to receive exclusive line access from Comcast, Apple -- if it so choose -- can squeeze out Netflix by reducing its costs. Netflix is already paying a significant amount of money to upgrade the quality of its public line from Comcast after Netflix customers complained of poor reception.
Tim Cook is paying attention. To ensure that he hits a homerun within the living room, he has to make an offer for Netflix. Acquiring Netflix will also usher the "new Apple" that Tim Cook desperately wants to evolve. Whenever acquisition rumors surface, we've become familiar with the standard line of how Apple "only buys small companies."
Read: Apple's Plan to Conquer Sirius XM
Tim Cook can announce his presence with authority by landing Netflix. But it's not just about vanity. Apple needs Netflix and its 44 million subscribers. With Netflix projecting to growth subscribers by another 3.85 million in 2014, Apple would acquired close to 48 million viewers worldwide.
With Netflix's market cap right around $22 billion, an offer for $28 billion, or 30% premium to Netflix's Tuesday closing price would get this deal done. And to think, it would take just 17% of Apple's cash to pick off Netflix, the most dominant name in the streaming business that still has years of member growth ahead.
At the same time, Apple would keep Netflix away from Google (GOOG) - Get Alphabet Inc. Class C Report, Microsoft (MSFT) - Get Microsoft Corporation Report and Facebook (FB) - Get Meta Platforms Inc. Class A Report. Last but not least, Tim Cook would have (once and for all) shut a lot of people up. If that's not a homerun deal I don't know what is.
At the time of publication, the author was long AAPL and held no position in any of the stocks mentioned.
This article represents the opinion of a contributor and not necessarily that of TheStreet or its editorial staff.