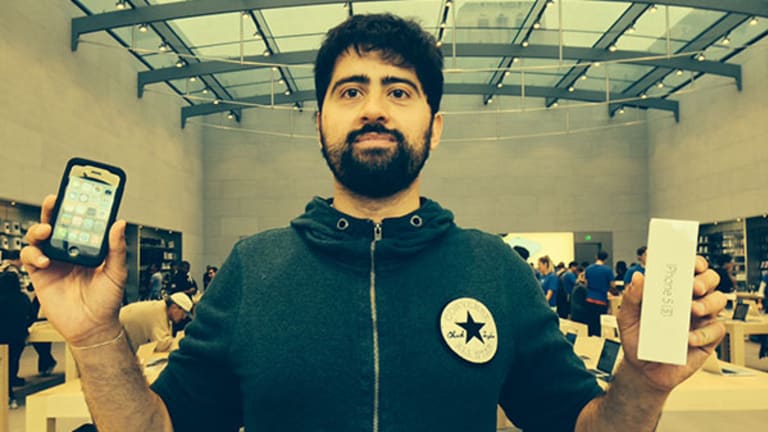 Apple's Next Major Acquisition After Beats
Nobody has connected the dots between a company Beats recently acquired and what could be part of Apple's future ambitions. Until now ...
NEW YORK (TheStreet) -- If Apple (AAPL) - Get Apple Inc. (AAPL) Report stops at Beats I'd be disappointed.
While I'm opposed to a growth by M&A strategy at Apple, that was because the names people kept throwing out -- everybody from Netflix (NFLX) - Get Netflix, Inc. (NFLX) Report to Yahoo! (YHOO) -- had no rational basis behind them.
But pursuant to the trajectory I tunnel in Monday morning's The Two Most Important Outcomes of the Apple, Beats Deal Nobody's Talking About, we can finally have sensible Apple-related M&A discourse.
Consider Apple emerging as not merely the streaming radio leader, but the pioneer of using music-related data to partner with and help create massive amounts of revenue for itself as well as the music industrial complex. That strategy absolutely has to include the live concert. Because that's where so many acts make their money now. And the surface -- with respect to using data to improve touring and generate cash beyond royalties -- has only been scratched.
Apple and Beats, which includes the super important, but -- as of yet -- only mentioned by meTopspin Media, could go about it in myriad ways. Here I touch on two possibilities.
Small Scale (For Now)
Ticketfly. It was a no-brainer acquisition for Pandora (P) , but they dropped the ball. So it makes perfect sense for Apple to step in.
This page tells you much of what you need to know about Ticketfly. But they're a San Francisco-based startup co-founded by the guy who created the old TicketWeb (purchased by Ticketmaster in 2000). That "guy," Andrew Dreskin, sold the first ticket on the Internet in 1995. He joined Ticketmaster for a while after the TicketWeb buyout. Several years after he left, he started Ticketfly.
Confusing with all of the "ticket" wordplay, yes. But all you need to know is that Ticketfly's coming for Ticketmaster. And they're coming hard.  
The data Ticketfly collects pairs perfectly with the data, say, Pandora collects. But, like I said, Pandora appears to have failed to move on that acquisition turning it into a no brainer for Apple and Beats.
Apple. Beats. Topspin. Ticketfly. There's really not much more to say. Between my recent articles on the Apple/Beats thing and the links I provide in this article with more info on Topspin and Ticketfly, it's impossible to not be able to connect the dots on the genius of the Apple/Beats deal and what could come of it if Apple decides to take it several steps further. (Impossible, unless of course, you're a tech or financial media journalist! And count on these guys to, suddenly, start mentioning Topspin as if it was an original thought).
Large Scale
Live Nation Entertainment (LYV) - Get Live Nation Entertainment, Inc. (LYV) Report. This is likely a bit of a stretch simply because there's too much baggage that comes along with Live Nation. Plus, it would be more Apple-like and I think Beats-like to absorb the startup with pluck and superior strategy and technology than it would be to buy a hated and laggard behemoth. But it's worth throwing out there just to keep the trajectory of thought complete. Plus, a big obstacle Ticketfly faces is Live Nation's (obviously) tight relationship with so many key venues. 
If there was a way for Apple to get a Live Nation and Ticketfly deal past regulators (maybe it wouldn't be that difficult?) that could be ideal. You would have the ultimate and most dominant integration across everything that matters for digital music industry dominance.
Or, maybe scratch all of the above ... and Apple, led by Jimmy Iovine, buys up a major and/or a few indies and/or starts its own record label.
Donnu. I like the thinking behind any and all for the aforementioned acquisition strategies. Within each scenario, Apple unleashes the power of data to leverage the marketing power of music like it's never been unleashed and leveraged before. It's a massive opportunity just waiting for somebody to seize. It seems to me that that's exactly what the Beats Music founders and their CEO, Ian Rogers, have wanted to do all along.
If not them, who? Sure as hell ain't going to be Pandora. If not now, when? If not at all, even after Apple/Beats, then you really have to ask yourself why. 
Wait ... I think I was looking for these words, courtesy of Rage Against The Machine: 
It has to start somewhere It has to start sometime
What better place than here, what better time than now?
Follow me? I think you do.
--Written by Rocco Pendola in Santa Monica, Calif.
Rocco Pendola is a full-time columnist for
TheStreet
. He lives in Santa Monica. Disclosure: TheStreet's editorial policy prohibits staff editors, reporters and analysts from holding positions in any individual stocks.