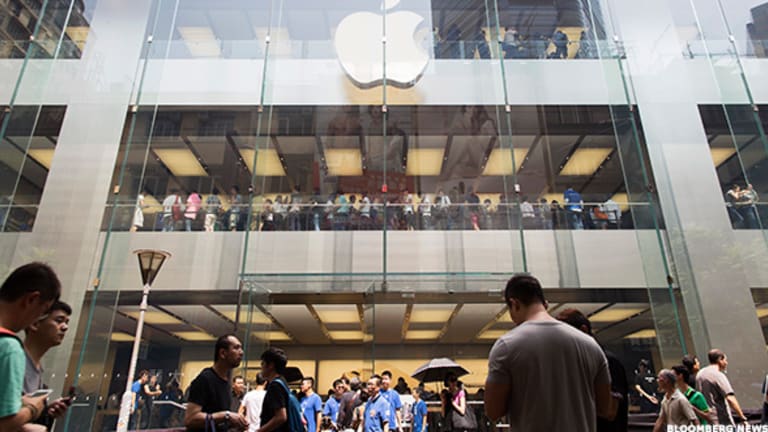 Apple's Expected Music Streaming Service Could Find Its Match in Pandora
Apple's well-deserved reputation to come into a new category and blow out the established players could come to an end if it attempts to take on Pandora's music streaming service.
NEW YORK (TheStreet) -- Apple's (AAPL) - Get Apple Inc. Report established position as a music store and its legions of customers are unlikely to help the company roll over the competition whenever it decides to introduce another music streaming service, analysts said in response to published reports Thursday that Apple is preparing to launch such a service.
Industry analysts see several roadblocks that could hinder Apple's progress in this market, first and foremost that it is a latecomer and will have to battle against the likes of Pandora (P) and Spotify. At the same time, analysts noted that Apple's reputation for entering and then dominating an established business category cannot be left out of the equation.
"Whenever Apple does anything you have to take notice," said Paul Verna, a senior analyst with research firm eMarketer. "I do think Pandora has established leadership in this space and that Apple will have a hard time threatening that position. So it is not a slam dunk for them."
Pandora's stock fell 0.19% to close at $15.82.
Despite potentially put in the ring with a company known for taking down established players in a given category, Pandora believes it is working from a position of strength.
"We believe we've cracked the code on providing the best lean-back listening experience ever created, and the loyalty of our listeners is unmatched and only continues to grow. And we've done this by assembling the greatest combination of music, people, and technology ever," said Pandora CEO Brian McAndrews at a recent investors meeting.
In the past when Apple entered a new category, it could always count on its legions of customers to quickly make whatever new product it was offering a top seller. But, this is not necessarily the case in the streaming music business, said Michael Inouye, a senior analyst at ABI Research.
"With a device, it's an image thing. People want to be seen with it. With a service, it is a behind the scenes thing and not as apparent to everyone else," he said.
The inability to make an Apple streaming service a fashion item means there is less reason for established Pandora users to make a switch, particularly since many of these folks already have long-established music lists, Inouye said.
Apple will have to launch something either radically different, or at a much lower price, in order to encourage people to make the switch -- neither of which is likely, said Verna and Inouye.
Inouye said reports that Apple's subscription price is likely to match Pandora's takes away its primary weapon against Pandora. He also noted Apple Radio has not made any inroads with Pandora's radio service during the years that the companies have competed.
Apple has not established a timetable for its streaming music service, but published reports indicate Apple is moving forward with its digital music service to be headed up by Beats executives Trent Reznor of Nine Inch Nails, Jimmy Iovine and Dr. Dre.  Apple has not confirmed its plans, but the company did spend $3 billion to acquire Beats last year. And in January, Apple snatched up UK start up Semetric, the developer of the Musicmetric analytical tool.
Verna said the acquisition of Beats and its executive team is no guarantee of success for Apple.
"Dr. Dre and Iovine are smart and know the music business, but you can't just take your expertise in music marketing and move it over," Verna said.
This article is commentary by an independent contributor. At the time of publication, the author held no positions in the stocks mentioned.