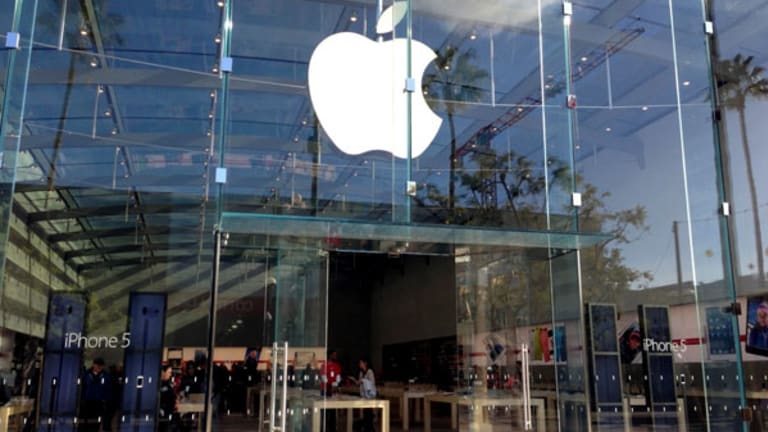 Apple's Million-Dollar-a-Day Retail Store (in Words and Pictures)
In retail, there's Apple, Amazon and then there's everybody else.
NEW YORK (TheStreet) -- Apple (AAPL) - Get Apple Inc. Report doesn't publish sales figures for its individual retail stores.
Anecdotally,
we know they're almost always packed
. And the little data we see supports that assumption.
Consider some numbers:
The now-old Apple Store on the Third Street Promenade in Santa Monica, Calif. (blocks from my humble abode) generated $352 million in sales in 2011. That's old news by now and -- cheesy reporter line alert -- for those keeping score at home, that's about $1 million in sales per day. We only know this because a local tax association posted some statistics. Just last month, we learned (thanks, Philip Elmer-DeWitt at Fortune) that Apple generated $6,050 in sales per square foot of retail space last year. Of course, that's No. 1; it blows away second place Tiffany & Co. (TIF) - Get Tiffany & Co. Report by more than $3,000. No other tech company made the top 10. In Apple's annual report, we learn that retail produced $18.8 billion in sales during the company's most recent fiscal four quarters, a 33% year-over-year increase. That's a relative pimple on the behind of Apple's total net sales of $156.5 billion. Average revenue per store in 2012: $51.5 million. Up 19% year-over-year and spread across 390 stores, 33 of which opened during the year (28 of those new stores opened outside of the U.S.).
These numbers make that $1 million per day number in Santa Monica even more astounding. I can only assume other stores in bigger cities (
) produce more revenue, but maybe not.
Either way, the average obviously gets weighed down by some relative underperformers in smaller cities and still-developing international markets. That's my guess at least. And, again, retail doesn't necessarily dominate Apple's sales statement. The figures the company reports in geographic segments such as the Americas ($57.5 billion) and Europe ($36.3 billion) do not include retail register rings.
All of this leads me to several obvious (and, depending on your perspective, scary) conclusions. But, first, a quick photo tour of the new Apple Store that replaces the $1 million-a-day location in Santa Monica. It's just down the street.
Architecturally, Apple modeled the new Santa Monica store after its property on Manhattan's Upper West Side.
Despite a way-too-annoying-and-complicated-Steve-Jobs-would-have-fired-the-sales-manager product-exchange hassle, it's a comfortable store. Incredibly light and airy.
The old Apple Store (the million-dollar-a-day location) always felt way too crowded, no matter the time of day or day of week. This one is so large it will likely never feel anywhere near that jam-packed. I'm not sure that's a good thing (large crowds can help drive demand), but, on the other hand, this gives customers the ability to tinker with products and schmooze employees a bit more.
Plus, it has a way-more progressive and funky feel to it than the old store. There's bike parking around back and it's difficult not to find a beautiful and unique vista given the combination of glass, the Apple logo, almost-always blue skies and palm trees.
Conclusion No. 1
: There's a massive opportunity in China.
Duh
, I know.
Conclusion No. 2
: The thought that Apple will aggressively challenge
Pandora
(P)
in the streaming radio space makes no sense. Why enter an incredibly expensive business (content costs, building local sales teams, etc.) for revenue that probably would not amount to what you make at one Southern California retail store anytime soon?
Conclusion No. 3
: And this backs up other recent articles,
Apple Loses If It Beats Itself
and
Apple, Amazon Down: Maybe the Stock Market is Rigged
. In retail there's Apple,
Amazon.com
(AMZN) - Get Amazon.com, Inc. Report
and everybody else.
There's a number out today that's equally as impressive, if not more so, than Apple's $1-million-a-day tally in Santa Monica. Amazon accepted an incredible 24.6 million visits to its Web site on Christmas Day, according to
.
Dig the remainder of the top five; it borders on comical:
Walmart (WMT) - Get Walmart Inc. Report: 7.4 million visits Target (TGT) - Get Target Corporation Report: 3.6 million Best Buy (BBY) - Get Best Buy Co., Inc. Report: 3.4 million Macy's (M) - Get Macy's Inc Report: 1.9 million
AAPL and AMZN are both down again Friday morning. Do I really need to say more? Stop the stock market insanity.
--Written by Rocco Pendola in Santa Monica, Calif.
Rocco Pendola is
TheStreet's
Director of Social Media. Pendola's daily contributions to
TheStreet
frequently appear on
CNBC
and at various top online properties, such as
Forbes
.