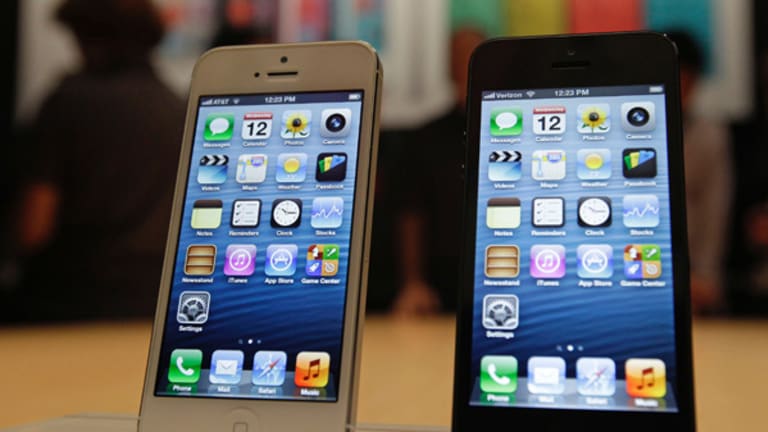 Apple's iPhone Will Become Legal Tender
Apple can grow its bottom line by turning the iPhone into currency.
Apple can grow its bottom line by turning the iPhone into currency.
NEW YORK (TheStreet) --Apple's (AAPL) - Get Report recent struggles in the realm of mobile devices may be temporary.
The competition from
Samsung
phones powered by
Google's
(GOOG) - Get Report
Android may have hurt Apple's profile as a tech power, but the next area for Apple to dominate could be your wallet.
There are too many growth capabilities in mobile payments for Apple to ignore.
EBay's
(EBAY) - Get Report
recent earnings report said that
PayPal's
revenue surged 18% year over year, demonstrating how viable a business this could be for Apple.
Apple's $145 billion cash hoard is constantly brought up in bear arguments. But imagine if Apple used its cash to turn its iPhone into currency -- a true mobile wallet.
Also see: How's Your iPhone? >>
Apple can, and it should. To that end, Apple should look to acquire a company like
, which offers a pocket-sized credit card reader that plugs into your device's audio jack. Square makes it easy for small businesses to accept credit cards without installing a high-fee terminal. Today, the company is estimated to process close to $5 million worth of daily mobile transactions, which makes Square a direct rival to PayPal.
Meanwhile, there's also
Intuit
(INTU) - Get Report
, which has a product called GoPayment that easily integrates with the company's popular accounting software Quickbooks. Intuit allows users to accept credit card payments using mobile devices such as iPhones and iPads.
Why wouldn't Apple, which has recently stated it is also a "services company," seek to capitalize on a growing trend? Meanwhile, eBay, which owns PayPal, the standard in person-to-person transactions, is already concerned about these sorts of threats. To that end, the company has been moving rapidly to shore up PayPal's mobile adoption. But is it too late?
Also see: Apple iPhone Rumor Mill Reaching Full Throttle >>
Although Apple is said to have reached an "innovative lull," Apple can once again dominate mobile devices and grow its cash by turning the iPhone into the "legal tender." If Apple realizes that the "new currency" can spur profitability, PayPal's reign as "cash king" just might be over. The question is, what will this mean for eBay, especially since PayPal now has double-digit revenue growth?
As strong as PayPal is, I don't think anyone ever thought it would threaten big credit card companies like
Visa
(V) - Get Report
and
Mastercard
(MA) - Get Report
. But Apple certainly can. According to sources, Apple's new iPhone, presumably to be called the iPhone 5S, will be equipped with fingerprint-scanning technology. This is precisely the sort of feature integration with the capability to push mobile payments/wallet further.
Besides, as I've written recently, Apple has already begun
with
Wal-Mart Stores
(WMT) - Get Report
.
Also see: Biggest Loser: My Fight Against Big Debt >>
It has now gotten to the point where some analysts are suggesting that Apple could actually be a
systems like
VeriFone
(PAY)
. Why would Apple avoid this?
Essentially, no longer will it matter whether Samsung or Google are winning the mobile device race. If Apple gets a cut of the transaction, Apple would profit each time someone chooses to buy a Galaxy S4 over an iPhone. Getting into mobile payments will be the surest way to believe Tim Cook, who recently proclaimed that Apple is a software company.
It's a no-brainer. It's worth asking, then, what sort of chance does PayPal really have in the long term, especially given Apple's mobile/app advantage? One has to consider that an encrypted iPhone armed with biometrics is as good as gold. Or in this case, cash.
At the time of publication, the author was long AAPL
.
Follow @saintssense
This article is commentary by an independent contributor, separate from TheStreet's regular news coverage.
Richard Saintvilus is a private investor with an information technology and engineering background and the founder and producer of the investor Web site
. He has been investing and trading for over 15 years. He employs conservative strategies in assessing equities and appraising value while minimizing downside risk. His decisions are based in part on management, growth prospects, return on equity and price-to-earnings as well as macroeconomic factors. He is an investor who seeks opportunities whether on the long or short side and believes in changing positions as information changes.