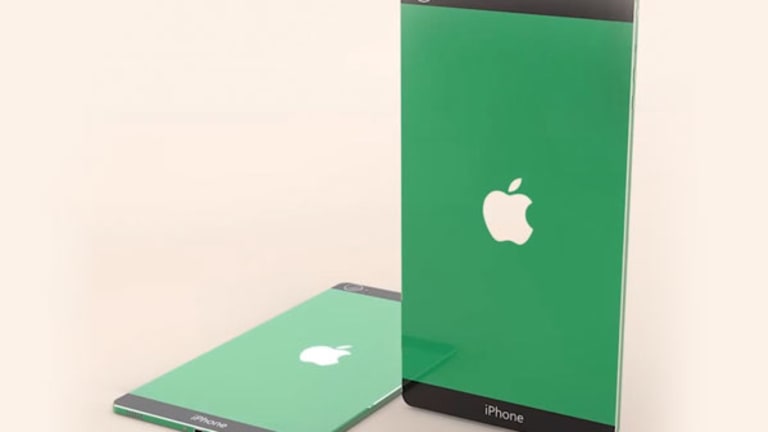 Apple's iPhone 6 Will Demolish Android (UPDATED)
Tim Cook's not rushing a larger screen iPhone. This provides reason to be optimistic about Apple.
UPDATED on Page Two to include new iPhone 6 details/rumors. 
NEW YORK (TheStreet) -- We're in for another Apple (AAPL) - Get Apple Inc. Report-induced BlackBerryundefined moment.
The iPhone's about to become a chick magnet again.
Admittedly, I've been against the notion of a bigger iPhone screen. But, if you stop, collaborate and listen, you'll realize I was for it before I was against it. Because I am for anything Apple does that not only improves on, but redefines the crap the "competition" throws against the wall.
That's what Apple did to the artist formerly known as RIM. We don't stop and think about this enough. People were so addicted to their BlackBerries we called them CrackBerries. No, not crack babies, CrackBerries. And then Apple came along and just freaking demolished RIM as Jim Balsillie was busy trying and failing to secure an NHL franchise for the Canadian hamlet of Hamilton.
So, while Apple's never been a marketshare story, it's about to become one without even trying. If Apple wanted to actively pursue Android-like marketshare it would and easily could have done it a long time ago.
Apple could have built 6,000 different types of phones like Samsung and other Google (GOOG) - Get Alphabet Inc. Class C Report hardware partners. It could taken the extreme step of opening iOS up to any and all. Such desperate measures would have given Apple 80% marketshare or something close to itin everything. But, of course, Apple's not desperate so it doesn't thoughtlessly play the lame marketshare game.
Quite a few cats misinterpreted the 2010 emails and documents going around that purport "concern" by Steve Jobs with respect to competition from Google and Microsoft (MSFT) - Get Microsoft Corporation Report.
There's a difference between concern and panic.
Sort of like a great hockey team trailing 4-1 in the 3rd period. I harken back to last season's NHL playoffs when my Toronto Maple Leafs held that lead over the Boston Bruins. If the Leafs won they would have advanced to the second round of the postseason. But the Bruins, while concerned, did not panic. They kept their heads down and, even as the texts poured in congratulating me on the anticipated Leafs win, I knew the game wasn't over. Boston tied and promptly won the game in overtime, leaving Toronto stunned.
Apple is akin to the Bruins -- a team chock full of seasoned veterans. If those emails expressed a more panic-like concern, Apple would have moved prematurely (with irrational haste) in the name of doing nothing other than snagging marketshare. But it didn't. It has proceeded with cautious concern, not panic. So when Apple introduces iPhone 6 -- with one or more larger screen size options -- it will be ready for primetime.
It will not be a Surface tablet which failed miserably to build on the greatness Apple's iPad laid before it. Whether we're talking 4.7 inches, 5.7 inches, both or something all together different, it will be the real deal that everybody wants. Apple will have become cool again. And, just like BlackBerry in 2007, Android phones will not stand a chance.
Of course, Wall Street will promptly jump back on the bandwagon making AAPL stock price predictions of $800 and even $1,000 not seem so crazy after all.
As I've been saying, it's not a delay between products that concerns me at Apple. Consistent with the Apple way under Steve Jobs, Tim Cook will disrupt and destroy when he's ready. And not a moment too soon.
In fact, a gap between major Apple innovations should actually foster more bullishness than it has. Rash decisions should worry investors and Apple fans; not a company with the luxury of calling its own shots on its own relatively comfortable timeline.
Click ahead to Page Two for some cool renderings of what iPhone 6 could look like, plus more (and fresh) iPhone 6 news. 

Good work (as usual) by BGR spotting a leaked image of what appears to be the way iOS 8 will look on a larger-screen iPhone 6. While not to scale it shows 5 by 7 icon setup as opposed to the present 4 X 6. 
As an aside, here are a few nicely-done (and wholly speculative) renderings, via iTechNow, of what a slimmer, larger screen Apple iPhone 6 could look like ... not too shabby.
Meantime ... these side-by-side Reddit submissions highlight the divisiveness of the Apple-Android war, at least among fanboys. 
--Written by Rocco Pendola in Santa Monica, Calif.
Rocco Pendola is a full-time columnist for
TheStreet
. He lives in Santa Monica. Disclosure: TheStreet's editorial policy prohibits staff editors, reporters and analysts from holding positions in any individual stocks.