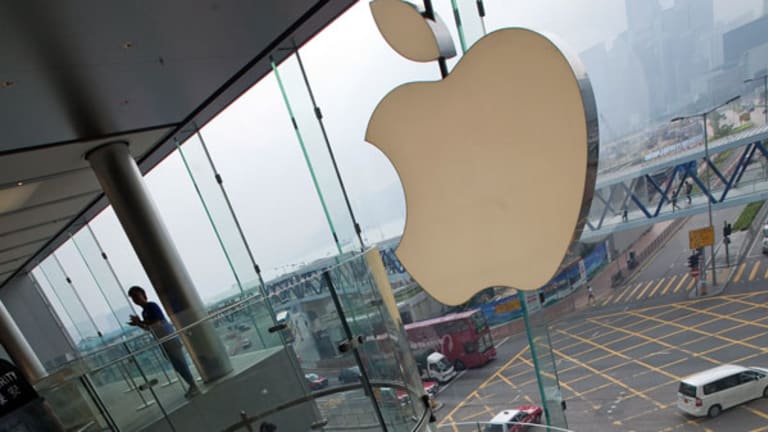 Apple's Crash: A Wall Street Tragedy
Apple does everything investors could possibly ask for, yet we cut it down.
NEW YORK (TheStreet) -- If you follow me on Twitter, you know how I feel about what's happening with Apple (AAPL) - Get Apple Inc. Report.
Even with proper perspective applied, it feels tragic. No matter what AAPL ends up doing today or from here, the damage has already been done.
>>> Also see: 5 Cash Rich Stocks to Buy in 2013
My trajectory on the stock has been straightforward:In early 2012, I warned Apple would never be the same without Steve Jobs. And that Tim Cook simply could not innovate. While I had bearish moments (consider
), I was largely OK with the near-term, but cautious looking out 12 to 36 months. AAPL bulls ripped me for constructively questioning the company's future.
As the end of the year approached, AAPL weakened. The freefall kicked into high gear in mid-September 2012. Suddenly, every analyst and financial media member started hawking the post-Steve Jobs story I was selling months prior.
Things spun out of control. Sentiment shifted on a dime. AAPL had no chance. Shockingly, it became a horrible long-term investment. A majority of investors had no business owning AAPL, especially intraday Wednesday. And most certainly now.
Most people are not nimble enough to do the only thing you can do with AAPL:
. You're 100% better off in
names such as News Corp. (NWSA) - Get News Corporation Class A Report, Disney (DIS) - Get Walt Disney Company Report, Time Warner (TWX) and Madison Square Garden (MSG) - Get The Madison Square Garden Co. Report
.
>>> Also see: 4 Tech Stocks Under $10 Spiking Higher
It's come to this. Apple reports one of the best quarters in the history of earnings reports. It sold one iOS device every 10 seconds during the last three months of 2012. Reached $54.5 billion in revenue. Delivered 48 million iPhones. Moved 23 million iPads. iPad mini, branded a failure by many before it was even released, sold out. Yet Wall Street treats Apple like a company fighting for its life.
Valuation means nothing in this stock market. In some respects, it shouldn't. There's no reason for investors to attach a lofty multiple to disasters such as
Microsoft
(MSFT) - Get Microsoft Corporation Report
,
Dell
(DELL) - Get Dell Technologies Inc Class C Report
or
Research in Motion
( RIMM) until they prove they're worthy again. And there's no reason to take
Amazon.com
(AMZN) - Get Amazon.com, Inc. Report
or
LinkedIn
(LNKD)
down a notch because their long-term narratives absolutely remain intact.
It's patently absurd that Wall Street no longer gives AAPL the benefit of the doubt, in and of itself
or
relative to AMZN or LNKD. That's been my line for weeks.
Even if they look like they're getting better, things are only going to get worse.
I told you not to own AAPL before earnings because of the irrational market
. And I am telling you not to own it after earnings. Your sanity is more important than showing loyalty to AAPL. If you still have profits, take them. If you're down, get out. Waiting for a rebound -- no matter how right you think you are -- ends up a loser's game. For every one you salvage, another handful will break you.
Don't fret if you miss the upside we're likely to get in the next few days, weeks and/or months. It's only going to butt up against
the time when concern over Apple's long-term ability to innovate becomes relevant
.
>>> Also see Apple: A Great Company, For Now A Toxic Stock
Like I said over the weekend, look at companies the market respects. Big media names such as NWSA, DIS, TWX and MSG. It makes no sense -- if you're investing for your future -- to be long AAPL right now. The time might come again someday, but it's not on the immediate horizon.
Is it crazy to say it's a national tragedy? Apple does everything anybody who follows the stock market, retail or tech -- you name the space -- could possibly ask for, yet we cut it down. We cut down the stock price. We cut down the company. In certain corners, we root for it to fail. But we do not give the same treatment to perennial and hopeless losers. We cut them slack before it's due. That's not rational. And it's certainly not okay.
--Written by Rocco Pendola in Santa Monica, Calif.
Rocco Pendola is
TheStreet's
Director of Social Media. Pendola's daily contributions to
TheStreet
frequently appear on
CNBC
and at various top online properties, such as
Forbes
.