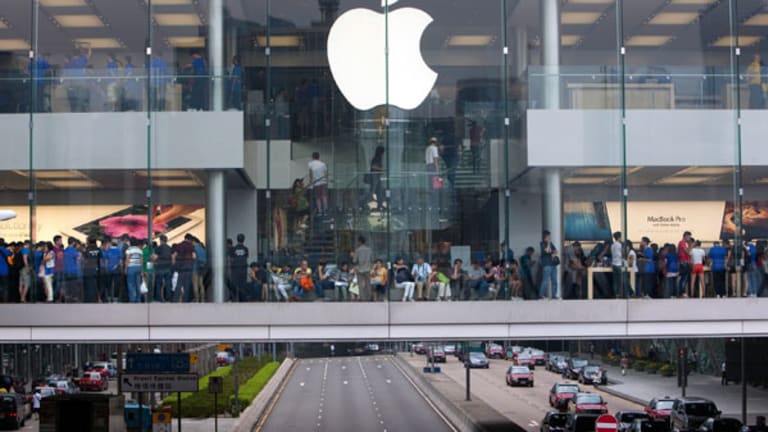 Publish date:
Apple's 7:1 Stock Split: Take a Bite Before June 2
Apple announced a 7:1 split in April. Is now the time to take a slice?
Apple announced a 7:1 split in April. Is now the time to take a slice?
NEW YORK (TheStreet) -- Sometimes it seems like everything Apple (AAPL) - Get Report touches turns to gold. After all, Apple has created two of the top 10 best products ever made: the iPhone and the iPad. The iPhone changed the world forever, and it's said to have generated $150 billion in revenue for Apple. Every smartphone and tablet to follow are mere copycats.
But this in itself isn't a big news flash. Apple is always in the news. Everything it does is praised or criticized.
So what's up now?
A stock split, scheduled for June 9. And it may be time to get in first. In April, Apple announced it is planning a 7-to-1 stock split. (The stock is currently trading above $606 a share, which the company views as a bit too high.) The split applies to shareholders who hold shares at the market close as of June 2.
This maneuver will allow more investors to trade the stock.
But I think there may be more going on here.
Every move Apple makes is well thought out, and I suspect that they've got something brewing. Apple is cash rich, and investors know it. Are they releasing a new product? A smart car? A solution to world hunger? Well, maybe not, but the company has a way of surprising us. 
Apple closed at $606.31 on Wednesday, up 0.26% for the day, and at this price only large account holders can trade the stock with any real frequency. Sure, there are people who just want to be part of the cult that trades Apple, so they buy 10 share lots, maybe 20 shares. However, to make a big impact, you'd have to trade 100+ share lots, just like with any stock at this price. A 100 share lot would be $60,000 or more at the current level.
Let's face it -- not all traders are trading $60K on one position. Sure the ROI is the same if you are trading one share or 10,000 -- it's basic mathematics -- but the split will make the stock more accessible and appealing to the masses.
Is this a good thing? I believe it is.
And yet Apple can be volatile.
Apple reported strong earnings back on April 23, and price action gapped up 8%. That's great for any size position. As of Wednesday, Apple stock is up 15% from that gap, and is trading just shy of its 52-week high of $607.33. Plus, Apple is up 55% from its 52-week low of $388.87, and the chart is currently forming a stair step pattern. Those are stair steps to profits.
When the stock does split, I think traders will flock to trade Apple moreso than they are now. I think it's time to get in now if you can. It's my opinion that the stock will continue to rise before and after the split. I am excited to see what the future holds for Apple, as it is still one of the greatest companies on earth, in spite of losing one of the greatest leaders ever.
>>Read More: Netflix Intends to Use House of Cards to Take Over the World
>>Read More: Apple Can't Lose Unless It Beats Itself
>>Read More: 10 Quirkiest Vacation Homes You Can Rent This Summer
At the time of publication, the author held no positions in any of the stocks mentioned.
This article represents the opinion of a contributor and not necessarily that of TheStreet or its editorial staff.