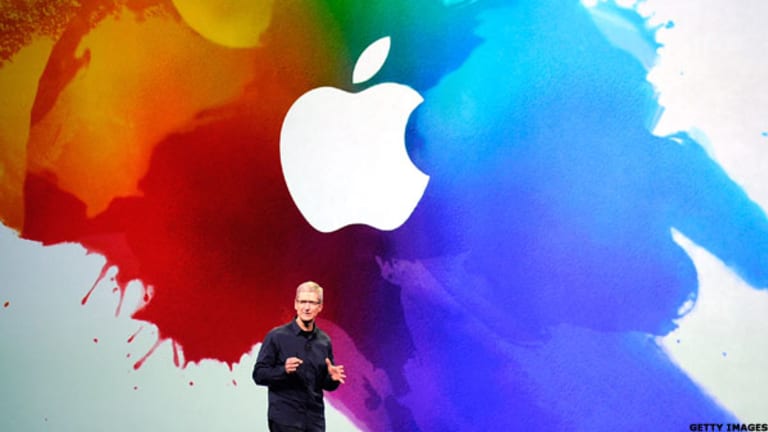 Apple Would Do Better Spending that Cash
Apple's should step out of a politically charged debate on taxation and into growth mode.
NEW YORK (
) - Kudos to
Apple
(AAPL) - Get Apple Inc. Report
for figuring how to legally shuffle $44 billion in profits to non-tax jurisdictions.
Unfortunately, while the iPhone designer may have broken new ground in tax avoidance -- according to a Senate Subcommittee on Investigations -- the company would be better off not holding the most swollen bank account among non-financial companies in the history of Corporate America.
Currently, Apple is sitting on about $137 billion in relatively interest free cash. The company even recently raised $17 billion in
to boost its dividend and increase share buybacks, while leaving its cash untouched.
Apple would be far better positioned if CEO Tim Cook figured out how to utilize the company's cash pile, instead of having to defend it before a Senate subcommittee.
Yes, repatriating billions in foreign earnings might be a tough move for Apple shareholders to swallow because of an up-to-35% tax hit, however, over the long-term they may be far better off doing so.
Through acquisitions, for instance burgeoning electric car pioneer
Tesla
(TLSA) - Get Tiziana Life Sciences Ltd. Report
as a
Bloomberg Views
column
, residential and commercial solar panel maker
Solar City
(STCY)
,
Square
or
Twitter
, Apple might be able to eventually garner returns that would far exceed its virtually interest-and-tax-free cash stockpile.
Since Apple's cash currently sits in low-interest bank accounts, the company should be devoting its time figuring out how to deploy money into new projects, acquisitions and innovation that will boost earnings and grow shareholder value over the long-run.
Instead, CEO Tim Cook and COO Peter Oppenheimer have been hauled in front of Congress to defend Apple's cash stockpile and it's legal use of a 74,000 page tax code to minimize the company's tax bill.
What a waste.
If Apple weren't so big - it currently is about the same market cap as
ExxonMobil
(XOM) - Get Exxon Mobil Corporation Report
-- the company's cash stockpile would receive far more scrutiny.
For instance, the Cupertino, Calif-based tech titan would be a prime takeover candidate with its single digit price to earnings ratio excluding cash if it weren't for the company's $400 billion-plus market capitalization.
Were Apple a twentieth the size, private equity firms would likely look at Apple's cash-rich balance sheet as a reflection of complacency. Yes, Apple continues to post mind-boggling profits from the iPhone and iPad but those earnings are falling.
Apple's cash stockpile represents about one third of the company's overall market cap.
Given the maturation of mobile device markets, Apple should be deploying its cash to build altogether new businesses and products.
Tesla, for instance, appears on the cusp of pioneering a new consumer market for electric vehicles, while Elon Musk-run Solar City,
First Solar
(FSLR) - Get First Solar, Inc. Report
and others are moving fast in equipping a resurgent residential and commercial real estate market with alternative energy solutions.
Square
is moving quickly to reshape the way consumers treat money, leveraging iPhones and iPads, while Twitter has empowered hundreds of millions of voices, also on mobile products.
Adobe
(ADBE) - Get Adobe Inc. Report
and
Netflix
(NFLX) - Get Netflix, Inc. Report
come to mind as other bolt-ons for a company as large as Apple.
Yahoo!
(YHOO)
, once a poster-child of board mismanagement on Monday announced
, expending about a third of the company's cash. That move, CEO Marissa Mayer's boldest yet since taking the reins of the fledgling web search pioneer in 2012, is helping to reshape the narrative of the company after a decade of stagnation.
Apple, in contrast, is vigorously defending the status quo. Nothing says so much as the company's treatment of its cash.
Apple was dropping 0.2% to $441.67. Shares have fallen 17% in 2013 compared to the Nasdaq Composite Index which has added 16% this year.
A Senate Subcommittee on Investigations is holding a hearing Tuesday on the rate Apple pays on its taxes, and how the company treats its tax stockpile. The subcommittee, led by Senators Carl Levin of Michigan and John McCain of Arizona, claims Apple has avoided taxes on about $44 billion in foreign profits by way of maneuvering that puts hundreds of billions in revenue outside the taxing authority of any country.
Of course, Apple defends its tax planning and the legality of its foreign cash stockpile.
"Apple complies fully with both the laws and spirit of the laws. And Apple pays all its required taxes, both in this country and abroad," Tim Cook, Apple CEO said to the subcommittee Tuesday.
While Cook conceded in his testimony that certain Apple subsidiaries based in Ireland effectively have no tax residence, few are claiming the company is in violation of the law or its spirit.
Instead, Apple's testimony Tuesday, is symptomatic of the larger issue of corporate tax laws that encourage U.s. corporations to hold over $1 trillion in foreign cash rather than using it to invest in their businesses. To be sure, the Senate gave similar scrutiny to
Microsoft
(MSFT) - Get Microsoft Corporation Report
and
Hewlett-Packard
in a September hearing on similar grounds.
For Apple shareholders, Tuesday's hearing should be secondary.
Most investors in Apple haven't been made rich by the company's growing bank account. Instead, they've gained from the company's consistently innovative products and its reinvention of multiple consumer markets.
"Apple safeguards the capital entrusted to it by its shareholders with prudent management that reflects the Company's extensive international operations," Tim Cook said on Tuesday.
It's unclear whether Cook is correct in his assumptions.
While it may be penny-wise for Apple to hold onto foreign cash and wade into a politically charged debate on corporate taxation, investing that cash may actually be of a bigger long-term benefit to Apple shareholders.
Ireland Welcomes Watson Pharmaceuticals, an American Success
Johnson & Johnson Synthes Deal Revives Foreign Tax Debate
-- Written by Antoine Gara