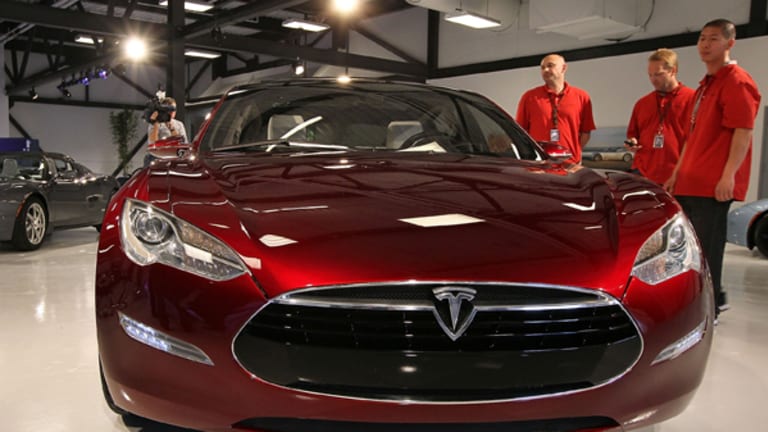 Apple Would Be Nuts to Buy Tesla, However ...
Tim Cook can't get too cute at Apple. He just needs to make iPhones and iPads stickier than ever.
Tim Cook can't get too cute at Apple. He just needs to make iPhones and iPads stickier than ever.
NEW YORK (TheStreet) -- For some reason, thisApple (AAPL) - Get Report news continues to fly under the radar:
Maybe it's not news. But it should be.
I'm not all fired up about Apple turning us into a bunch of hypochondriacs with a wearable device that'll do stuff like tell you when you're about to have a heart attack. Frankly, I think it's a big mistake to play into the hands of a health anxious society that Googles every little ache and pain.
But I digress and offer an area where I reckon Apple still has plenty of room to innovate. In the auto. On the dashboard.
And that doesn't mean I think Apple should buy Tesla Motors (TSLA) - Get Report. The moment Apple starts buying other companies because they're cool is the day I lose all faith in Timothy D. Cook's ability to lead in Steve Jobs's wake.
Certainly, Tesla owners have an affinity for Apple products. And vice versa. There's no question Elon Musk could be well on his way to saturating our fleet with electric vehicles the way Toyota (TM) - Get Report did with the Prius hybrid. But that's not a risk Apple should be taking on. It's so far out of the company's wheelhouse that it's ...
... it's ...
... it's ...
Something custom made for CNBC and the rest of the financial media (and even CNN) to harp on incessantly. Even though these apparent "talks" between Apple and Tesla happened, in tech time, ages ago.
Plus, remember, Everybody Talks. There's more than pesky semantic differences between "talking" and being "in talks" as I explain at the link in the last sentence with respect to old Apple/HBO rumors.
Plus, Apple operates in an environment where the same ding dongs who push the Tesla M&A talk like heroin scrutinize its margins.

In the most recent quarter, Apple reported gross margin of 37.9%, down from 38.6% year-over-year. Meantime, Tesla's gross margin came in at 23.9% alongside the following explanation:
Gross margin for the three months ended September 30, 2013 was 23.9%, a slight decrease from 24.8% for the three months ended June 30, 2013, as a result of significantly lower sales of regulatory credits, partially offset by continued Model S cost improvements and manufacturing and supply chain efficiencies, an increased average selling price due to the start of European deliveries, as well as a higher mix of 85 kWh battery packs and other options.
Too many ifs, ands and buts Apple has no business -- or need -- to take on.
The moment Apple gets too cute -- buying Tesla or doing some over-the-top health-focused wearable qualifies IMO -- is the moment you worry. Success at Apple isn't easy, however it is a relatively straightforward proposition: Produce devices your customers upgrade every year or two. Make them sticky thanks, in part, to attendant (and improving) software and services, aka features.
This leads to the "however" that led off this article.
On the surface, it's telling that General Motors (GM) - Get Report decided to feature Eyes-Free Siri on the commercial it's running for the Chevrolet Equinox.
These spots have run prime-time during the Olympics on NBC. They intrigued me so much that I called up my contact at GM, who set me up with a test drive of an Eyes-Free Siri-equipped Chevy vehicle, which I will take possession of next Tuesday. I'll drive the vehicle around for a week, experience Siri compatibility and report back both in print and video.
Though I'm not sure how much control Apple has over GM's use of Siri in advertising (intuitively I would think quite a bit, however, given the way third party retailers have their way with Apple's brand, I'm uncertain), I have to think Eyes-Free Siri is ready for primetime if Apple and GM are both, presumably, on board with promoting the heck out of something in perpetual beta.
So, again, I'll let you know how it goes with an assessment of how Eyes-Free Siri performs today and what might lie ahead. I'm thinking it has the potential to be much more exciting than the stuff the lamebrain media likes to obsess over. Buying Tesla and predicting heart attacks is sexy, but it's nothing Apple has even come close to chiming in on, let alone confirming.
For the record, while few others have paid attention to Eyes-Free Siri, it has been on TheStreet's radar for awhile. I published Can 'Eyes-Free' Siri Stand the Media Hype in the Summer of 2012, shortly after Apple announced the feature's existence at its Worldwide Developers Conference.
In that article, I threw water on what was then over-the-top hype. The sort of hype that claimed Apple, via Siri, would crush Pandora (P) .
Didn't happen.
Here again, another case of the media jumping on the sexy angle. When the climax never comes, it moves on. But that doesn't mean Apple has moved on. It's still working on making everything it does the best it can be ... so it can sell hardware of course.
While TheStreet's Richard Saintvilus was one of the guys caught up in that euphoria, he provided solid coverage on Siri into 2013 (after the initial hype wore down). I encourage you to see my story from a year ago this month, Is There a Media Conspiracy Against Apple, where I provide links to Saintvilus's work. It's well worth your time if you want to understand how Siri could play an integral role in Apple's future.
Eighteen months later, you'd have to think Siri's in-car capabilities have come a long way. If they haven't, it borders on idiocy to allow GM to tout them on television, let alone in primetime during the Winter Olympics.

--Written by Rocco Pendola in Santa Monica, Calif.
Disclosure: TheStreet's editorial policy prohibits staff editors, reporters and analysts from holding positions in any individual stocks. Rocco Pendola is a columnist for
TheStreet
. Whenever possible, Pendola uses hockey, Springsteen or Southern California references in his work. He lives in Santa Monica.