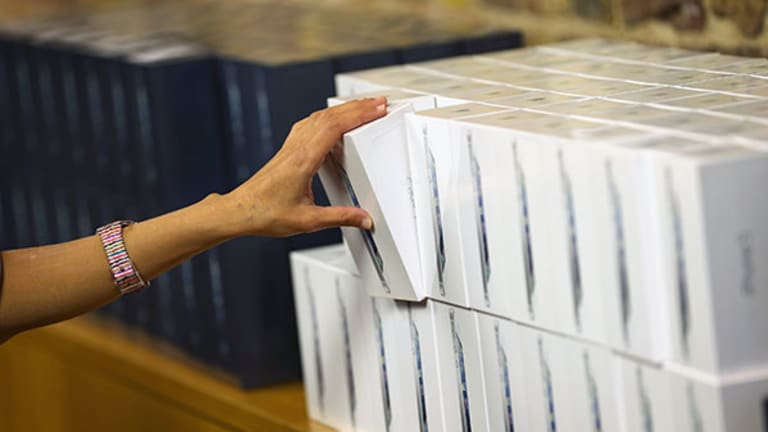 Publish date:
Apple Will Put Microsoft, HP Out of Business
The all-in-one Windows strategy will not end well for Microsoft, its partners.
The all-in-one Windows strategy will not end well for Microsoft, its partners.
NEW YORK (TheStreet) -- Way the heck back in September 2012 I wrote Meg Whitman and HP: Everything That Is Wrong With Tech. That was on the heels of the Hewlett-Packard (HPQ) - Get Report CEO saying because everybody else is doing a smartphone, we'll have to do one as well.
And now, here we are, nearly a full 16 freaking months later and we'll get a smartphone from HP aimed at low-end, emerging markets. Toss another piece of dead weight on to the lame "other" category that slums beneath Apple (AAPL) - Get Report and Samsung.
Meg Whitman offers hope for the incompetent: If I can fool the Board of Directors of and investors in a multinational corporation with my five-year plan, you can surely find a way to pull the wool over your boss's eyes.
Anyhow, on the same weekend we receive word about HP's latest "innovation," we learn that Microsoft (MSFT) - Get Report is hard at work on Windows 9, rumored codename Threshold and slated for release in 2015.
As the great Steve Kovach put it to lead off an excellent analysis over at Business Insider:
Microsoft Is Going To Try And Save The Imploding PC Market With Another New Version Of Windows
But, as Kovach's piece clearly illustrates, Microsoft isn't in a position to save a damn thing. Word that we'll soon hear about Windows 9 validates Microsoft's miserable failure with Windows 8. It just did not solve the one device for everything in your life "problem."
But, here's the rub (because there's aways a rub with Microsoft!) -- this isn't a problem!
We never asked for all-in-one devices. Steve Ballmer pulled that from one of the random Microsoft rear ends without a clue. Quite possibly his own.
Desktops, laptops, tablets and smartphones aren't like motor vehicles.
Most of us only have the money, time, space and patience to deal with one car. So, let's say, 90% of what's on the market pretty much works for everything most people require an automobile for. You only need one car.
It works this way because a car (or truck or SUV) is a big-ticket item, in price, size and the subsequent commitment.
Electronics -- computing machines, gadgets and mobile devices -- are smaller and less expensive. Not sure about you, but I like having more than one. I like that a company such as Apple thinks of their products as distinct, specialized vehicles for productivity, creativity and consumption.
There's no need to roll them all into one. In fact, it would be pretty disappointing if that happened. My life would be less rich. But, more importantly, I reckon we would see quite a few jack of all trades, master of none devices that cut seemingly small corners on a whole bunch of operations, producing a weaker all-encompassing experience.
And, even if there was something to this all-in-one thing, Microsoft isn't quite as good as Apple at creating a need or some other ideal that consumers end up aspiring toward.
So this is what we're left with in tech.
Companies such as Microsoft and HP are completely lost. Unlike Apple, they're not creating new categories and reinventing and redefining past successes -- as has been the case with iPhone and iPad. Instead, they're taking last gasps at somebody else's brainchild (i.e., the 3D printing push at HP) and feebly attempting to make up for embarrassing missteps (i.e., Windows 8 and all-in-ones at MSFT).
Meantime, Apple continues to operate independent of all this noise. With tunnel vision, Timothy D. Cook and his team dictate the pace in consumer and, increasingly, enterprise tech.
HP's already gone. What they're doing barely warrants coverage. If there's any justice in the world or will left on HP's Board won't even make till the end of her smoke-and-mirrors five plan (or, aka, waste of everybody's time).
But, at Microsoft, the real blood is about to hit the streets. This company is scrambling to stay relevant. Outside of Xbox, which it has failed to properly integrate into the Windows/Office whole, Microsoft has got nothing.
Don't forget something else I first brought up in late 2012 -- the idea that Apple, along withGoogle (GOOG) - Get Report would ultimately crush the Windows/Office installed bases with consumers, enterprises and education. That's about to gain steam this year and next.
And, make no mistake, Microsoft no longer operates from a position of strength. It would be kind (though still inaccurate) to say it works from a position of weakness even. Right now, it comes from a position of obvious disarray. Apple and, to a lesser extent, Google has the company scrambling. Let's call the Microsoft of 2013-14, the HP of a handful of years ago.
However you timeline it, take use of the phrase "put out of business" to mean, Apple will render Microsoft and HP just as irrelevant as Dell and the artist formerly known as RIM sooner than you think.
--Written by Rocco Pendola in Santa Monica, Calif.
Rocco Pendola is a columnist for
TheStreet
. Pendola makes frequent appearances on national television networks such as
CNN
and
CNBC
as well as
TheStreet TV
. Whenever possible, Pendola uses hockey, Springsteen or Southern California references in his work. He lives in Santa Monica.