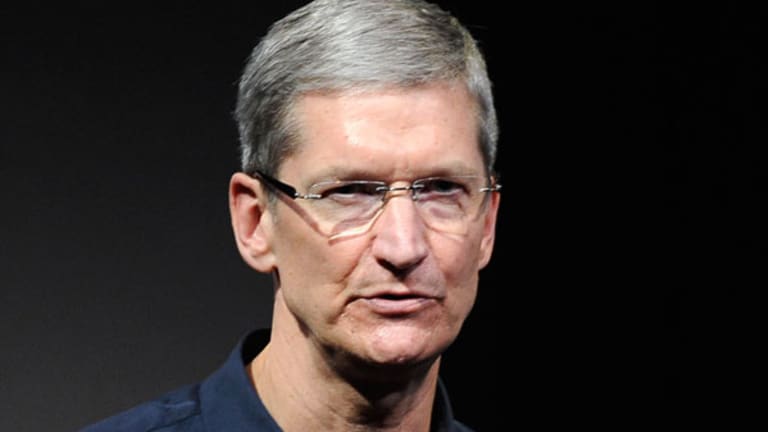 NEW YORK
(
) --
Apple
(AAPL) - Get Apple Inc. (AAPL) Report
will vastly outlive its competition. To explore that, it's necessary to look at software, hardware and how Apple integrates the two.
Software is hardly ever beloved. Software is simply a means to bring the capabilities of the hardware to life. Often, software fails the user. There are several reasons for that. In some cases, the hardware isn't up to the task that the developer envisions. In other cases, the developer fails to create an elegant connection between the user interface and the task the user wants to accomplish.
In the history of the Macintosh and PC there have only been a handful of native apps that were so beautifully executed, so well conceived, that they actually became beloved. The annals of frustrating software, on the other hand, are plentiful and legendary.
Stand-alone software services are even more abstract. Software services don't span time and generations, nor do they evoke emotion and affection. They're just there, like a dumbwaiter, waiting to be exercised. Take, for example, services from
Google
(AAPL) - Get Apple Inc. (AAPL) Report
. They come and go as grand experiments on the users. The list of abandoned Google services reads like a
Hardware is much easier to love. Beautiful 2K and 4K displays, MacBooks, external drives with glowing LEDs, the new Mac Pro (an enigmatic black cylinder), blazing fast Alienware PCs with ghostly lights, some Ultrabooks, the iPhone and iPad, all come to mind.
This hardware can create an instant attraction and affection. But it needs nicely integrated software to bring it to life in ways that charm and delight us. On the other hand, the software itself, phantom like, is only beautiful to another software engineer.
No one swoons over a BMW's system software. They do, however, become giddy over the lines of a favorite model. There is the tactile feel of how responsive it is and handles so well. Things we can touch and feel are more human-directed, and we can easily anthropomorphize.
Apple's Edge
Apple is fundamentally different than the competition. The company has built a legacy of integrating hardware and software until the whole becomes more than the sum of its parts.
Only Apple, which was born in the fires of the Apple I and II and went on to be matured by the Macintosh, could shake and stir the world with the iPhone in 2007 and then launch the Post-PC era with the iPad. Apple continues to poise itself to last for the future decades with an ever changing, adapting, human-oriented line of gorgeous hardware. This hardware integrates to software in a way that coerces the hardware into life and genuine, recognizable service to customers. That breeds loyalty.
When that's done well, genuine affection and admiration for the hardware is realized and spans time. It's why Apple retail stores are routinely crowded with both young and old.
The Competition, Real and Imagined
Looking at the competition, it's been argued that Microsoft has built no technical path to the future. The Surface tablet is a homage to the past, and it's deeply cut by the shards of ancient Windows. The path forward will be difficult.
Google's isn't making a lot of money from smartphone hardware, and Google Glass seems destined for effective but niche usage. Google is all about software and services that enter and exit at Google's whim. There's no legacy, no durability of vision, and there's nothing tangible to create physical loyalty from generation to generation.
Samsung is great at following the lead of others. Thanks to Android, a workable mobile OS has been handed to them on a silver platter. But when the next revolution in hardware comes, perhaps wearable computing devices, Samsung will, again, be left scrambling. The Samsung Galaxy Gear fiasco
speaks to that potential problem.
and the company's inherent inability to create hardware that generates lasting affection.
Amazon
(AMZN) - Get Amazon.com, Inc. Report
, according to
Henry Blodget's recent presentation
, doesn't pose any real threat to Apple in global market share. (Slide #57)
A Major Misconception
There is another fundamental misconception when it comes to Apple's durability. Those who focus on Apple's apparent decline in tablet market share incorrectly attribute that to a reduced interest in Apple and conclude that near term doom is inevitable. In order to reinforce that myth, "Android" market share (an OS) is deceptively compared to "Apple" (a company). This is an inconsistent technical basis.
The massive influx of white box tablets in Asia running Android is responsible for the the dilution of market share (but not absolute Apple unit sales). Seldom do we see major, individual hardware companies broken out by market share. Daniel Eran Dilger explains this process along with an overlooked industry bias very nicely in:
"The curious case of IDC, Gartner & Strategy Analytics' PC, phone & tablet data on Apple.
" The reality is that Apple and Samsung are capturing all the profits and everyone else is just limping along. This is not a good sign for Apple's competitors who would like to be around for a long time.
Long-Term Prospects
Only Apple has demonstrated an enduring vision for the way human beings respond to hardware and integrated software. Generations of Apple customers have grown up with and loved Apple IIs, Macs, iPods, iPhones and iPads. Thanks to the foundation Steve Jobs built, plenty of similar devices in the future will carry on that tradition.
As a result, the prospects are good that Apple, unlike its competition, will introduce a continuously evolving line of profitable hardware for the foreseeable future. It's very hard to make the case that there are equivalent prospects for the current competition's hardware in the long run.
This article is commentary by an independent contributor, separate from TheStreet's regular news coverage.
At the time of publication, Martellaro was long AAPL, although positions may change at any time.
John Martellaro was born at an early age and began writing about computers soon after that. He is a former U.S. Air Force officer and has worked for NASA, White Sands Missile Range, Lockheed Martin Astronautics, the Oak Ridge National Laboratory and Apple. At Apple he worked as a Senior Marketing Manager, a Federal Account Executive and a High Performance Computing manager. His interests include skiing, chess, science fiction and astronomy.