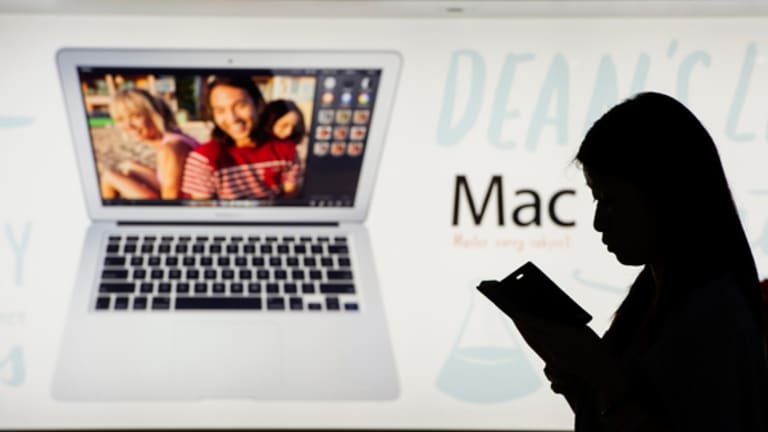 Apple Will Disrupt and Destroy When It's Ready
The timeline Apple operates on has the consumer, not the competition in mind.
The timeline Apple operates on has the consumer, not the competition in mind.
NEW YORK (TheStreet) -- If you're an Apple (AAPL) - Get Report investor, fan or objective observer, TheStreet contributor John Martellaro is an absolute must-read, both here at TheStreet and his primary perch, the Mac Observer.
In his Friday column, Apple's TV Innovation Will Be Unexpected, Martellaro sets the company's critics straight:
Even more ironic is that the very outcry for innovation by Apple is a call for something new and unexpected. How can one demand the unexpected and yet arrogantly claim that Apple's opportunity has disappeared? It's a contradiction.
Put another way, the window of opportunity for the Apple brand of exciting innovation, problem solving and elegant combination of hardware and software never closes. Ever.
Reading John over the last year or so has helped evolve and improve my thinking vis-a-vis Apple.
I still worry and can get critical about Apple's future, however, I don't call for innovation now. Because, as Martellaro points out -- with quite the punkslap -- that's folly.
iPad Air proves this. And, again, Martellaro made the case, pointing out just how innovative the product is, relative to its predecessor and the competition, even if Apple didn't work on its critics' timelines:
It took a little longer, but the wait was worth it. Innovation means development and breakthroughs in areas that mean something tangible to the paying customer, and if this is the kind of innovation we can expect from Apple, I'll take it every time.
I've had my iPad Air for about two weeks now. And, it reaffirms my suspicion that an Apple HDTV, possibly morphed with a set-top box, will come sooner or later.
That's because, now having used the last two iterations of iPad, it's clear to me that Martellaro's correct. Not only can Apple still innovate, it does so on its own timeline. If other companies make it first to market with a product, so be it. None use the same attention to detail or have the level of respect for the consumer that Apple does.
The time I spent over the weekend at the holiday pop-up Intel (INTC) - Get Report Experience store in Venice (on the Westside of Los Angeles) helps drive that point home. 

I don't think there was one product in the entire store ready for primetime. Granted, Apple puts out software and services that probably aren't where they should be at release (see, most recently, Apple Maps), but it doesn't mess around with its bread and butter -- hardware.
The Intel Store featured primarily Microsoft (MSFT) - Get Report Windows-based products. And they all have considerable and blatantly obvious flaws, in form, function and, maybe most importantly, theory.
The Surface tablet still rests like a bowling ball in your hand. The motion control stuff on display from Logitech and Sony (SNE) - Get Report, I think it was, pales in comparison to what Microsoft has done with Kinect/Xbox. And, even worse, the ultrabooks and laptop/tablet hybrid devices are flat-out embarrassing.
It's not because they're, in and of themselves, all that bad. They're fine as middle-of-the-road, run-of-the-mill devices. But, you can tell that the people who conceived the reactionary notion of two-in-one or all-in-one or whatever they're calling them have zero respect for the consumers' intelligence coupled with a shallow understanding of the reasons why Apple dominates.
The laptop that becomes a tablet -- and vice versa -- is too straightforward of a proposition. It pretty much says Apple wants to sell you two premium-priced devices -- an iPad and a MacBook -- so we'll come with something that we can market as doing the job of both. However, on the ground, when you actually play with these things -- or goodness forbid, spend money on one -- you instantly realize it's just not that easy to take the Apple magic and dummy it down into one ill-conceived product.
If only it was that simple.
Apple hasn't even entered a lineup card in this mindless game. What Microsoft and their Windows partners do or what Google's (GOOG) - Get Report Android lackeys feebly attempt with Chromebooks and such has zero bearing on Apple's plans.
iPad Air is evidence of this.
And the next category Apple sets out to create, kill or reinvent -- be it a television set, smartwatch, both or something else -- will provide further proof. This product will come in response to the existence of a very real consumer electronic need (or an opportunity Apple shrewdly and respectfully creates), not an answer to what somebody has done or the tech media claims to want.
--Written by Rocco Pendola in Santa Monica, Calif.
Rocco Pendola is a columnist for
TheStreet
. Pendola makes frequent appearances on national television networks such as
CNN
and
CNBC
as well as
TheStreet TV
. Whenever possible, Pendola uses hockey, Springsteen or Southern California references in his work. He lives in Santa Monica.