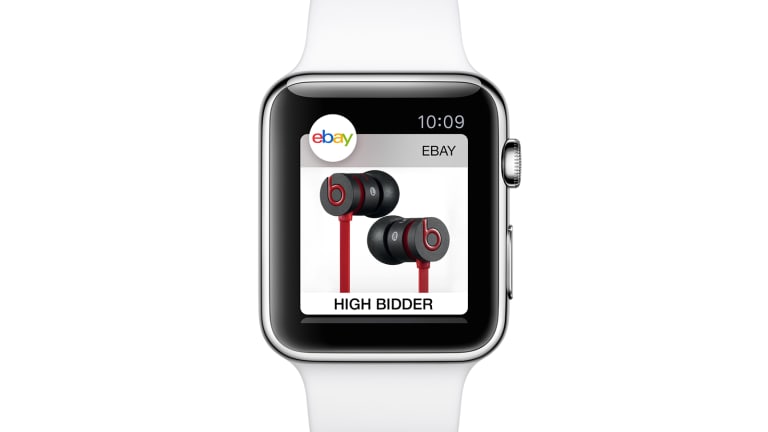 Apple Watch Will Be a Hit With Millennials -- Here's Why
Apple has finally released the much awaited Apple Watch and this is how millennials are reacting.
NEW YORK (TheStreet) -- Millennials are going to love the Apple (AAPL) - Get Report Watch. As an official millennial, I can say this with some authority. As for actually putting my money where my mouth is, I have opted to get one and I think many of my generation will, too. 
In a brief, informal survey with the Leaders Investment Club -- a new online investing club to which I and many of my fellow millennials belong -- the majority of the members surveyed, said that the Apple Watch is headed in the right direction and that it owns the wearable technology industry going forward. Some also see it as a fashion statement and that the ability to simply buy one shows one's wealth. And, besides, Jim Cramer owns one!
Speaking of fashion, I like the look and feel of Samsung's (SSNLF) Gear better because the grip and hold of the watch is much stronger. The Samsung smartwatch curves and hugs the wearer's wrist, which looks much more slick and crisp. But I'm just one millennial -- and I bought an Apple Watch, anyway. I'm not going to fight the tide.
The Apple Watch has been one of the most awaited gadgets of 2015, and it could be one of the most popular during the holiday season this year. BMO Capital Markets (BMO) - Get Report recently predicted that it would sell 19 million units this year, with more than half the sales coming in the holiday season. 
Millennials, unlike previous generations, have started to rely and be accustomed to technology. I love the concept of having my iPhone on my wrist. I can't wait to use it for mobile payments. Apple made a big push for its Apple Pay platform when the iPhone 6 launched. Mobile commerce is expected to be a $120 billion industry by end-2015, likely heavily driven by millennials like me. 
What about the enterprise market? The benefits are clear: you have an always-connected device that professionals keep on their bodies. The pervasive nature of the wearable device makes it an ideal vehicle for doing all sorts of optimizations in the business setting. I expect millennials to be early adopters if the Apple Watch comes to the workplace.
Other generations might find the pervasive and personal nature of this technology creepy. But, as a millennial, I welcome more technology in my life, making it easier. I Imagine being able to walk into a store and simply brandish my wrist at the checkout counter without having to get out my wallet, smartphone or anything else. I look forward to a workplace that allows workers to more easily track the movement of goods and incorporates online time tracking applications that keeps employee time. And I am excited for a future where geo-location and other methods are used to put me, as a consumer into a market segment that makes sense so businesses can advertise to me things that I might like. It's a win-win scenario for both businesses and consumers.
This article is commentary by an independent contributor. At the time of publication, the author held no positions in the stocks mentioned.