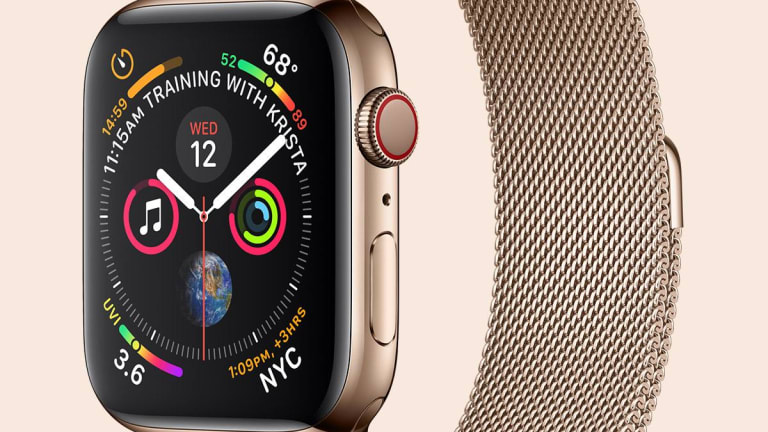 Apple's Sales Warning Gives It Even More Reasons to Reduce Its iPhone Dependence
The company has plenty of options for developing and/or acquiring products and services that it can promote to its massive installed base.
The company has plenty of options for developing and/or acquiring products and services that it can promote to its massive installed base.
Perhaps an iPhone sales stumble was necessary to fully appreciate just how remarkably huge Apple's smartphone franchise is -- and how dependent even a company with Apple's reach remains on the business for now.
Though Apple said in its sales warning that its non-iPhone businesses -- everything from Macs and iPads, to Apple Watches and AirPods, to App Store transactions and Apple Music subscriptions -- saw their revenue collectively grow nearly 19% last quarter, the company still believes its total revenue fell about 5%, thanks to an iPhone revenue decline that appears to be around 15%. The iPhone accounted for nearly 70% of Apple's revenue in the December 2017 quarter, and it looks as if it accounted for about 62% of revenue in the December 2018 quarter.
To be fair, the December quarter is a seasonally big one for iPhones. But over the whole of Apple's fiscal 2018, which ended last September, the iPhone was still 63% of revenue, with sales rising 18% annually to $166.7 billion via the shipment of 218 million units with an average selling price (ASP) of $766.
To a time-traveler working in the mobile phone industry in, say, 2005, those numbers would have to be utterly mind-boggling. Back then, arguing that a single company would eventually sell over 200 million phones annually at even a $400 ASP would produce plenty of eye-rolls. Even if Apple's iPhone revenue drops 11% in fiscal 2019 to about $148 billion, as analysts polled by FactSet now expect, this is still by far the world's most valuable consumer electronics business.
And some of this decline (assuming it happens) is the result of short-term issues that could be fixed over the course of 2019. Weak Chinese sales accounted for much of Apple's December quarter shortfall, and while competitive pressures from Chinese OEMs appear to be a culprit, so do macro issues and trade tensions that aren't guaranteed to last.
In addition, with the iPhone XR apparently playing an outsized role in Apple's recent sales pressures, Apple could respond to the problem by backtracking from a strategy of launching a cheaper high-end iPhone with an inferior display, camera and build materials, and instead going back to its traditional strategy of keeping the prior year's flagship iPhone available the next year at a discount.
Nonetheless, when staring at a potential double-digit revenue decline for a business that has already grown to epic proportions, and which is in a broader industry that's seeing sales pressures, it makes sense for Apple to explore its options for developing new growth engines, as well as strengthening existing ones, in order to become less dependent on that business.
Finding new ways to grow Apple's services revenue, said by the company to total over $10.8 billion (up at least 28% annually) last quarter, is a natural place to start. Apple is already prepping a video streaming service that could either be sold on a standalone basis or bundled with Apple Music, and there has been some speculation that the company could eventually launch a subscription service that bundles services with hardware upgrades (for example, one iPhone upgrade every two years). Such a move could allow Apple to indirectly grow its content and customer support revenue, as well as introduce a greater level of predictability to its hardware sales.
Jim Cramer's Action Alerts Plus team, which owns Apple in its portfolio, is a fan of the company's services push. "Our initial reaction is that longer term, despite the cut, we still believe that Apple is doing the right thing regarding its efforts to switch the narrative from one based on hardware sales to one based primarily on recurring Services revenues," the AAP team argues (to read Jim and his Action Alerts PLUS team's full note on Apple's announcement, click here).
M&A is also an option for growing services revenue -- particularly if Apple is willing (as it has done for Apple Music) to support the services it acquires on third-party platforms. Though iPhone unit sales are under pressure, the installed base of active devices that Apple can promote new services to continues growing. The base was above 1.3 billion eleven months ago, and was just said by Apple to have grown by over 100 million over the last twelve months.
On the hardware front, Apple still appears to have a lot of headroom to grow Apple Watch and AirPods sales; the company says its "wearables" revenue, which covers the Watch, AirPods and Beats headphones, grew nearly 50% last quarter. The company is also reportedly working on an AR/VR headset that could arrive by 2020.
And though launching a product would likely take several years, it does look as if Apple is at least exploring the idea of developing a fully-fledged car, thus making it a player in the largest consumer hardware market of all. The company's recent hiring of well-known auto industry vets, including former Tesla engineering chief Doug Field, doesn't do anything to reduce speculation that Apple's auto ambitions aren't limited to its CarPlay platform and an autonomous driving project.
Though it's impossible to predict exactly which moves Apple will and won't make to create new hardware and services revenue streams, the timing certainly feels right for Apple to invest heavily -- whether via internal R&D, major M&A transactions or a combination of the two -- in that direction.
And with Apple's stock now trading for less than 12 times its expected fiscal 2019 GAAP EPS, the company's long-term ability to create such revenue streams might not be fully appreciated by markets focused on near-term iPhone sales pressures.