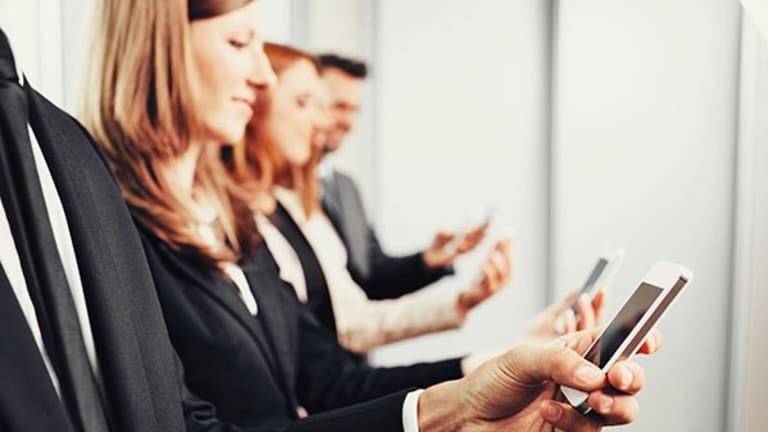 Apple vs. Samsung: Smartphones Now, IoT Connectivity Forthcoming
Here is a look at the next battleground between the technology giants.
It is fair to say that there is a love-hate relationship between Apple (AAPL) - Get Report  and Samsung Electronics that started in 2010 when Samsung, then an Apple supplier, released an iPhone look-alike product in its Galaxy lineup.
Apple chief Steve Jobs was incensed and went on the offensive, initiating what became an endless succession of lawsuits.
Apple is a holding in Jim Cramer's Action Alerts PLUS Charitable Trust Portfolio. See how Cramer rates the stock here. Want to be alerted before Cramer buys or sells AAPL? Learn more now.
Samsung, in turn, counter-sued but continued to invest in technology to make its smartphones more appealing to both customers and evidently Apple, which signed a deal through its subsidiary to sell Samsung 100 million OLED displays starting next year for the iPhone in a deal valued at $2.6 billion. 
Of course, Apple continues to be the innovation leader with technology such as Apple Pay, fingerprint ID, Live Photos, retina display and 64-bit mobile processing, which Samsung now uses in its Galaxy line.
This relationship of Samsung supplying parts to Apple goes back to the Apple A4 system on a chip (SoC) designed by Apple and manufactured by Samsung. Combining an ARM Cortex-A8 CPU with a PowerVR GPU, the chip commercially debuted with the release of Apple's iPad tablet, followed shortly by the iPhone 4 smartphone, the fourth-generation iPod Touch and the second-generation Apple TV.
For the iPhone 7, there are reports that Taiwan's TSMC may be the sole manufacturer of processor. TSMC has manufactured the A8 chipset used in the iPhone 6 and 6 Plus but had shared the manufacturing of A9 chipsets with Samsung.
So how to differentiate between Apple and Samsung from an investment point of view? 
Below are Samsung's and Apple's acquisitions over the past few years.
Data courtesy of CrunchBase and the author
Both companies' tech acquisitions are made to enhance existing or future offerings. There is nothing monumental here to provide a clue about potential products or enhancements that could affect future earnings.
But there may be one diamond in the rough: Samsung's acquisition last month of Joyent, a cloud infrastructure and big data analytics company offering a solution that powers real-time web and mobile apps. Samsung's efforts in the Internet of Things will position the company to move away from being smartphone-centric as it faces continued pressure from Chinese smartphone manufacturers, and of course, Apple has the same pressure.
So what are the two companies doing with IoT?
HomeKit is Apple's home automation platform for controlling smart-home products with iOS apps and Siri voice commands. The platform was announced at WWDC 2014, and the first HomeKit-enabled products were released a year later.
Samsung got off to a late start and will spend $1.2 billion over four years for U.S.-based IoT research and development as well as investments. This will be led by the Samsung Strategy and Innovation Center, Global Innovation Center and Samsung Research America.
To evaluate the value proposition of the two company's IoT approaches, a cross-competitor analysis was performed by the Academy of Competitive Intelligence, where more than 300 U.S. patent-published apps of Alphabet's Google, Apple and Samsung that were related to the IoT smart-home apps are reviewed.
Alphabet is a holding in Jim Cramer's Action Alerts PLUS Charitable Trust Portfolio. See how Cramer rates the stock here. Want to be alerted before Cramer buys or sells GOOGL? Learn more now.
According to the analysis, the "following figure shows the Activity Index versus [the] value propositions strategic map for Apple, Google and Samsung. The size of the circle represents the total number of the patents for each value proposition. Activity Index is a measure of a company's relative innovation activities in a specific innovation field: Activity Index = share of a specific innovation sub-class in a company/share of a company's patent in total patents, where share of a specific innovation sub-class in a company = patents (innovation sub-class)/patents (a company) and share of a company's patent in total patents = patents (a company)/patents (total company)."
Data courtesy of LinkedIn
The chart shows that Apple is most active in the automation value proposition innovation, compare with Google and Samsung, even if Apple's number of patent applications is smaller than each of the others.
The next figure shows the Activity Index versus tools/context for the value propositions strategic map for Apple, Google and Samsung. The size of the circle represents the total number of the patents for each tools/context.
Data courtesy of LinkedIn
So, Apple's activity related to IoT is a driver for further growth.
But the landscape of the smartphone competition between Apple and Samsung has changed. No longer will the smartphone features of the two companies or from generation to generation take center stage.
Instead, it the focus will be on IoT connectivity from the smartphones to smart technology.
Meanwhile, as discussed above, the processors used in Apple products are designed by the company but manufactured by Samsung and TSMC. In addition, personal computers and smartphones use both DRAM and NAND to function.
The average DRAM content of a smartphone is forecast to jump 20% year over year to 1.89 GB this year from 1.57 GB in 2015. DRAM content for Apple's iPhone expanded from 1 GB to 2 GB, while high-end Android phones have adopted more than 2 GB, and many are even adopting 4 GB.
Demand for NAND is projected to grow to 33.5 billion in 2016, from 22.7 billion GB last year, which I discussed in the article, "Shortage of NAND Flash Memory Is Coming Soon: What Caused It, and What Will Be Its Impact?"
Apple doesn't make memory chips but instead relies on Micron Technology for the iPhone 6s production. On the other hand, Samsung is a leader in DRAM, NAND and 3D NAND.
Apple generates billions of dollars in profits each quarter, thanks in large part to its ability to reduce component and manufacturing costs but still offer its devices at lofty price tags.
It is doubtful Apple will get into the memory business by acquiring Micron Technology or another supplier, but lowering costs from the supply chain could affect gross margins in the near term.
In terms of R&D, Samsung spent $14 billion last year, while Apple spent $6 billion, a record amount, moving the company into the top 20 of world's research spenders.
Apple is on track to spend more than $10 billion on R&D this year, up nearly 30% from 2015 and and up from a little more than $3 billion annually just four years ago. 
And so the question is where is the R&D money being spent. One suspicion is the Apple Car, which would be a tremendous boost to income in the long term.
Apple's iPhone represents most of the revenue generated by the company. The table below shows how iPhone revenue increased from a low of 45% of total revenue in 1012 to nearly 70% in the past few quarters.
| | |
| --- | --- |
| Period | iPhone as % of Apple revenue |
| Q1 2015 - Q2 2016 | 62.5% - 69.4% |
| Q1 2014 - Q4 2014 | 52.8% - 57.1% |
| Q1 2013 - Q4 2013 | 51.4% - 56.2% |
| Q1 2012 - Q4 2012 | 45.1% - 55.6% |
However, competition from Samsung and Chinese smartphone manufacturers is intense, and faced with declining revenue, the future is uncertain.
As opposed to Samsung, which is a strong player in DRAM, NAND and 3D NAND, Apple makes no chips. Instead it designs chips for its processor that is manufactured by archrival Samsung and TSMC.
In addition, Apple has signed a contract for OLED displays with Samsung at a cost of $2.6 billion.
Although it appears that Apple is at a disadvantage, the plant alone to manufacture OLEDs would cost more than $2.6 billion to build and equip. Relying on independent contractors to supply and assemble all components of the iPhone and all Apple products is actually an advantage to enhanced profit margins.
Apple is gearing to spend considerable amounts of R&D in the near term. This tremendous growth can only be interpreted as a plan that I call the big Apple: the electric car.
Rumors have been percolating for some time, but Apple's R&D plans clearly demonstrate that it will be a reality.
The company needs to move away from a smartphone-centric business model. If we look at acquisitions, there is nothing to indicate that a recent acquisition will have a long-term benefit except for minor tweaks to existing offerings.
Samsung, on the other hand, is moving toward the IoT, an area where Apple is already established.
An analysis of patents appears to show that the potential for long-term growth in IoT for Apple is strong.
The IoT is moving forward with great potential for revenue generation. Apple and Samsung compete head-to-head in smartphone sales and tech features.
Once both companies become entrenched in the IoT, the smartphone will be just a vehicle for connecting to smart cities, smart homes and smart technology. It is the connectivity that will become the next battleground between Apple and Samsung.
This article is commentary by an independent contributor. At the time of publication, the author held no positions in the stocks mentioned.