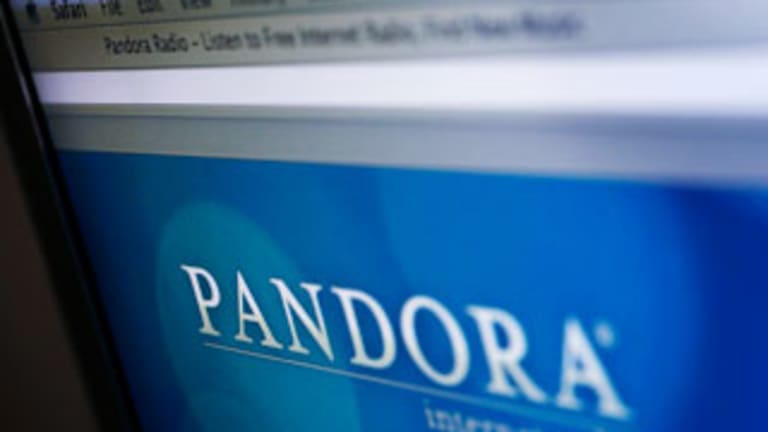 Apple vs. Pandora: The Music-Streaming Duopoly
Investors should prepare for slower-growth performances going forward from music-streaming firm Pandora.
NEW YORK (TheStreet) -- In only the first nine months of the year, shares of Pandora (P) have already tripled.
While the Internet radio giant has done well, overcoming tough odds and growing despite stiff competition from the likes of
Spotify
and
Sirius XM
(SIRI) - Get Sirius XM Holdings, Inc. Report
, Pandora has not shown that it can make enough money to justify investors' faith. With
Apple's
(AAPL) - Get Apple Inc. Report
iPhones now available with iTunes Radio, which comes at a much cheaper cost than Pandora's subscription service, Pandora's already weak margins are suddenly under more pressure. Will the stock hold?
Read: The Beginning of the End for Facebook
With listening hours up 16% year over year and subscription revenue surging up 143%, I can't deny that Pandora is an exceptional growth story. As with
Facebook
(FB) - Get Meta Platforms Inc. Class A Report
, Pandora is also benefiting from a dominant showing in advertising revenue, which continues to outperform Street estimates, climbing up recently by 44%.
But eventually "the music stops." Given that content acquisition costs continue to rise, including a 35% increase in the recent quarter, Pandora will have to do better than the $8 million GAAP (generally accepted accounting principles) loss the company posted in the recent quarter.
Realizing that Pandora's dealing with liquidity issues in looking for ways to finance its operations, last week management announced plans to sell 18.2 million shares in an expanded stock offering at $25 per share. The offering, which is expected to close on Tuesday, is an attempt to attract advertisers away from terrestrial radio stations.
Given how the offering was structured, which includes a 30-day option for underwriters
JPMorgan Chase
(JPM) - Get JPMorgan Chase & Co. Report
and
Morgan Stanley
(MS) - Get Morgan Stanley Report
to purchase 2.73 million additional shares, Pandora might be able to net a total estimated sum of $393 million, given that the underwriters exercised their option on Friday. Investors cheered the news, sending shares of Pandora to its highest level in more than two years. But I wouldn't get carried away just yet.
Assuming the local U.S. advertising market is a $15 billion industry, this seems like a good strategy for Pandora. Unfortunately, management has not shown that it can effectively monetize the 7.5% market it already owns of the U.S. radio audience. Plus, without knowing how Apple, which also plans to attract advertisers with iTunes Radio, will attack this market, Pandora may end up just throwing good money after bad, and diluting its own stock by as much as 9%.
I'm not saying Apple is just going to come in and kill off what Pandora has built. Worst case, I believe there's room for both to strive. As I've said, Pandora's death has been proclaimed by many companies and several music apps. It hasn't happened yet.
The problem, though, is that with iTunes Radio, which comes free on iOS 7, Apple has essentially launched a competing service that is targeted at more than 50% of Pandora's listeners.
Again, it's too early to say with any degree of certainty how viable iTunes Radio will be. But how long did it take for
Microsoft's
(MSFT) - Get Microsoft Corporation Report
Internet Explorer browser, which arrived free in every version of Windows, to kill off Netscape? This is where Apple's recent commercials, which have sent subtle messages to advertisers like
"more people listen to their music on the iPhone than any other phone"
, becomes even more brilliant.
In other words, it doesn't matter what the radio market share for Pandora or anyone else is, Apple is still the brand of choice. No other company has been able to monetize music better.
Read: Time to Buy Solar Panels?
To the extent that Pandora's new stock offering can help capture the lion's share of the radio ad market as management hopes, I can see the stock going higher. But with Apple now fully into the game, investors should prepare for slower growth performances going forward from Pandora. That's not necessarily a bad thing though -- especially if margins begin to grow.
Pandora's music genome feature, which gives the company the ability to customize music, is without a doubt revolutionary to the extent that it has helped Pandora become a very "sticky" service. From what I've seen so far from iTunes Radio, I will admit I have not experienced anything yet -- other than price -- that I believe would draw a Pandora faithful away. But the company's management has to figure out how to turn that popularity into profits.
At the time of publication, the author was long AAPL
.
Follow @saintssense
This article was written by an independent contributor, separate from TheStreet's regular news coverage.
Richard Saintvilus is a co-founder of
where he serves as CEO and editor-in-chief. After 20 years in the IT industry, including 5 years as a high school computer teacher, Saintvilus decided his second act would be as a stock analyst - bringing logic from an investor's point of view. His goal is to remove the complicated aspect of investing and present it to readers in a way that makes sense.
His background in engineering has provided him with strong analytical skills. That, along with 15 years of trading and investing, has given him the tools needed to assess equities and appraise value. Richard is a Warren Buffett disciple who bases investment decisions on the quality of a company's management, growth aspects, return on equity, and price-to-earnings ratio.
His work has been featured on CNBC, Yahoo! Finance, MSN Money, Forbes, Motley Fool and numerous other outlets.