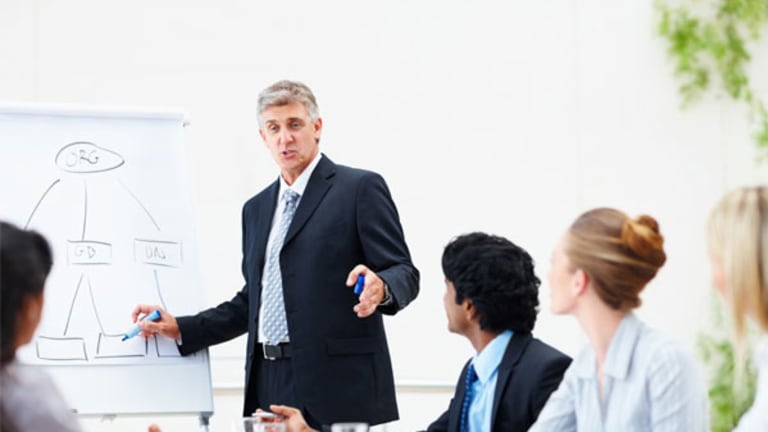 Apple vs. Google: 5-Point Scorecard
Tech's dynamic duo goes toe-to-toe in a measure of cloud, mobile, retail, device and social skills.
NEW YORK (
) -- As investors pile in to the tech rally, two big names --
Apple
(AAPL) - Get Free Report
and
Google
(GOOG) - Get Free Report
-- are seen as the innovation leaders determining the direction of the sector.
So which shop has the edge?
It's a classic heavyweight match-up. Each player brings certain strengths and weaknesses. Probably the best predictor of success is how well the two companies measure up on key tech trends like social networking, mobile, gadgetry, cloud and retail.
Some categories seem obvious, but it's wise to remember that directions and fortunes can change quickly in tech.
Here's a scorecard to follow how the two players stack up in five key areas.
No. 1: Mobile
In market share, Google's Android is
forecast to take the lead in smartphones
with 38% of the business, according to Gartner.
But in revenue, it's Apple by a mile.
With $11.9 billion in
iPhone sales
, Apple recently topped
Nokia's
(NOK) - Get Free Report
$9.4 billion revenue mark in the first quarter, according to research shop Strategy Analytics.
In the mobile war, Morgan Keegan analyst Tavis McCourt calls it a draw between Apple and Google.
"This is a huge market with tens of billions of feature phone revenue up for grabs every year," said McCourt, referring to the millions of consumers upgrading from dumb phones to smartphones.
But a big differentiator in mobile will be price, which thanks to the $100-a-month phone bills that come with the iPhone and other smartphones, is a major barrier to the growth of smartphone contract customers.
AT&T
(T) - Get Free Report
when it reported its quarterly earnings.
And since not everyone can fly first class, there's a lower-priced category that can play to Android's advantage, said MKM Partners' analyst Tero Kuittinen.
Android has been able to take advantage of the "sheer volume of phones across different price ranges," said Kuittinen. "Android is successfully penetrating the prepaid smartphone market, which is increasingly important." For example,
MetroPCS
(PCS)
has Android smartphones starting at $80 with a prepaid unlimited data and calling plan of $50 a month.
Score:
Today it's a tie, but Android has an edge as smartphones spread beyond top-tier buyers.
No. 2: Retail
Google's Checkout was designed to be an
eBay
(EBAY) - Get Free Report
PayPal
challenger for online payments. And when Google introduced its own Nexus One phone, it also unveiled what it hoped would be a revolutionary concept in buying smartphones: an online store that allowed shoppers to pick their carriers and calling plans.
That didn't fly. And the Nexus store was boarded up.
Meanwhile, there has quite possibly been no bigger success in electronics retail than Apple. The company, which celebrates its 10-year anniversary of its first store next month, reported last week that store sales rose 90% to $3.19 billion and revenue per store jumped 67% to $10 million.
"Apple is 10 years ahead of any tech vendor in building their own retail distribution globally," said McCourt. This doesn't matter so much in phones, but it's a big advantage when "launching new products like iPads and TVs."
Google, on the other hand, lets its partners do all the product marketing and hardware development, missing out on the branding that Apple so effectively capitalizes on.
Google fails to be identified as the mainstay behind the Android platform, said Gartner analyst Ken Dulaney. Where Apple is a closed environment geared toward advancing Apple, "Google's less cohesive organizational structure lets various elements go in different directions, foregoing synergy," he said.
Score:
Big win for Apple. Maybe Google will get another shot when mobile payments take off.
No.3: Cloud
Google didn't invent it, but it certainly helped popularize it.
Keeping services like email, photos and documents on the Internet -- accessible from any connected device -- basically defines the Google approach.
Apple's approach has been a little different. Your files live on your Apple devices and iTunes will put them there for you.
Score:
Google wins this one easily, but imminent plans for streaming media from Apple and Google threaten to heat up this category soon.
No.4: Gadgetry
Apple's iPod, iPhone and iPad have been a stunning triple hit on design, popularity and industry influence. Apple's work with touchscreens helped replaced buttons and dropdown menus. Fingertip gestures took over mouse scrolling and key stroking.
Google doesn't make devices, but its Android software is touchscreen-operated and core to devices like tablets and phones. Given the rapid growth of Android, Google isn't as far behind as you might think, said MKM's Kuittinen.
Just as Apple devices help sell other Apple devices through the so-called halo effect, "Google will start benefiting from better network effect over the next two years," said Kuittinen.
This could be a key benefit for Google as younger people, who buy cheaper smartphones, "increasingly define new messaging and app trends," he said.
Score:
Apple wins, but Android devices could become the anti-Apple.
No. 5: Social
Apple has no social skills. And Google has been as awkward with the whole social networking field as its
CEO Larry Page is with analysts
.
Google has effectively declared social one of its top priorities by ramping up spending and tying employee incentives to social initiatives.
Apple rolled out Ping last year.
Either way, both companies have failed to answer the call of
Facebook.
Score:
A tie. Both companies share this loss.
Final tally:
Apple wins in ultra-thin fashion thanks to its deft hand in gadgets.
--Written by Scott Moritz in New York.>To contact this writer, click here: Scott Moritz, or email: scott.moritz@thestreet.com.To follow Scott on Twitter, go to http://twitter.com/MoritzDispatch.>To send a tip, email: tips@thestreet.com.