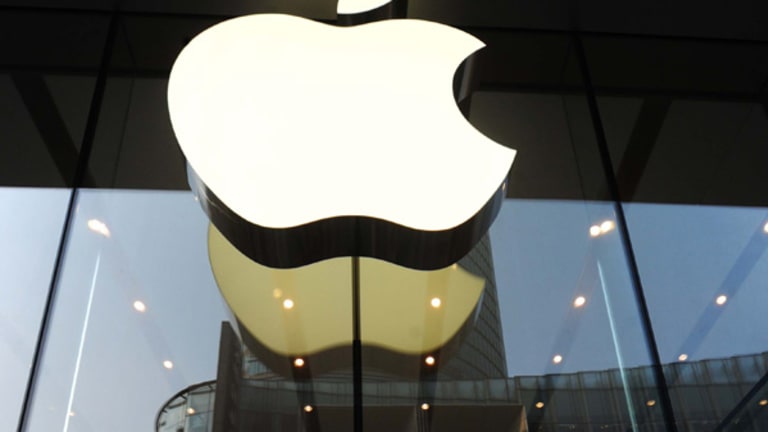 Apple Vs. Amazon: Don't Call It a Price War
Weakness in AAPL makes it a buy ahead of the holiday quarter.
NEW YORK (TheStreet) -- Investors annoy me (not you, but other ones).
After
Apple
(YHOO)
rolled out new products, most notably the 13-inch Macbook Pro with Retina Display and new iPad mini, its stock dove (again), testing recent lows and settling around $615 during Tuesday's after-hours session.
I went on
a couple of weeks ago and predicted exactly how Apple would approach iPad mini.
Apple did not give us a cheap knockoff; instead, it introduced a premium-priced smaller version of the iPad that outclasses everything in the same ...
But wait, they're not even in the same category.
Not
Google's
(GOOG) - Get Alphabet Inc. Report
Nexus 7 or
Amazon.com's
(AMZN) - Get Amazon.com Inc. Report
Kindle Fire tablet.
In the video,
Mashable's
Lance Ulanoff rolled with assumptions that he -- and his sympathizers -- will probably still claim true today.
Primarily, the "sweet spot" for a 7-inch, budget tablet is the $199 price point. And Apple will lose if it prices iPad mini higher.
There's not a nicer way to say it -- that's crap.
I was off by $20. While I anticipated a $349 iPad mini, Apple enters the market with the 16GB WiFi model at $329, followed by 32 and 64GB WiFi versions at $429 and $529, respectively.
It did not sell itself out and blindly join the $199 hackfest. It produced an entirely different product, particularly from quality of construction and design standpoints.
As Apple's near-comical side-by-side comparison with the Nexus 7 shows, that tablet was thrown together with plastic and scant attention to detail.
Google made a lame attempt to compete.
And, because Jeff Bezos has a clue, Amazon set foot in the space only to further its e-commerce ecosystem. Nothing less, nothing more. Kindle Fire is little more than an Amazon credit card that just so happens to do a serviceable job playing music, streaming video and running apps.
While the new Kindles up the ante slightly, Amazon still wants no part of Apple. The latest Kindle Fire models will do just what the original ones did -- not meaningfully impact iPad sales and drive Amazon's core revenue.
Almost every story written post-iPad mini launch says the price might "surprise" you.
Is the media kidding us?
Why would the price surprise us? Does Apple have a reputation for price wars that I am not aware of?
Until yesterday, Apple didn't say a word about the device. It gave us nothing.
As usual, the media made assumptions and developed memes that most of the public uncritically accepted as fact.
Apple was doing a smaller tablet. It would likely compete on price with other 7-inch models. It would cost between $199 and $249.
Let's reiterate what happened here. Nobody had any real idea about what Apple was going to do. Nobody knew a thing because Apple doesn't talk to people. That next generation, regular-size iPad is really what should have taken us by surprise.
A majority of the media trusted intuition and went with whatever the echo chamber spit out. It snowballed from there.
And now, all of a sudden, we're shocked and surprised that Apple did what it did, even though this reality bears absolutely NO association to what the media, particularly tech reporters and financial analysts, assumed Apple was going to do.
Given my long-term bearish view on Apple, you might think I would agree with some of the tripe analysts and other observers spewed after the mini announcement. Like this poor excuse for reaction from somebody named Trip Chowdhry at someplace called Global Equities (courtesy of
:
Innovation at Apple is over... Just incremental improvements, nothing ground breaking. The best is over for Apple. iPad mini is playing catch up to Google Android, probably will have a mediocre customer adoption.
That's a textbook example of underestimating Apple. And it has nothing to do with relevant long-term concerns regarding innovation. At least not the ones I have.
What you have here is an analyst making a patently absurd statement: "iPad mini is playing catch up to Google Android." What is it catching up to? I don't understand how that's possible given the makeup of the tablet marketshare.
To make matters worse, Trip falls by connecting that bit of absurdity with Apple's long-term future.
While they might not be revolutionary in the sense that we're used to from Apple (though that iMac looks pretty darn thin to me), nobody comes close to the latest products from the company.
In positive or negative fashion, there's just no credible way to correlate what Apple is doing now with iPod, iPhone, iPad and Mac to its uncertain future.
Whether you're bullish or bearish, it's irrational, illogical and downright disingenuous to attempt to establish a link.
The current product pipeline will allow Apple to crush the holiday quarter. While weakness on upcoming earnings would not surprise me, beyond that, it's smooth sailing into the first three months of 2013.
At the time of publication the author held no positions in any of the stocks mentioned.
This article is commentary by an independent contributor, separate from TheStreet's regular news coverage.
Rocco Pendola is a private investor with nearly 20 years experience in various forms of media, ranging from radio to print. His work has appeared in academic journals as well as dozens of online and offline publications. He uses his broad experience to help inform his coverage of the stock market, primarily in the technology, Internet and new media spaces. He has taken a long-term approach to investing, focusing on dividend-paying stocks, since he opened his first account as a teenager. Pendola, 37, is based in Santa Monica, Calif., where he lives with his wife and child.