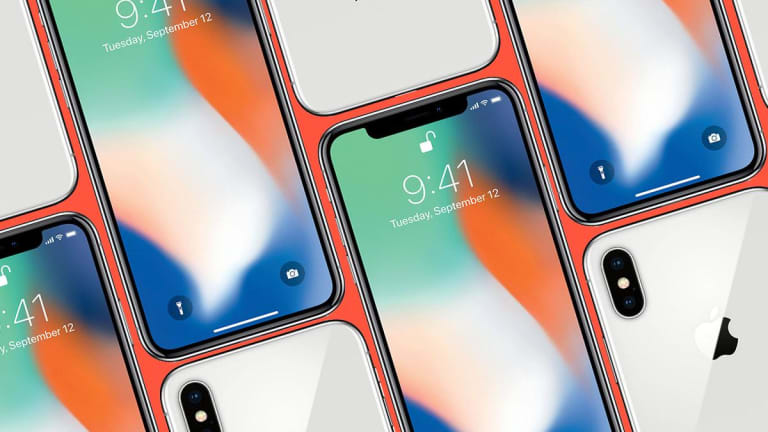 Apple Tumbles on a Sales Warning: 6 Key Takeaways
The tech giant blames weak iPhone sales -- particularly in China -- for its revenue shortfall. Services, wearables and iPad revenue saw healthy growth.
It took just four days after the closing of Apple's (AAPL) - Get Apple Inc. Report December quarter books for the company to issue a sales warning.
After the bell on Wednesday, the tech giant said -- through an open letter attributed to Tim Cook -- it now expects December quarter (fiscal first quarter) revenue of $84 billion. That's down about 5% annually and below prior guidance of $89 billion to $93 billion, as well a FactSet analyst consensus of $91.3 billion.
The guidance cut comes after a number of iPhone suppliers, including Cirrus Logic (CRUS) - Get Cirrus Logic Inc. Report , Lumentum (LITE) - Get Lumentum Holdings Inc. Report , Qorvo (QRVO) - Get Qorvo Inc. Report , Japan Display and AMS, had issued sales warnings and/or below-consensus guidance. Together with a market sell off, iPhone sales worries had weighed heavily on Apple's shares in November and December.
Apple is down 9.3% in trading Thursday to $143.25, and has taken equities lower with it. The Nasdaq is down 1.3%, and the S&P 500 is down 1%.
With the qualifier that estimates will likely be taken down some due to the warning, Apple now trades for about 11 times a fiscal 2019 (ends in Sep. 2019) GAAP EPS consensus of $13.24 and about 10 times a fiscal 2020 EPS consensus of $14.67, before accounting for $130 billion in net cash (cash minus debt).
Here are a few notable takeaways from Apple's warning.
1. China Weighed Heavily on Results
Following a September quarter in which Apple's "Greater China" revenue (it covers mainland China, Hong Kong and Taiwan) rose 16% annually to $11.4 billion, Apple says the region's iPhone, iPad and Mac sales accounted for over 100% of its expected $4 billion-plus annual revenue decline, along with most of its $5 billion revenue shortfall relative to guidance. With Apple having reported year-ago Greater China revenue of $18 billion, its comments suggest its sales to the region fell over 20% annually.
Apple adds macro pressures (heightened by trade tensions) weighed on its Chinese sales, as did a "particularly sharp" contraction in the Chinese smartphone market. Competitive pressures might also be a factor -- Chinese OEMs such as Huawei and Xiaomi have been taking share in the broader smartphone market, and trade tensions could be impacting the buying decisions of Chinese consumers.
2. iPhone Sales Were Under Pressure Outside of China as Well
With Apple stating its non-iPhone businesses saw revenue grow almost 19% from a year-ago level of nearly $26.7 billion (more on that shortly), iPhone revenue appears to have dropped around 15% from a year-ago level of $61.6 billion. For comparison, the analyst consensus prior to Apple's warning was for roughly flat iPhone revenue.
Though stating Greater China and other emerging markets drove "the vast majority" of its iPhone revenue decline, Apple also says iPhone upgrades "were not as strong as we thought they would be" in some developed markets. It suggests macro challenges, fewer carrier subsidies, price increases caused by a strong dollar and the impact of lower battery replacement prices were among the culprits.
The remarks follow a number of reports indicating demand for Apple's latest iPhones was falling short of expectations in calendar Q4 -- particularly for the iPhone XR. It also comes after Apple upped the trade-in offers it provides for the iPhone XR and XS through its GiveBack program.
3. Services and Wearables Remain Growth Engines
In spite of the iPhone shortfall, Apple says its quarterly Services revenue was above $10.8 billion. That's above a $10.5 billion consensus and implies revenue growth of 28% or better.
Apple also says its "wearables" revenue -- it covers the Apple Watch and headphones, and is reported in its "Other Products" segment -- grew almost 50%. The growth came in spite of tough comps -- wearables revenue was up almost 70% in the year-ago period -- and in spite of supply constraints for AirPods and the Apple Watch Series 4; both the Watch and AirPods are said to have been "wildly popular among holiday shoppers."
4. iPads Also Outperformed
Just over two months after unveiling new iPad Pros that support Face ID and feature much smaller bezels, and about six weeks after it began discounting the standard iPad for the holidays, Apple says its iPad revenue rose by a double-digit percentage last quarter. That represents a reversal from the September quarter's 15% drop, and is much better than a consensus for iPad revenue to drop 2% to $5.78 billion.
Apple says that Mac revenue, which benefited from an overdue MacBook Air refresh, grew annually in spite of MacBook Air supply constraints. The consensus is for Mac revenue to be up 5% to $7.26 billion.
5. The Installed Base Continues to Grow Meaningfully
11 months after stating its installed based of active devices has topped 1.3 billion, Apple says the base has grown by over 100 million in the last 12 months.
This disclosure isn't that shocking, given recent earnings call remarks from Tim Cook and Luca Maestri about continued installed base growth. But it's still encouraging in light of the iPhone shortfall, and bodes well for both Apple's long-term Services potential and its ability to cross-sell hardware to existing users.
6. Stock Buybacks Remained Aggressive -- and Are Likely to Stay That Way
Apple says its diluted share count for the December quarter is likely to be around 4.77 billion. That's down by about 80 million sequentially thanks to buybacks, whose impact on the share count is slightly offset by employee stock grants.
The company reiterates it aims to eventually be net cash neutral. With Apple currently possessing $130 billion in net cash, and with the company producing over $60 billion in annual free cash flow, that suggests buybacks will remain pretty aggressive -- at least unless Apple makes a truly giant acquisition.