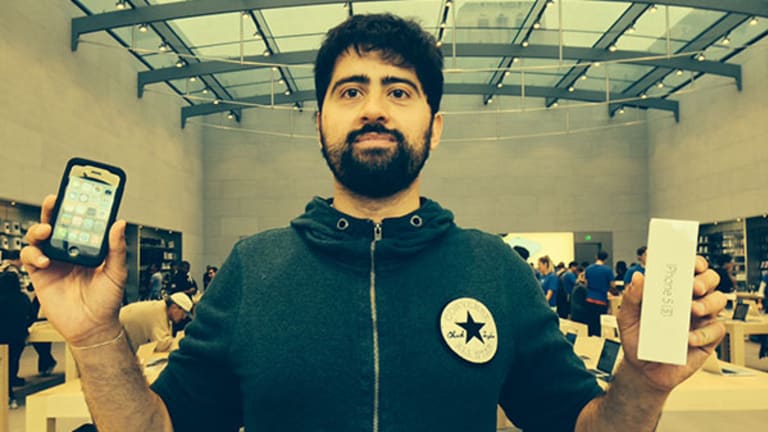 Apple Trying To Determine Source of Mysterious Smell at Santa Monica Store
In what appears to be a response to a report by TheStreet, Apple has installed air sampling devices in its Santa Monica store.
NEW YORK (TheStreet) --
That's an image taken Thursday afternoon at the Apple (AAPL) - Get Free Report Store in Santa Monica.
Apple has not responded to TheStreet's request for comment on the issue, however last week we reported on a smell that some people, including Apple retail employees, classified as "body odor" or "B.O." And now Apple is drawing air samples to, presumably, determine and remedy the stench at what is not only one of its flagship locations, but most financially lucrative and architecturally significant outlets.
The source who tipped me off to this issue originally spoke with a person who claims to be overseeing the air quality investigation at the Apple Store. While this person wasn't at liberty to say much, he did note that Apple has had similar problems at other locations, but is responding here because of "a recent complaint."
This person also agreed that rather than body odor, the smell reeks of some sort of adhesive. I can verify that, on Thursday afternoon, the store is easily the worst I have ever smelled it. And, indeed, it's probably not B.O. Maybe more alarmingly it does present to the novice nose as something more chemically-charged ... quite possibly adhesive.
If this is the case, it could raise health concerns for consumers as well as Apple Store employees who spend a considerable amount time breathing this worse-than-dank retail air. Of course, we'll have to wait for the results and, hopefully, official word from Apple (which I have requested again).
I spotted three air samplers in the store. One just inside the main entrance (pictured above), another about 1/3 of the way into the store and one more towards the back of the store (pictured below).
As I explained in the original story, it's just shocking that something could go so horribly wrong in a store designed and erected down to the last detail by a company known to obsessively contort and control every last detail of its iconic existence. Isolated incident or not, it absolutely speaks to the larger issue investors grapple with regarding the present state of Apple and its future prospects.
I'll be sure to update this story with any new information or with word from Apple if they respond, though that would be uncharacteristically kind of them.
--Written by Rocco Pendola in Santa Monica, Calif.
Disclosure: TheStreet's editorial policy prohibits staff editors, reporters and analysts from holding positions in any individual stocks. Rocco Pendola is a columnist for
TheStreet
. Whenever possible, Pendola uses hockey, Springsteen or Southern California references in his work. He lives in Santa Monica.