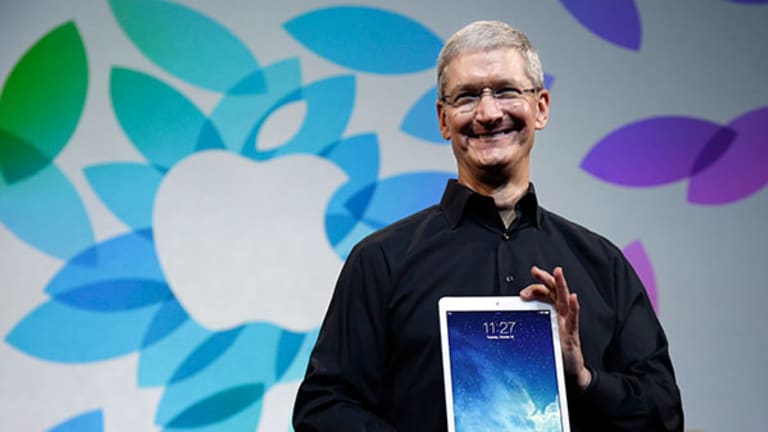 Apple to $1,000 in 2014
Tim Cook establishes confidence on Wall Street in the New Year and Apple stock soars.
NEW YORK (TheStreet) -- As Apple (AAPL) - Get Apple Inc. Report approached $700 in the spring and summer of 2012, I was one of the few voices urging caution, calling out dual concerns:
Some investors were getting too emotional, irresponsibly egged on by Wall Street analysts such as Brian White, who had a cutesy $1,111 price target, and Gene Munster, who couldn't stop talking out of his rear with empty Apple TV predictions.
Bulls discounted the impact of losing Steve Jobs and replacing him with no confidence man Tim Cook. Cook had to prove, one way or another, that he could produce something along the lines of iPod, iPhone or iPad. Could he win over Wall Street like Jeff Bezos has at Amazon.com (AMZN) - Get Amazon.com Inc. Report?
In a March 2012 Seeking Alpha article, I discussed both concerns. Then, one year later at TheStreet, in AAPL Could Burn Emotional Investors, I revisited the subject.
Granted, AAPL is up about 25% since March 2013, but look at the chart, particularly the April and June 2013 crashes below $400. What one person calls dip buying, the next considers anxiety-producing volatility that can trigger sleepless nights, vomiting in the kitchen sink and rash decisions.
In any event, as is often the case in this racket, there's a little bit of "right" and a little bit of "wrong" to assign anybody with not only the guts to publicly express an opinion, but come back day after after in an effort to move the conversation forward. And I'm here to tell you today that the conversation has evolved and progressed.
Nobody Knows It, But iPad Air Changed the Game
Come 2014, AAPL stops being a volatile battleground stock, littered with question marks and misguided talk about the "need" for a bigger dividend or more aggressive buyback. In fact, relative to its 12-18 months' worth of ups and downs, it jogs, in a straight line, to $1,000.
I'm as confident about this move up as I was when I threw a wet blanket on the euphoria as Apple stock flirted with and hit $700.
Here's the deal -- in 2014, we're going to separate the men from the boys.
I flesh out my rationale along these lines in:
Apple Will Disrupt and Destroy When It's Ready (from December 9, 2013)
And ...
No Tablet War: Apple Stock Will Soar in 2014 (from December 19, 2013).
While it's easy to understand how a stock like AMZN can outperform AAPL, there's no explaining how posers, free lunchers and companies with very real question marks do it. I'm not saying these names on the chart on the next page will all crash in 2014 (though a couple likely will). But I am saying AAPL will perform alongside them or better if they somehow manage to replicate their 2013 magic (carpet rides).


Consider each company relative to Apple.
Hewlett-Packard (HPQ) - Get HP Inc. Report. I said about all that needs to be said in Hewlett-Packard Needs to Stop Selling Computers. If selling low-end hardware and phablets is the right strategy for a lost tech company, I want to be wrong. (Set to the tune of If loving you is wrong, I don't want to be right).
Best Buy (BBY) - Get Best Buy Co. Inc. Report. This has been the biggest gift of 2013 on Wall Street. See Sell Best Buy, It Has No Pulse. It's an insult to our collective intelligence when a company like Best Buy, not worthy of selling Apple's leftovers, can even sniff AAPL's performance. 
Twitter (TWTR) - Get Twitter Inc. Report and Facebook (FB) - Get Meta Platforms Inc. Report. It makes sense to group these two together.
First, in and of themselves, I'm not dissing either company. I don't consider them overvalued per se and I believe in the prospects of their respective businesses. I might not be the most bullish, but I'm definitely not bearish. Consider what I am saying here within the context of a comparison to Apple.
Having observed Facebook's advertising platform and news feed closely on both mobile and the desktop, I honestly don't think the company has any idea what it wants or how to do what it's unsure of. It's the classic case of throwing algorithms against the wall to see what sticks.
Ever since Facebook tweaked its news feed algorithm to be more relevant and a purveyor of news (something it ought to leave to Twitter), mine has become a mess.
As much as I love my employer, I don't want 11 stories in a row from TheStreet, interspersed with another 10 or 20 from Business Insider and Buzzfeed, to come in between status updates from a handful of my friends. You can smell that there's no rhyme or reason at Facebook from a mile away.
That might not be a bad thing. There's nothing wrong with experimenting on your audience until you find the sweet spot. But, again, relative to the structure at Apple, I'm not sure how you can justify 38% upside in FB versus just 13% for AAPL in 2013 (using a one-year chart, as of December 26, 2013).
Something similar stands for Twitter.

Investors have bid the stock up 62% on what? On faith? On the premise that Dick Costolo is the poor man's Reed Hastings? On the notion that the company will win enough of a mobile advertising market dominated byGoogle (GOOG) - Get Alphabet Inc. Report (and, to a lesser extent, Facebook), to make a dent worthy of AMZN-like high flyer status.
I'm all for the narrative. I'm all for the story stock. I'm even all for Twitter. But I'm done being all for names with real question marks outperforming the company with quite possibly, outside of Google, Amazon and Starbucks (SBUX) - Get Starbucks Corporation Report, the fewest question marks in corporate America.
The world gets hip to this line of thinking in 2014. And not merely on a hunch or because it felt like time. Apple will trigger euphoria that, this time, will follow through. Because confidence lost will have been reestablished. 
It starts in January on the Q4 earnings call. I'm not sure if we'll get any sort of pre-announcement from Apple, but there's no question in my mind that while Amazon owned the holiday shopping season from an e-commerce standpoint, Apple will have owned it from a consumer electronics perspective.
We still don't have any better idea of what Tim Cook's "next big thing" will be than we did when he took over for Steve Jobs. But we have iPad Air. A game-changing device superior to every other tablet or similar device on the market. Don't understate the importance of this release. If you're only as good as your last game, Cook and Apple are pretty strong right now. 
For some reason, iPad Air has flown under the radar of most observers, cast off as a slightly lighter version of its predecessor. Not so. It's the real deal. It's a game changer. It's Tim Cook proving that he can take something meaningful from conception to implementation and beyond.
In 2014, he wins widespread confidence and ups the ante as AAPL takes it rightful spot at the head of the pack in tech and on Wall Street.
--Written by Rocco Pendola in Santa Monica, Calif.
Rocco Pendola is a columnist for
TheStreet
. Pendola makes frequent appearances on national television networks such as
CNN
and
CNBC
as well as
TheStreet TV
. Whenever possible, Pendola uses hockey, Springsteen or Southern California references in his work. He lives in Santa Monica.