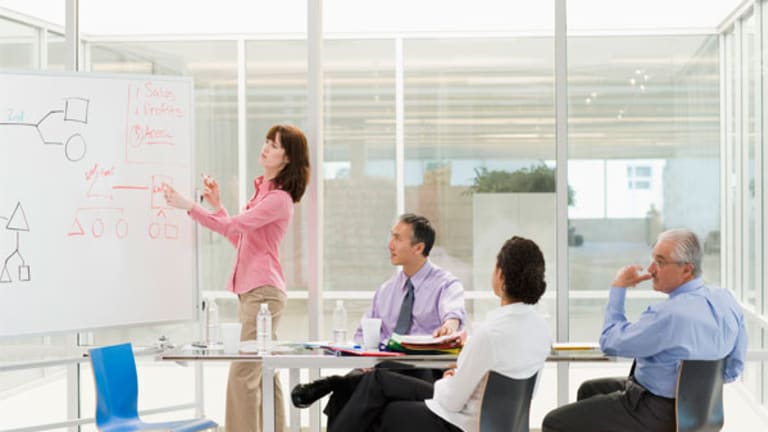 Apple Time for the Dow: Opinion
It's time to add America's most talked-about stock to the nation's premier blue-chip index.
NEW YORK (
) -- The next kick up in the stock price of
Apple
(AAPL) - Get Apple Inc. Report
will probably happen when the stock is added to the
Dow Jones Industrial Average
.
The Dow 30 has always been more of a sales tool than a measurement tool. Created by Charles Dow in 1896, it's regularly updated to remove laggards and add winners.
General Electric
(GE) - Get General Electric Company Report
is the only original member on it.
Currently
IBM
(IBM) - Get International Business Machines Corporation Report
is among the most influential stocks in the index, given its share price near $200. But Apple has nearly twice IBM's market cap, and more than double its share price. Its entrance to the index is overdue.
Adding Apple to the Dow 30 would provide a big boon to the index and make many people think the markets are doing better than they are. Maybe they would invest more as a result.
Apple is up more than 37% this year while the Dow is up less than 4%. It's already the most talked-about stock in America.
MoneyNews
estimates that, had Apple joined the Dow in 2009, as was rumored would happen at the time, the average would be 2,500 points higher now than it is. How would the economy look then?
Some, however, think that Apple is actually too big for the Dow. Because the Dow stocks are listed based on stock price, rather than market value, Apple would have an enormous impact on the average and its movement.
But there are ways to deal with that. One way would be to ask Apple for a stock split. Another way would be to weight it, as
Nasdaq
reweighted it lower last year.
As noted, the Dow is a selling index, not a market index. Companies are dropped from it all the time.
Bank of America
(BAC) - Get Bank of America Corp Report
looks like a good candidate for being dropped right now, although it only joined in 2008.
Other candidates for removal include
Verizon
(VZ) - Get Verizon Communications Inc. Report
, added in 2004, and
Travelers
(TRV) - Get Travelers Companies, Inc. Report
, just added in 2009.
If you want a real earthquake, drop
JP Morgan
(JPM) - Get JPMorgan Chase & Co. Report
, which joined in 1991.
After
Microsoft
(MSFT) - Get Microsoft Corporation Report
joined the DJIA in November 1999, it bounced around a little before going on a tear that saw its shares go from $43 to $57 in a matter of weeks.
But things don't always work that way. After
Pfizer
(PFE) - Get Pfizer Inc. Report
joined in 2004, it dropped nearly one-third of its value by the end of the year.
The Dow is something like a soccer league. It undergoes something like promotion-and-relegation in order to make sure the best teams are in the top flight. The process is fun and makes end-of-season games interesting. The Dow is adjusted for the same reason, to give people the impression that buying stocks in good companies is a winning strategy and that they should follow the market.
So adding Apple to the DJIA becomes a no-brainer. It would cause an immediate rise in the average and keep it rising, spurring more interest in buying stocks, which is the index's primary aim.
It's the best thing the Dow can do for itself right now, and it may be the best thing Apple can do for America. And if Apple has to undergo a stock split in order to make it happen, my 10 shares are willing to make the sacrifice.
At the time of publication, Blankenhorn owned shares of Apple, IBM, GE and Microsoft.