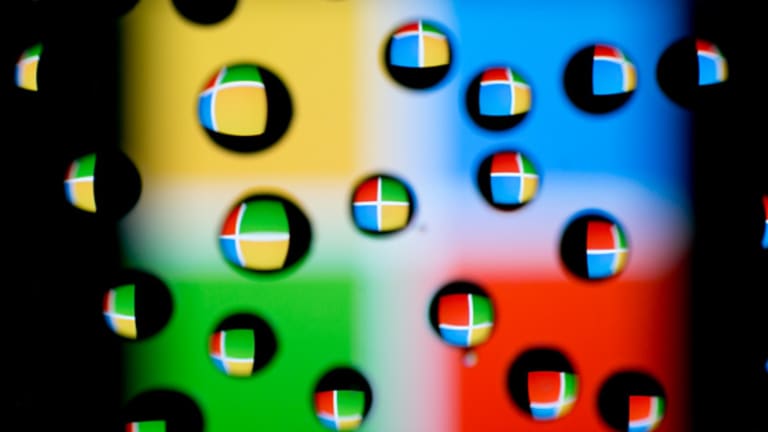 NEW YORK (TheStreet) -- Any person even remotely associated with Microsoft (MSFT) - Get Microsoft Corporation (MSFT) Report should be livid, ashamed of him/herself or a mix of both.
Livid if they're not accomplice to the company's active and ongoing implosion. Ashamed if they have mailed it in over the last five years.
You're misleading yourself if you cannot see the writing on the wall. Get ahead of the curve on this one: Microsoft
is
the next
Research in Motion
(RIMM)
.
. Choke on them. Digest them. Act accordingly.
I had an experience this past Friday that I guess I have had before, but, for some reason, it never resonated with me like it did this time.
After I landed in Minneapolis-Saint Paul,
TheStreet contributor Robert Weinstein
, who I visited in the Northwoods of Wisconsin for
a mini vacation
, took me to the famous
Mall of America
.
We visited the
Apple
(AAPL) - Get Apple Inc. (AAPL) Report
Store, which, not surprisingly, sits right across the way from the Microsoft Store. You can see the reflection of the Windows logo in the window of the Apple Store.
How painfully depressing.
I'm not sure who was in that part of the mall first. And it really doesn't matter. Retail in the same category clusters all of the time for various reasons.
There's the notion of clustering.
And there's the competitive nature of the game. Apple opened a store in Waterloo, Ontario. Good market, yes, but Steve Jobs wanted to pour salt in RIM's wounds by erecting a symbol of Apple dominance in the land of BlackBerries and failed attempts to secure an NHL franchise.
>>>On Tuesday, November 20 at 6pm ET, TheStreet will host a Trade Credit Insurance webinar with Todd Lynady, Senior Underwriter for Zurich in North America and Mike DeLuca, Senior Partner of One Source.Register now.
I would commend Microsoft for opening up next door or across from every Apple Store in the world if the company had just a shred of pride left.
Maybe if Microsoft rolled more like
Tesla Motors
.
When I Tweeted my displeasure with Microsoft's retail strategy -- opening Apple copycats, sometimes in close proximity to Apple Stores -- my feed went ablaze with people claiming I was making a big deal out of nothing.
I wasn't. Hear me out. You can't make a big enough deal over the travesty Microsoft contributes to in the tech space.
It's what amounts to plagiarism vs. using somebody else's work as a source of inspiration.
Tesla does the latter, Microsoft the former with respect to the Apple retail concept.
Walk into a Tesla store. You see something modeled after an Apple Store, however, you never feel like you're seeing a copycat, such as the types Steve Jobs chided at one of his last product launch presentations for Apple.
Ironically, the man who leads Tesla's retail segment, George Blankenship, masterminded Apple's, but was poached by Microsoft in 2009 to build out the company's real estate footprint.
Obviously, the Microsoft experiment didn't work out well, no matter how you slice it.
It certainly didn't drive meaningful sales, save xBox. In his defense, Blankenship's thing is that retail doesn't drive sales, it builds the brand and provides consumers with an excellent venue to experience your products.
The Tesla model not only works, it looks good as an Apple-inspired concept. It's respectable. If Blankenship was a college student, his professor wouldn't blindside him with a plagiarism charge at the end of his final senior semester.
He created something original at Tesla, showing great respect to Steve Jobs and the whole Apple legacy at the same time. It's a bit like a band such as Gaslight Anthem using Bob Dylan and Bruce Springsteen lyrics in their music.
They're tipping the hat to those who came before them in the most noble way. They're not pulling a Milli Vanilli or illegally lifting a famous riff and making it their own.
Tesla has done what Steve Jobs always channeled via Picasso:
Good artists copy, great artists steal
. It's probably better stated that great artists steal and then adapt the hot goods because that was Apple's way.
Apple took portable music devices (i.e., the Walkman) and gave us iPod. The snowball rolled
uphill
from there.
That's what Tesla has done in retail. It's not one of those things you can really explain, you have to experience it.
From there, I'm not sure how anybody with a clear head and somewhat objective mind doesn't come to the same conclusion as me.
Microsoft obviously designed most of its stores by taking photographs of an Apple Store and literally copying every last aspect. I would say "detail," but that makes it sound like Microsoft was thorough in its larceny.
There are no cosmetic distinctions. None.
Microsoft uses the same features as Apple -- products organized for us on work tables, it's own Genius Bar complete with appointment scheduling, an area for people to sit and chill while watching propaganda beamed in from Redmond. It even orders them throughout the store the exact same way Apple does.
At least Microsoft employees -- some of whom look embarrassed to be there -- wear different color shirts than the ones at Apple.
But there's one other distinction that sets Apple and Tesla as retailers apart from Microsoft: Steve Jobs and Elon Musk stock their stores with beautiful and unique products that people want to touch and aspire to buy. If you have the resources to make a purchase from either store,
.
Given the cold reception to the Surface Tablet and Windows 8, Microsoft clearly doesn't have the ability to level the playing field in that regard. We can only assume that's why Blankenship left. You cannot pin the retail failure on him; who knows what Steve Ballmer put him up to.
It's impossible for retail to drive your brand and consumer experience, if your products suck. Simple as that.
However, if Ballmer and his crew at Microsoft expect anybody -- consumers, enterprise, competitors, high school kids -- to take them seriously, good products or not, they have to innovate, not thoughtlessly rip off somebody else's work.
Rocco Pendola is
TheStreet's
Director of Social Media. Pendola's daily contributions to
TheStreet
frequently appear on
CNBC
and at various top online properties, such as
Forbes
.