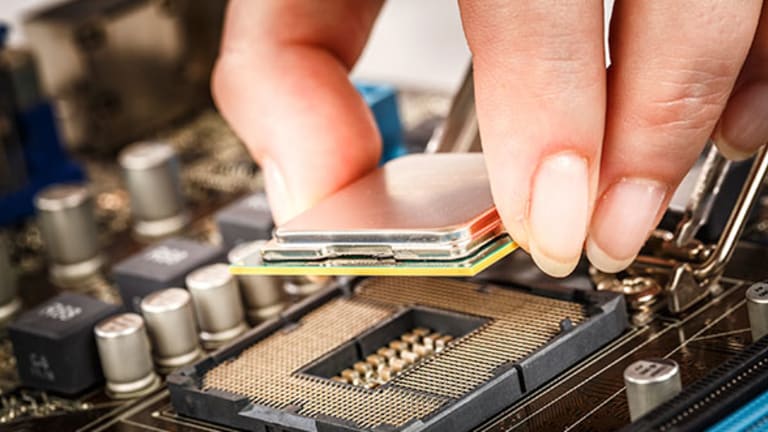 Apple Supplier Dialog Semiconductor Cuts Full-Year Forecasts
The Apple supplier expects a 15% revenue decline on weaker smartphone demand.
U.K.-based Dialog Semiconductor (DLGNF) revised down its revenue and gross margin outlook for  2016 due to  weakening demand from the smartphone market. Its shares plunged 9% following the announcement.
The warning comes as the pace of smartphone growth is set to decline to 7% this year, from 14.4%, according to Gartner, and follows news from Apple (AAPL) - Get Reporton Tuesday that quarterly IPhone sales had held up better than expected, though still fell 15% on the year. Dialog derives most of its revenue from Apple.
Apple is a holding in Jim Cramer's Action Alerts PLUS Charitable Trust Portfolio.
Reading, England-based Dialog, which in May said it expects revenue to drop by a high-single digit percentage, said it now expects a 15% year-on-year decline due to "continuing softness in smartphone market demand". Consequently, the company expects its underlying gross margin to fall slightly from the previous year. In fiscal 2015, Dialog booked underlying gross margin of 46.7% on revenue of $1.36 billion.
The revised outlook may be an indication that the company is struggling to keep up with the change in trends. With the pace of smartphone sales growth expected to halve from last year, semiconductor players have started pouring their resources into chips for next-generation products such as Internet of Things and artificial intelligence. Dialog's 2015 annual report showed that products for mobile systems accounted for 82% of its revenue, compared with 9% for connectivity products, 6% for power conversion products, and 3% for automotive and industrial products. Second-quarter results announced today showed that mobile systems products still accounted for a major portion.
Gartner forecasts smartphone sales to post annual growth of 7% in 2016, down from an increase of 14.4% in 2015.
In the three months to July 1, Dialog reported diluted earnings per share of 22 cents on net profit of $16.8 million. That's down 60% from 55 cents on net income of $42.9 million in the second quarter last year. Revenue dropped 22% from $316.5 million to $245.7 million, while expenses for selling and marketing, general and administrative, and research and development all increased.
Dialog said a 31% volume decline for mobile systems products was partially offset by 46% growth in power conversion products, while volume for connectivity, power conversion and automotive and industrial products improved. It added that growth momentum in the connectivity and power conversion products should remain strong through 2016.
"Looking further ahead, we believe our R&D investments will generate new opportunities with Tier 1 OEMs, increase our share of content in mobile devices and expand our IoT footprint," said CEO Jalal Bagherli. "All of which gives us confidence that our positive momentum will continue through the second half of 2016, and in 2017 and 2018."
In January this year, Dialog lost out to a $3.6 billion bid from Microchip Technology  (MCHP) - Get Report in a battle to acquire microcontroller chipmaker Atmel.   The Frankfurt-listed Dialog had bid for Atmel in an attempt to reduce its dependence on Apple, which accounted for about 79% of revenue in 2014, according to Credit Suisse, and to expand in the Internet of Things market and the automotive sector.
Dialog shares recently traded down 7.9% at €28.80.
Apple on Tuesday said it sold 40.4 million iPhones in the third quarter, down 15% year-on-year but above the forecast figure of just over 40 million.
IPhone sales dropped for the second straight quarter, pushing total revenue down 14.6%.