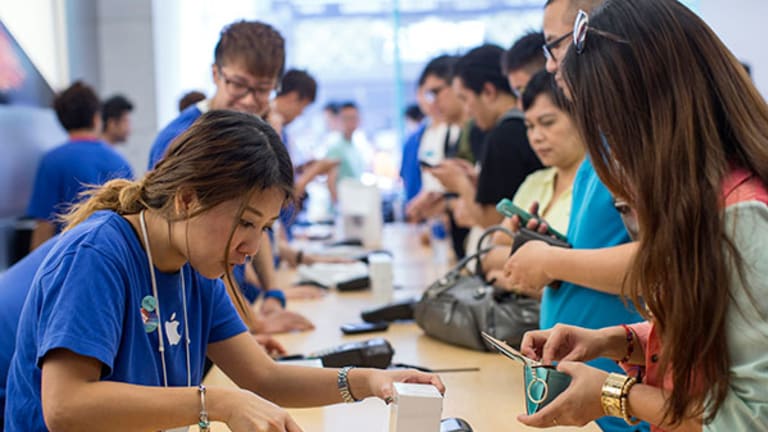 Apple Supplier Avago Is Poised to Outperform Again as Mobile Keeps Booming
Avago Technologies was a buy at $112 in February. Now it's trading around $132.50, but with demand for the hottest new smartphones still rising, the bullish case remains strong.
NEW YORK (TheStreet) -- The last time we discussed the prospects of Avago Technologies (AVGO) - Get Report , there were tons of reasons to be bullish on the stock, not the least of which was Avago's close relationship with Apple (AAPL) - Get Report . The iPhone maker accounts for 10% of Avago's sales, which means what's good for Apple is good for Avago. And "good" has been an understatement.
In February, we discussed the Avago's long-term growth potential, given its recent investments in areas like China. At the time, research firm IDC predicted China would see roughly $500 million in smartphone sales for 2015, growing three times faster than projected U.S. unit shipments.
Back then, making an investment case for Avago was simple: Avago + China expansion = higher profits. At the time, its shares traded around $112. Three months later, the stock has climbed as high as $136, gaining as much as 21%. On Wednesday morning, it was trading in the $132.50 range. But it's showing no meaningful signs of slowing down, especially since Apple estimates are still climbing.
Avago is up more than 30% on the year, dominating not only the broader averages, but also the Philadelphia Semiconductor Index  (SOXX) - Get Report, which is up just 5% so far in 2015. Just as impressive, Avago's gains have outpaced Apple, which is up an impressive 20% on the year.
Why does all of this mean? Consumers love their mobile devices. And Avago, headquartered in Singapore, has quickly built itself into one of the premier wireless technology companies on the market, growing earnings and revenue in 2014 at rates of 52% and 70%, respectively.
With Avago's second-quarter earnings report due Thursday after the close, now's not the time to take profits, because the narrative has not changed. Demand remains high for new model smartphones with the most advanced features, as evidenced by Apple's iPhone sales in the past two quarters, which crushed estimates. This is important because Avago's wireless business accounts for better than 40% of its total sales.
And in terms of China, last quarter, Apple grew revenue by better than 71% -- the second straight quarter of better than 70% growth. This means Avago's investments in China, which include various acquisitions, appear well-timed.
Plus, Avago's China growth should continue to climb, since analysts expect China to surpass the U.S. as Apple's largest market, buoyed by China's 4G network expansion. It's for this reason and others that earnings estimates for Avago's just-ended quarter and the full year have been climbing.
For the quarter that ended in April, Avago is expected to earn $2.01 per share (up 136%) on revenue of $1.63 billion (up 133%). For the full year, which ends in October, projected earnings per share of $8.44 would be a 72% increase, while revenue is projected to climb 57% to $6.79 billion.
There is nothing conservative about these projections. But here's the thing: Avago has beaten both earnings and revenue estimates for eight consecutive quarters, suggesting that analysts haven't been able to keep up with the company's performance. And with long-term earnings projected to grow at an annual rate of 20% for the next five years, it's likely that these latest projections are also too conservative, meaning that Avago stock is still a solid bet for the next 12 to 18 months.
This article is commentary by an independent contributor. At the time of publication, the author held shares of Apple.