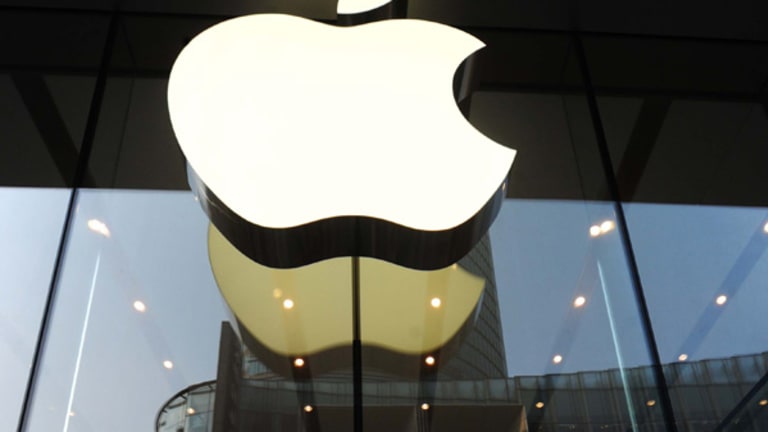 Apple Stores Packed This Weekend; Will the Stock Pop?
If you can buy three stocks prior to the start of earnings season in January, make it AAPL, AMZN and SBUX.
NEW YORK (TheStreet) -- I spent Saturday walking around Manhattan.
I covered considerable Midtown ground. Typical second-to-last weekend before Christmas -- tons of people, lots of drunk Santas, gridlock on streets and sidewalks, but not many long lines to buy stuff.
I spied suburbanites unsure how to navigate urban streets, an abundance of tourists, plenty of window shopping, but not that many shopping bags on the tote.
FAO Schwarz
had its usual block-long line. I didn't go in so I'm not sure if people were browsing or buying.
Every single
Starbucks
(SBUX) - Get Starbucks Corporation Report
-- and they dot practically every other block -- had a moderate-to-massive line.
And the
Apple
(AAPL) - Get Apple Inc. (AAPL) Report
Store -- oh my, the Apple Store -- I have never seen anything like it.
I am no stranger to Apple Store chaos. I live a few blocks from the Santa Monica store that did $1 million per day in 2011 (and likely still does). I often visit the wildly popular Downtown San Francisco location. And I go to the Apple Store on Fifth Avenue every time I'm in Manhattan.
Saturday was different than what I am used to seeing at an Apple Store.
Take this with a grain of salt -- it's anecdotal; however, it's no less reliable than Piper Jaffray analyst Gene Munster sending staff to a mall to quantify traffic. It's all painfully unscientific. It makes more sense than Citi downgrading Apple and lowering the stock's price target to $575 on "demand" concerns after iPhone 5 blows out opening weekend numbers in the U.S. earlier this year and in China this past weekend.
On Saturday, the Fifth Avenue Apple Store had a line out the door. The circular staircase leading in and out of the building rarely had a step to spare. Constant flow of people. Not enough Apple Store employees to handle demand. Let me stress --
I have never seen anything like it
.
I bought an iPad mini for my daughter (don't tell her, it's a surprise). Turns out it was a good thing my debit card got declined. Don't worry, I don't need a loan. I had the cash to cover the purchase. During a 16-minute phone call with my bank (on hold and live with two operators), we discovered that bank security features would not allow my debit card to run as a credit card. They suggested I ask Apple to do a "pin-based transaction." They did. And it was approved.
During that 16-minute call, I stood next to the long counter in the back of the store. About eight to 10 employees staff this counter, armed with mobile-payment devices and product neatly stacked behind them. Folks typically line up at this counter when they know what they want.
The sales I saw in this part of the store do not include the deals Apple Store employees closed elsewhere on the floor.
iPad mini was easily the most popular product going out the door during the time I spent at the Fifth Avenue Apple Store. During my 20-plus minute stint at the back counter (which includes the phone call and the time it took for my purchase), I saw too many minis to count get sold. We're talking several per minute, easy.
And folks were not spending $329 for the device. That's because the 16GB mini was out of stock. I paid $429 for a 32GB WiFi-only model. For the record, as of this past weekend, all iPad mini models at the Apple Web site list as "available to ship" in one week. Both the regular iPad and iPhone 5 are "in stock" online.
I took to
with my observations. Folks from across the country responded. Stores in Columbus, Atlanta, Seattle, Miami and throughout New England were, according to these accounts, packed and had product moving out the door rapidly.
Here's what I think is happening.
Overall, brick-and-mortar retail will hit expectations in line or slightly above/slightly below. Digital sales will see a considerable pop, particularly via mobile platforms. Apple and
Amazon.com
(AMZN) - Get Amazon.com, Inc. Report
, by a mile, end up the two retailers that dominate holiday shopping.
And, of course, Starbucks benefits from all of this wandering around urban shopping streets and suburban malls.
If consumers are not holding back their wealth because of fiscal cliff/tax-related fears, they're spending it lock, stock and barrel with Apple, Amazon and Starbucks or spreading it thin across a myriad of relatively weak and secondary players.
If I could buy three stocks into the January earnings crush, I would get long AAPL, AMZN and SBUX. Outside of these three, there's really not another strong and reliable retail player.
I like AMZN and SBUX now, in smallish regular doses, but not AAPL, not right now. There's too much noise, too much profit taking and too much uncertainty. In a couple of weeks (or less), whispers of Apple's holiday supremacy and it's January earnings report will put that to rest for at least the first several months of 2013.
--Written by Rocco Pendola in Santa Monica, Calif.
Rocco Pendola is
TheStreet's
Director of Social Media. Pendola's daily contributions to
TheStreet
frequently appear on
CNBC
and at various top online properties, such as
Forbes
.