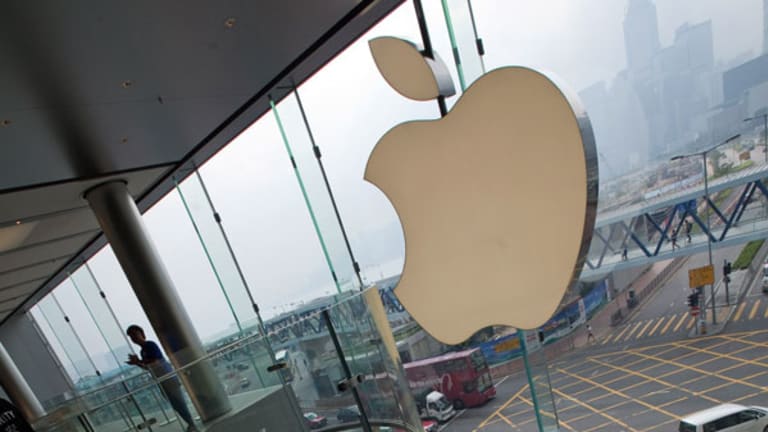 Apple Still Thinks Like a Start-Up
Don't count out Apple yet. Steve Jobs instilled a simple, 'lean' philosophy at the company that still prevails.
NEW YORK (TheStreet) -- The pundits criticize Apple (AAPL) - Get Apple Inc. Report for falling behind, theorizing that in the absence of their spiritual leader, Steve Jobs, innovation and that certain quality he brought, is now fading.
The market is becoming anxious with Apple,
sans
Jobs. It believes that the miracle rise of Apple was embodied solely in one man. There was complete confidence and ease that Apple could do no wrong when Jobs was alive; even on his death bed the confidence was strong. And the sentiment lingered almost exactly a full year after his death -- the year of mourning.
But that sentiment is fading, and the reality distortion field has weakened, if it's not completely gone. Was it the man his ideas that made Apple great? When a man dies, do his ideas go with him? Ideas do not have an expiration date coincident with the life of a person.
Steve spent 14 years at the helm after his return from exile, during which he took on the role of a messiah, a buddha, a man who walked the simple path. Was he a saint? Hell no. Was he a tyrant? Absolutely not. Was he brutal to work for? Often yes, but measured. Then how did Jobs imbue his philosophy upon the company? How did he get tens of thousands in this mammoth company to act as though they were all part of a small hungry start-up? How did he get people he never met to embrace his philosophy of simplicity? He certainly couldn't be there to mentor every employee. He couldn't even come within five levels of most of the minions.
The answer is simple, like the Jobs philosophy. He led by example. He worked within small focused groups and drilled his philosophy into them for 14 years. These disciples of the top team cascaded the Jobs message and his ways down the chain until they reached every person. And every person from the bottom up is empowered with the tools to improve upon Apple operations. This is the embodiment of a kaizen lean company. "Kaizen" is Japanese for "good change" or "change for the better." It is the underlying philosophy of lean business processes, such as those practiced and originally introduced to the world by Toyota's 14 principles, called the Toyota Production System (TPS).
The key to Apple's continued success and domination is to stay true to the philosophy and values of kaizen. And while I have been critical of Tim Cook for not being the spiritual and charismatic leader that Jobs was, there is one thing for certain: Cook is the epitome of a kaizen master. Jobs was both a polished showman and a kaizen master, and perhaps it's too much to expect Tim to be both. It's also not a fatal flaw, not by a long shot. Being a showman and a great team leader are not synonymous. The showman was for, well, show. What Jobs did internally was lead the Kaizen way and demonstrate his own personal brand of simplicity.
Ken Segall recently published a book about Steve Jobs and his philosophy of simple, titled
.
And though Ken never mentioned the words "lean" or "kaizen," the philosophy he described in his book that was part of the Jobs way, is exactly that. Segall wrote that Jobs has a manifesto of sorts, although it is not clear that it was every formally written down, because I suspect that Jobs would have viewed that as rules to follow, and too big company-like. A kaizen company doesn't need rules posted to the wall, he needs inspiration and empowerment, and this is what sets Apple apart from all others.
I have often heard within companies I consult for, when doing companywide process assessments, that they would like to be more Apple-like. But they think they can get there by going only part way, using this principle or that method. What they don't understand is that to be lean, to be like Apple, to be kaizen, is not a part-time venture; it is all or nothing. It is like a glass of sparkling spring water, clear and good. But if you put just the tiniest bit of sludge in it, perhaps only 1 part to a 100,000, then the whole glass of water is ruined. When you look at decisions to be made, and one way is kaizen and the other is not, if you choose to compromise, then you choose not to be good at some level.
Kaizen is all or nothing, Apple is all or nothing. Apple is focused on doing what it do best, and that is to make the best possible products, using its kaizen principles. Not the principles of pundits. No compromises. Apple has a schedule that has been set in motion, and it is true to that course. I suspect we shall see in due time, on Apple time, what that roadmap looks like.
When Apple comes out with a bigger iPhone, and I am sure it will, it will be game over for
Samsung
. Samsung is producing phablet phones at a frantic pace. It is hoping one of many sizes it produces will be the iPhone killer ... no, the Apple killer. At last count it has 15 or more phone sizes. Apple has two different sizes, and at some point in the near future, Apple will probably have three different sizes, although I suspect the original iPhone 3.5-inch screen will get deprecated, so back to 2 sizes; the 4-inch and a 5-inch. If Apple chooses to release more sizes, then each phone will have purpose and utility, it will be well thought out and will establish a standard for others to follow. Form will follow function. No more, no less. Simple.
-- Written by Ernie Varitimos, author of the Apple Investor blog.
This article was written by an independent contributor, separate from TheStreet's regular news coverage.
Ernie Varitimos has a long history with Apple as an investor, trader and consumer of its technology. He started his career as a rocket scientist and has spent the past 25 years driving, controlling and influencing technology in the financial industry. Ernie is a former hedge fund manager and current futures trader.