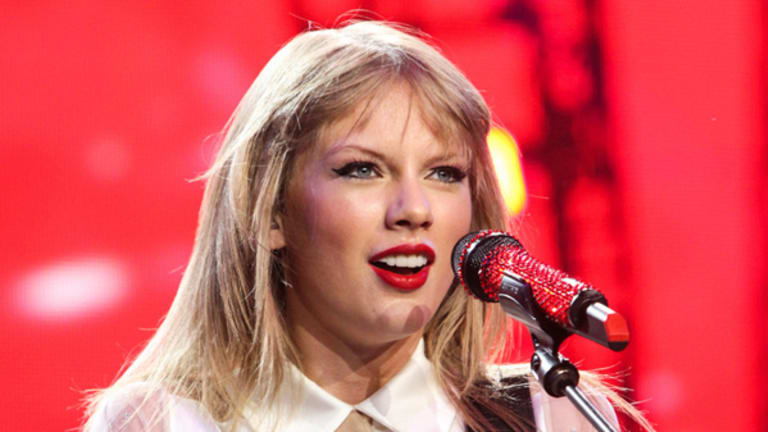 Apple Should Start Its Own Record Label
If Apple is to accomplish its stated goal of dominating the digital music landscape, it needs to collect talent beyond Dr. Dre and Jimmy Iovine.
NEW YORK (TheStreet) -- While it might not go down exactly as I describe, don't be surprised if Apple (AAPL) - Get Apple Inc. (AAPL) Report starts its own or buys an existing record label.
With Jimmy Iovine and Dr. Dre in the fold after the deal for Beats it makes perfect sense. Extending the trajectory of thought Apple set into motion when it announced the deal -- that buying Beats is all about music and bringing the likeminded Iovine and Dre on board -- consider this madness that, when you really think about it, contains sensible method ...
If you're going to poach talent why not make it surefire profitable talent rather than relatively risky management members?
It's clear -- Apple wants to dominate every corner of the digital music landscape. From dying downloads to free streaming radio to on-demand style subscription Internet radio. And it will likely get into data and who knows what else as its strategy continues to mature and unfold. It makes more sense that I can relay in words for Apple to build a stable of the talent that directly dominates digital music and all that it entails. Musicians are not conduits. They're not third parties like Apple and Pandora (P) . They are the direct and dynamic dominators of digital music and the new and emerging music industrial complex.
As such, Apple should call Taylor Swift's label -- the independent Big Machine Records -- and tell Scott Borchetta, the dude who runs it, you have two choices: Let us buy you or let us have Swift.
From there -- and I hate to use such sterile and formal language to classify a talent as incredible and otherworldly as Swift, but I want to keep things short and sweet -- you directly own the content that makes all of the above tick. All of the above being the aforementioned components of the digital music landscape. From music downloads to streaming to other facets, such as data and touring, I discuss at the links in this article.
Apple apparently wants content, in some fashion, from television programmers, but it can't get it. It's too valuable for the TV peeps to give up. Even to Apple. But music's not nearly as tough a nut to crack, particularly for Apple. It would make sense for Big Machine and/or Swift to join the (Big) Apple Machine as it looks to do great things music-wise with Beats. Big Machine and Swift are already wildly successful without Apple; imagine what they could accomplish with it.
Plus, if Apple's really desperate to regain and maintain the hearts and minds of young people, there's no better performer to associate with than Swift. She could sell more iPhones than freaking T-Mobile (TMUS) - Get T-Mobile US, Inc. Report! 
What Apple would do as a "record label" is redefine what it means to be a record label. In the spirit of how Netflix (NFLX) - Get Netflix, Inc. (NFLX) Report handles its DVD division, Apple could produce the bare minimum number of physical copies of recordings, effectively pushing music listeners away from CDs and nudging them to where they're going anyway -- streaming. Accessing, not owning music. Leasing music, not buying it. Storing it in the cloud, not on bookshelves and in empty milk crates.
Apple could set up compensation schemes for everything from sales to streams to merchandise to touring that artists such as Swift would not merely accept, but love, respect and, most of all, promote. And others would follow. They would scratch and claw to sign with Apple. There would be nothing like being on the label owned by Apple and run by Jimmy Iovine and Dr. Dre. The move would instantly propel Tim Cook to Steve Jobs-level genius. And rightfully so.
--Written by Rocco Pendola in Santa Monica, Calif.
>>Read More:
Why Bruce Springsteen Ends Up on Taylor Swift Radio
WWDC Sets Apple Up for Big Second Half of 2014
Zynga Is a Chinese Takeover Candidate at Content Hungry Websites
Seadrill Profits Rise Like the Tide
Rocco Pendola is a full-time columnist for
TheStreet
. He lives in Santa Monica. Disclosure: TheStreet's editorial policy prohibits staff editors, reporters and analysts from holding positions in any individual stocks.