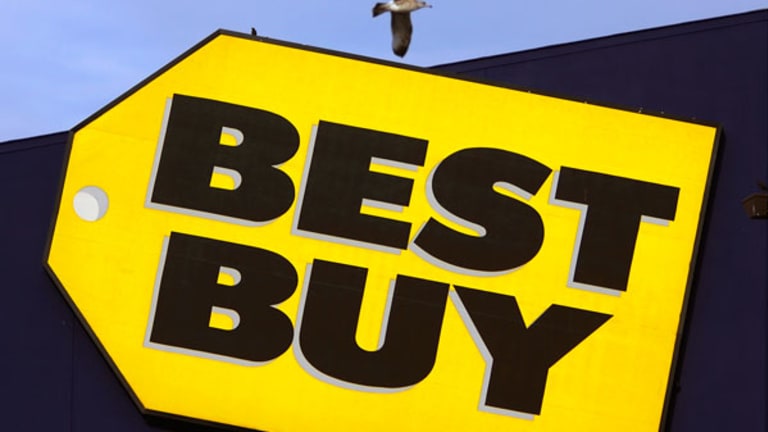 NEW YORK (TheStreet) -- Ever since visiting Target's (TGT) - Get Target Corporation Reportunderwhelming urban concept store -- CityTarget -- in Southern California, I intensified my thinking on The Death and Life of Great American Retailers.
Everybody else has him doing it lately so,
Steve Jobs must be rolling in his grave
as he observes what's happening in brick-and-mortar retail.
Jobs certainly whiffs a not-so-surprised laugh when he thinks of
Steve Ballmer and Microsoft (MSFT) - Get Microsoft Corporation (MSFT) Reportstuck in the mud somewhere in the swamps of Redmond
.
But when he looks at retail, outside of
Tesla Motors'
righteous and honorable cover of Apple Stores
, Jobs must be sad. For example, how do you think he feels about his former rank-and-file employee -- and, presumably, close friend -- Ron Johnson's
obscene performance at JC Penney (JCP) - Get J. C. Penney Company, Inc. Report
? He can't be pleased, especially after Johnson bragged about everything he thought he had accomplished at Apple.
As I contemplate Apple's present situation, best summed up as
an innovative standstill that doesn't really matter right now because the competition sucks so badly
, I wonder what Jobs thinks about
Best Buy
(BBY) - Get Best Buy Co., Inc. Report
, assuming the hapless retailer even crosses his mind.
When Jobs came back to Apple, he pretty much did the opposite of everything Tim Cook is doing right now. Granted, he re-started running the company under much different circumstances, but instead of expanding product lines he cut them down to focus on a straightforward core of products. As much as that core expanded, from the Mac to a sleek selection of iProducts, it felt like it stayed small and exclusive.
Now, with iPads and iPhones apparently heading in iPods' direction, it doesn't bother me to see Apple go through a period of relatively sleepy evolution as much as it's scary to watch the selection it offers bloat.
I would expect Jobs to take things in completely the opposite direction. He might have done iPad mini (because it ended up getting done really well), but I highly doubt he would be on track to expand color schemes -- like he did with iPod -- and go cheap with iPhone. And, even though Apple certainly fleeces them on price, I bet he would pull Apple products from irrelevant black holes such as Best Buy.
If consumers have dissociated themselves from Best Buy, why shouldn't Apple? They're slumming it. That's not what Apple needs right now. The image that deserves credit for making Apple all it is today -- a premium, relatively high-end aspirational brand -- has come under assault from within the guts of Cupertino. Tim Cook needs to change that. Do you feel the sense of urgency like I do?
Apple is -- or at least should be -- the polar opposite of Best Buy. As such, it's perfect timing for the company to pull
the type of move Facebook (FB) - Get Facebook, Inc. Class A Report pulled on Zynga (ZNGA) - Get Zynga Inc. Class A Report
and add an extra nail to BBY's coffin. Just because it can. Just because it should.
That's what it has come to as this story plays out for Apple. And it's definitely what it has come to for Best Buy. The company proved this when it let (and pretty much forced) one of the nation's youngest and hottest executives
.
Best Buy sits, for all intents and purposes, idle; a company waiting, wishing and hoping for the world to change, instead of issuing the pace of innovation an ultimatum and moving to change the world.
Apple should want no part, no guilt by association, no relationship whatsoever with that mess. I highly doubt such a seemingly drastic, but strategically shrewd move would hurt sales much, if at all.
--Written by Rocco Pendola in Santa Monica, Calif.
Rocco Pendola is
TheStreet's
Director of Social Media. Pendola's daily contributions to
TheStreet
frequently appear on
CNBC
and at various top online properties, such as
Forbes
.