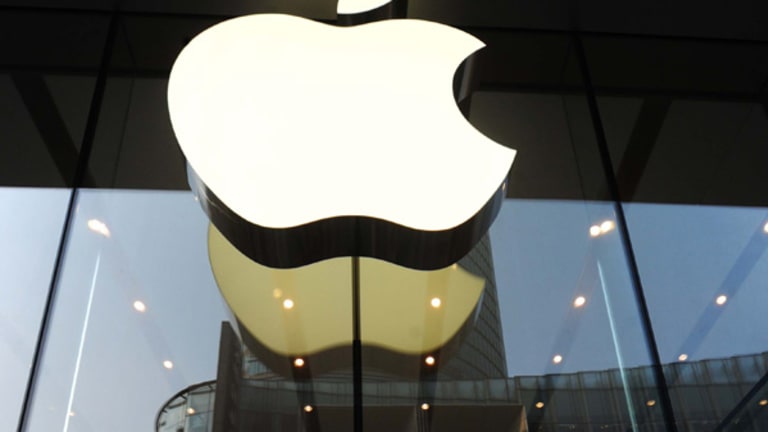 Apple Selloff: About a Year Too Soon
The media misled investors on Wednesday.
NEW YORK (TheStreet) -- My long-term Apple (AAPL) - Get Apple Inc. (AAPL) Report bear case might be playing itself out.
Doubleline Capital CEO Jeff Gundlach trashed
Apple
(AAPL) - Get Apple Inc. (AAPL) Report
on
Wednesday. He ripped the company's perceived lack of innovation, using iPad mini as a verbal specimen.
Gundlach, short AAPL since April from around $610, humbly admits he has been "sort of right and sort of wrong." Solid perspective.
He also lamented the loss of Steve Jobs.
The innovator is gone
. There's another thing I agree with.
On Apple, Gundlach and I share sentiment. That should make me happy. I am in the company of a market God.
In this world, that often leads to an article crowing about how right I have been all along. Label the remaining AAPL bulls clueless peasants and call it a day.
But I can't do that. It would be disingenuous.
And, to his credit, Gundlach isn't disingenuous either. You can smack that tag on about 95% of the financial media, though.
The media chose to ignore what really happened to AAPL on Wednesday (and will likely happen on several occasions between now and the end of the year) in favor of the frantic part of the story.
Here's the score.
This long-term downfall that Gundlach sees happening -- and that the media harped on Wednesday -- is somewhere between six to 12 months out, if it even ever happens.
I don't buy the notion that, all of a sudden, the market is this well-oiled, forward-looking machine.
If it was, AAPL would have sold off the day Steve Jobs expired. And stayed sold off.
Instead, it's up 50% since Jobs's death. And that's after recent weakness. The "market" didn't just wake up sometime in September and decide, "yeah, now's the time to dump this thing; it's over."
Because it's not over.
AAPL should still be the stock it used to be during periods of volatility and uncertainty.
I recall late summer 2011. The markets got volatile. We saw more than a few days of triple-digit losses in the Dow.
In between the one-to-three day periods of weakness, we witnessed semi-strong relief rallies.
Other stocks deserve chest bumps, but three come to mind as ones that got out in front to lead those rallies --
Ralph Lauren
(RL) - Get Ralph Lauren Corporation Class A Report
,
Amazon.com
(AMZN) - Get Amazon.com, Inc. Report
and AAPL.
Even after factoring in Jobs's death, the least has changed at Apple.
Ralph experiences weakness on concerns over a slowdown in high-end spending. Amazon stunts occasionally, at least in part because of how much it spends to grow. I don't agree across the board, but that's all sensible.
Apple falling off of a cliff since September. That's not sensible.
Apple sells out iPhone 5.
Foxconn
can't keep up with demand.
Qualcomm
(QCOM) - Get QUALCOMM Incorporated Report
, but that gets ignored in favor of a more hysterical focus.
Apple notches record iPad sales this past weekend. People wonder where the lines were.
You're telling me the long-term bear case gained all this traction in the last two months?
No way. The market doesn't look forward that way. It doesn't hammer a company like Apple on the basis of such qualitative uncertainty. And, if it ever does, it will not start with a company that, outside of
Samsung
, has ZERO competition and another record holiday quarter on tap.
No, the media chooses to report the spectacle.
That's what happened yesterday.
Gundlach gave
CNBC
the same bear case he's been giving anybody who would listen for the last six months. There's nothing new there.
Nothing
.
However, a quick search of the AAPL stories of the last 18 hours reveals a focus on this old news. Almost everybody took Gundlach's bear case and made it the headline like a bunch of irresponsible, blood-thirsty hacks.
They either ignored or buried the other thing he told
CNBC
: Investors have made loads of money on AAPL.
Four more years
almost definitely means higher capital gains taxes in 2013. As such, taking profits the day after the election makes perfect sense.
That's what happened yesterday. Nothing more than that mixed with other flavors of macro uncertainty, from the whole of the fiscal cliff to riots in Greece.
Get it straight: The real possibility that Tim Cook and his team cannot innovate the way they did under Steve Jobs will have no material impact on Apple's results for a least another six to 12 months.
In late January when Apple reports results from the current holiday quarter, we'll get validation of that thesis.
At the time of publication, Rocco Pendola was long AAPL via April 2013 call options.
Rocco Pendola is
TheStreet's
Director of Social Media. Pendola's daily contributions to
TheStreet
frequently appear on
CNBC
and at various top online properties, such as
Forbes
.