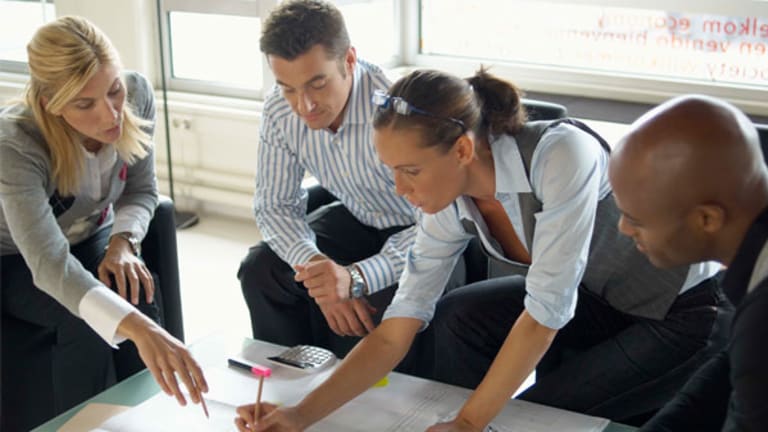 Publish date:
Apple, Samsung, Flattery and Theft
Brilliance doesn't always have to come from an original thought.
Brilliance doesn't always have to come from an original thought.
NEW YORK (TheStreet) -- Unlike any other sector, the competition that exists in technology is often brutal and sometimes downright nasty. As soon as a market leader emerges, it immediately becomes the target of every rival in the industry that wants nothing more than to put it out of business. It's a cutthroat business where survival depends on not only protecting what you have, but sometimes getting away with what you can steal.
What
Research in Motion
(RIMM)
was able to do to
Palm
is the perfect example. Though they say imitation is the best form of flattery, in business it's the No. 1 cause of death.
Brilliance or Theft?
Like the great artist Pablo Picasso, the late Steve Jobs, co-founder of technology giant
Apple
(AAPL) - Get Report
understood the meaning and the importance of "inspiration." In fact, one of my favorite quotes from Jobs, "Good artists copy; great artists steal," was itself borrowed from Picasso. While we can put Jobs' fondness for this quote into context, I think we can agree that he was saying "brilliance" doesn't always have to come from an original thought.
Jobs understood that a good idea does not have the design and functionality suitable to turn it into a great product. I happen to agree with that. Otherwise, there wouldn't be any need for corporate attorneys.
In the constant battle for market cap and market share against the likes of
Google
(GOOG) - Get Report
,
Amazon
(AMZN) - Get Report
and
Microsoft
(MSFT) - Get Report
, the lines between theft and brilliance often blur. Things only become "clear" when one company thinks it has become the victim of a robbery. This is what Apple has illustrated in its cases against Google and most recently
Samsung
.
Since recently becoming the world's No. 1 device manufacturer, topping
Nokia
(NOK) - Get Report
in terms of sales, Samsung has earned more than its share of attention from Apple. Samsung's Android-based Galaxy devices have proven to be the only true challenge to the iPhones and iPads. But apparently these devices have drawn too much "inspiration" from Apple -- at least Apple thinks so.
I think Apple should appreciate that Samsung was a student in the
"Steve Jobs School of Art"
. Now as an Apple shareholder myself, I say this with a great deal of respect for the company. Not only has the company captured our imaginations, but it has told us it knows what's best for us -- and we agree.
So it is hard for anyone not to flatter it with imitation. Again, this is where the lawyers come in. Apple knows it's not enough to be good at thievery, one has to also know how to protect its property.
Apple 2, Samsung 1
Though Apple is now
in the overall device sales category, Samsung is now looking up to Apple in court case victories. The battle now stands at two victories for Apple and one for Samsung as described by
.
Last Friday, Apple won an injunction against Samsung's Galaxy Nexus phone by a California court. The verdict awarded to Apple bans the Samsung handset and goes into effect pending the payment of a bond of nearly $96 million by Apple. This bond payment is a provision to offer restitution to Samsung for damages should the ruling be overturned during an appeal.
The keys to this ruling are Apple's Siri voice command feature and the functionality and concept of Apple's unified search capability, cited by its Patent No. 8,086,604. In her ruling, judge Lucy Koh said:
Apple has articulated a plausible theory of irreparable harm due to long-term loss of market share and losses of downstream sales.
Samsung disputed the ruling, suggesting the patent was only "a small part" of the product. The claim was quickly countered by Judge Koh who said it was "rather a substantial driver of consumer demand."
For Apple, this marks its second victory against Samsung in relation to a similar complaint. On June 26, the same judge presiding over a case against Samsung's Galaxy Tab 10.1 ruled that the tablet looked too much like Apple's iPad. The injunction also referred to a patent filed by Apple in 2005 that described the exact dimensions of what recently became the first version of the iPad two years ago.
Clearly this helps Apple and might eventually prove to be a significant blow not only to Samsung, but also Google which licenses its Android operating system to the South Korean company's phones as well as tablets. Apple on the other hand, will have extra time and opportunity to "steal" more market share until all of this sorts itself out.
Bottom Line
The iPad was not the first tablet nor was the iPod the first MP3 player. For that matter, even iTunes was borne from the concept of
Napster
and the proliferation of other music and file sharing programs.
Furthermore, I think back to the first
IBM
(IBM) - Get Report
computer or the original portable music player,
Sony's
(SNE) - Get Report
Walkman, and wonder does Apple deserve the type of credit that it is getting today for its innovation?
In relation to the Samsung suit, I read a quote from an Apple spokeswoman stating "We need to protect Apple's intellectual property when companies steal our ideas." I couldn't help but think to myself, we live in a great country and yes, Apple deserves all the credit it gets.
This article is commentary by an independent contributor, separate from TheStreet's regular news coverage.
At the time of publication, the author was long AAPL and held no positions in any of the stocks mentioned, although positions may change at any time.