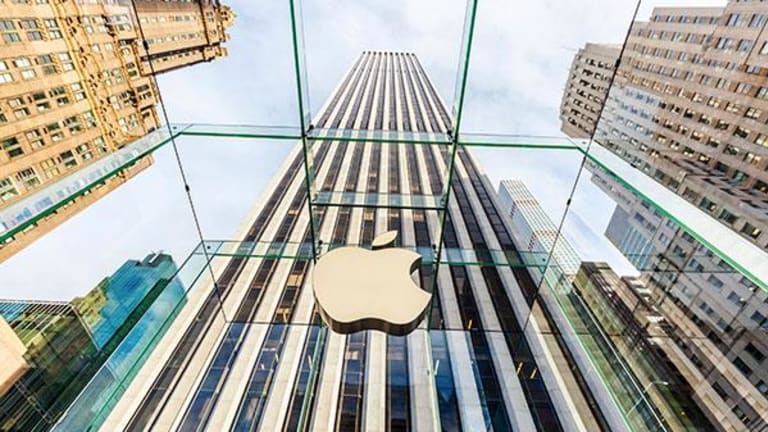 Here's What to Look For When Apple Reports Earnings on Tuesday
The second half of the fiscal year is typically a slow one for the tech giant.
Updated with additional analyst comments. 
When Tim Cook presents Apple (AAPL) - Get Report third fiscal quarter earnings after the bell Tuesday, investors will listen closely for details about the the coming release of the iPhone 7.
(Be sure to check TheStreet.com starting at 4:30 p.m. ET on Tuesday for a live blog of Apple's earnings with writer Eric Jhonsa and AAP research director Jack Mohr). 
Apple could release the phone on Sept. 16, Wells Fargo analyast Maynard UM noted in a report, which is about a week earlier than the Cupertino, Calif., company typically launches new devices.
Wall Street expects Apple to post $42.2 billion in sales and earnings of $1.40 per share for the quarter, with sales of 40 million iPhones at an average price of $660.
The second half of Apple's year is typically slow, so the bar is already lowered. The big sales come in the first fiscal quarter, which includes the holiday season. Investors may be looking towards the launch of the iPhone 7 and even details about the iPhone 8 release next year for a sense of Apple's outlook.
"I expect the company will miss the consensus given inputs from multiple suppliers and I expect real downgrades to create a short term bottom," said Jim Cramer,​TheStreet's founder and manager of the Action Alerts PLUS portfolio, which owns Apple.
On Tuesday, UBS analyst Steven Milunovich suggested that investors view Apple as "fragile" because of its heavy reliance on the iPhone and concerns about China. Apple trades at roughly the same price-to-earnings ratio, based on 2016 projections, as IBM (IBM) - Get Report . But compared to Apple, IBM trades at a higher multiple of free cash flow to enterprise value, which includes market cap and net debt.
"Despite current product cycle problems, Apple's long-term growth and margins are expected to be superior to IBM's," Milunovich wrote. To lose the "fragile" label, he suggested, the company needs "new product categories such as Watch, VR, and car to be meaningful, [to] emphasize the Apple customer experience over products, and [to] possibly provide a blanket subscription."
Barclays analyst Mark Moskowitz recently lowered his price target on Apple from $121 per share to $116.
"This is the third consecutive pre-earnings cut, which is becoming tedious," he wrote. The stock could be attractive if the price drops after earnings, he noted, as the company gears up for the iPhone 7 launch.
"We still expect the next mega cycle to be [calendar year] 2017, though, when Apple skips to [the iPhone 8] with major form factor changes, meaning more volatility could persist in the stock after the initial [iPhone 7] rollout," Moskowitz observed.
Meanwhile, Steven Milunovich of UBS predicted a "demand vacuum" for the rest of the year in a report.
Apple's Management on Tuesday will likely emphasize progress for the iTunes Store, App Store and other services, in addition to the Apple Watch, Milunovich suggested. According to a report from market research firm IDC, Apple Watch sales fell 55% in the second quarter of 2016 as prospective buyers put off buying the device ahead of an expected update later this year.
"I don't think the Apple Watch is going to do it for them," Cramer said. "Obviously the pure hardware is not going to do it for them in terms of the PC and the tablet. What has to do it for them is phones and there's a gap in the lineup."
Regardless, investors will key in on the performance of the iPhone. Milunovich noted that when Apple said in April that it would reduce inventory by $2 billion, mostly in iPhones, the stock dropped 7%.
While iPhone sales in the third and fourth fiscal quarters look "uninspired," Nomura analyst Jeffrey Kvaal suggested that iPhones could return to growth in 2017.
Chipmakers in the Apple supply chain provide a window into iPhone trends.
Shares of Skyworks Solutions (SWKS) - Get Reporttanked Friday after signs of weaker business with Apple. However, Wells Fargo analyst Maynard Um noted that the company forecasts growth of 10% to 11% in the quarter ending in September. Qualcomm (QCOM) - Get Report also provided positive guidance for its mobile modem chips.
"While there wasn't anything wildly conclusive from any of the results/guidance, we think results overall were not bad for Apple and the iPhone 7," Um wrote.
The iPhone 8 may be a stronger indicator of Apple's fortunes, if investors and customers can wait.
And while the phone launches may test consumers' patience, drivers will have an even longer wait for the Apple car. Reports say that the four-wheeled mobile device, dubbed Project Titan, is behind schedule.