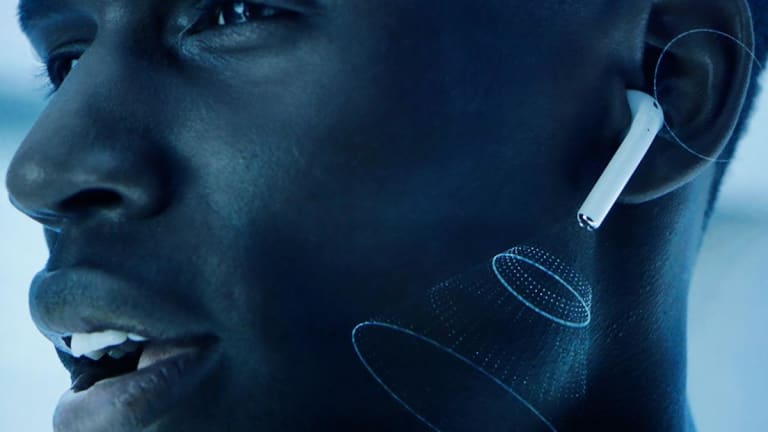 Apple Preps New AirPods, Nvidia and Qualcomm -- 3 Tech Stories You Need to Know
Apple reportedly plans to launch multiple new headphones in 2019. Nvidia might soon launch its next-gen gaming GPUs, and Qualcomm appears to be prepping a more powerful notebook chip.
Apple reportedly plans to launch multiple new headphones in 2019. Nvidia might soon launch its next-gen gaming GPUs, and Qualcomm appears to be prepping a more powerful notebook chip.
Here's a look at the implications of three major tech stories in the news.
1. Apple Is Reportedly Prepping New Headphones and a Second-Gen HomePod
Apple's (AAPL) - Get Report headphone sales have been booming, and it looks as if the company is intent on keeping its foot on the pedal.
Bloomberg reports that Apple plans to launch next-gen AirPods in 2019 that feature noise-cancellation and are water-resistant. It adds that Apple has "internally discussed" adding biometric sensors such as a heart-rate monitor to the 2019 AirPods, and that they will "likely" cost more than the $159 charged for Apple's first-gen AirPods.
Also reportedly planned for 2019: "Studio-quality" over-the-ear headphones that will be sold under the Apple brand (rather than the Beats brand) and are meant to compete with products from the likes of Bose and Sennheiser, and a second-gen HomePod speaker. No details are given about what new features the second-gen HomePod will have.
In February, Bloomberg reported that Apple plans a more incremental refresh for the AirPods later this year. They'll feature an upgraded Bluetooth chip and let users activate simply by saying "Hey, Siri," rather than requiring them to tap an AirPod.
Apple doesn't break out its headphone revenue. However, in May, Tim Cook disclosed the company's "wearables" revenue (it covers headphones and the Apple Watch) was up nearly 50% annually last quarter, and that its wearables business "is now the size of a Fortune 300 company.
For his part, Apple analyst Ming-Chi Kuo estimated in December that Apple would ship 13 million to 14 million AirPods in 2017 -- it's worth noting here that AirPods were supply-constrained for much of 2017 -- and forecast shipments would double in 2018. Apple's total "Other Products" revenue, which covers wearables, HomePods, Apple TV set-tops, iPods and accessories, grew 38% last quarter to $3.95 billion.
The broader headphone market continues to grow, and -- thanks to their form factor, battery life and unique pairing and syncing features -- AirPods are doing a lot to help Apple gain share within it. And with some of its unique features requiring pairing with another Apple device, they also serve to make Apple's ecosystem a little stickier.
The "studio-quality" headphones Apple is reportedly prepping could also help Apple take headphone share. Based on what Bloomberg's reporting, there shouldn't be too much risk of cannibalizing Beats headphone sales, given that the products appear to target different types of consumers. Whereas Beats's headphones are popular with younger consumers who want strong bass playback, the rumored Apple-branded headphones appear aimed at traditional audiophiles.
2. Nvidia Might Launch a Next-Gen Gaming GPU by September
Though CEO Jen-Hsun Huang
that's Nvidia's
(NVDA) - Get Report
next-gen GeForce gaming GPUs (believed to be codenamed Turing) will be launching "a long time from now," some recent reports and disclosures suggest gamers might not have to wait
too long
.
Tech site Wccftech reports hearing that Nvidia's graphics card partners "will be getting shipments of NVIDIA's next-generation graphics cards based on the Turing architecture sometime in early August." As the site notes, a product launch (i.e., shipments to consumers) usually happens a few weeks after OEMs start receiving shipments.
In addition, the CEO of GPU cooling fan maker Power Logic recently indicated that his firm's cooling fan shipments are expected to grow significantly in the back half of 2018 due to new Nvidia and AMD  (AMD) - Get Report GPU launches (AMD plans to launch a new server GPU later this year). He added that shipments will probably begin ramping late in Q3.
And this morning, Micron (MU) - Get Report , a major graphics memory supplier to Nvidia, announced it has begun mass-producing its next-gen GDDR6 graphics memory. Whereas its current Pascal-architecture gaming GPUs rely on GDDR5X memory, Nvidia's Turing GPUs are widely expected to make use of GDDR6.
With its Pascal chips still dominating the high-end gaming GPU market, there's certainly no need for Nvidia to rush to launch Turing. This doubly holds if a recent report about a Pascal inventory glut (the result of declining GPU sales to cryptocurrency miners) is on the mark. However, considering the first Pascal GPUs were launched in the spring of 2016, it does make sense for Nvidia to launch Turing before the holiday season arrives.
3. Qualcomm Is Reportedly Prepping a More Powerful Chip for Windows Notebooks
Qualcomm 
(QCOM) - Get Report
seems to be taking its attempt to challenge Intel
(INTC) - Get Report
in the Windows notebook and 2-in-1 market pretty seriously.
Over the last few days, reports have emerged that Qualcomm is working on a third-gen notebook system-on-chip (SoC) tentatively called the Snapdragon 1000. Notably, the chip will reportedly feature a 20mm x 15mm package size and support a max power draw (TDP) of 12 watts.
Though a 12-watt TDP isn't especially high by notebook standards, it's easily above the 6.5-watt TDP claimed by the recently-announced Snapdragon 850, a second-gen Windows notebook chip that has much in common with the Snapdragon 845 mobile SoC found inside of some Samsung Galaxy S9 units. Likewise, in terms of area, the Snapdragon 1000's rumored package size is about twice that of the 850.
We're only a few months removed from seeing the first Windows systems based on the Snapdragon 835 (found inside of many of the high-end Android phones that launched in 2017) hit the market. With Snapdragon 850 systems due later this year, Snapdragon 1000 systems are presumably meant to launch in 2019.
The first 835-based Windows systems boast 4G connectivity, phenomenal battery life (generally over 20 hours) and an "Always Connected" mode that (like an iOS or Android phone/tablet) lets the devices download data while in "sleep" mode and instantly wake. But reviewers also found them to be underpowered relative to comparably-priced Intel-based systems, and (though Microsoft (MSFT) - Get Report promises it will improve) app support remains a work in progress.
Launching a chip that's built from the ground up for notebooks and 2-in-1s, and thus isn't hamstrung by the space and power constraints that a smartphone SoC has to deal with, could put Qualcomm on much better competitive footing. The company would still face an uphill battle against Intel in the high-end notebook market, particularly given that Snapdragon-powered Windows systems rely on emulation software that dings performance. The power of the Intel brand, and the fact that many corporate PC buyers remain quite loyal to Intel, would also pose challenges.
But the Snapdragon 1000's performance could be good enough to win over some low-end and mid-range notebook buyers. Particularly ones that care a lot about battery life and find value in the Always Connected mode.
Apple, Nvidia and Microsoft are holdings in Jim Cramer's Action Alerts PLUS member club. Want to be alerted before Jim Cramer buys or sells AAPL or GOOGL? Learn more now.