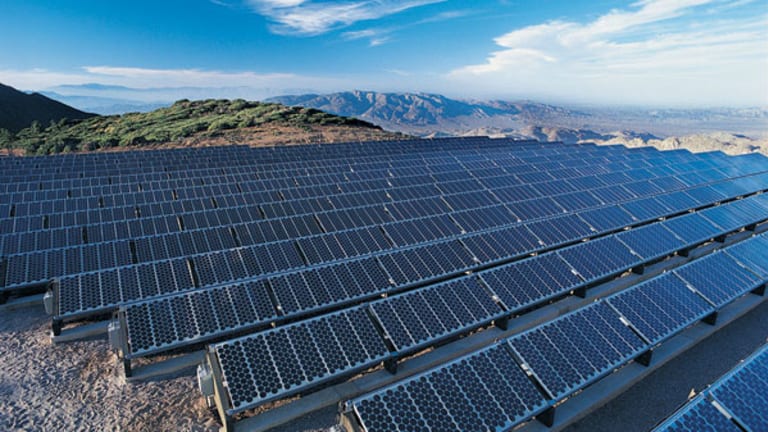 Publish date:
Apple Plants Its Second Solar Farm, in Nevada
Solar farms are becoming routine for remote corporate facilities, as Apple is demonstrating in Nevada.
Solar farms are becoming routine for remote corporate facilities, as Apple is demonstrating in Nevada.
NEW YORK (
) -- The hottest trend in manufacturing these days may be the solar farm.
A factory at a greenfield site with ample land around it contracts with a solar-panel maker and a utility to erect a large number of panels near the site, which help power the factory and keep everything green. Lots of companies now have them, even
Crayola Crayons
,
Putting a solar farm next to a factory also means that the power doesn't have far to go. Having a power source hundreds of miles away means energy is lost during transmission, because power lines aren't perfect conductors. Check the inverter box that sits between your laptop and the wall sometime. That warmth you feel is energy being lost in the form of heat.
Solar farms are quickly becoming routine projects. As of last September, California alone had more than a dozen large solar projects
underway.
Apple
(AAPL) - Get Report
is now funding construction of its second such facility, which will power a new data center outside Reno, Nev.
Apple is contracting directly with the local utility,
NV Energy
(NVE)
, to place panels on 137 acres, according to a story first reported by
NV Energy is in the process of being acquired by
Mid-American Energy
, which in turn is owned by
Berkshire-Hathaway
(BRK.A) - Get Report
.
Mid-American, in turn, was among the utilities which pioneered in this area, buying turnkey plants built by
First Solar
(FSLR) - Get Report
and
SunPower
(SPWR) - Get Report
, then using its financial strength to sell notes against them through its
Solar Star Funding
unit,
according to a Business Wire press release.
Apple did a similar deal for its data center in Maiden, N.C., with SunPower providing panels backed by fuel cells from
Duke Energy
(DUK) - Get Report
and privately held
Bloom Energy
doing the heavy lifting. In Nevada, NV Energy plans to combine photovoltaics with concentrated solar-power mirrors, meaning the facility will supply energy at night as well as during the day. Until the array is complete, Apple will power its center with geothermal power from the local electrical grid.
Google
(GOOG) - Get Report
into solar and wind projects that will generate 2 Gwatts watts of energy. The Apple Nevada project is rated at 20 Mwatts.
Solar farms aren't always wildly popular. Environmentalists sued to stop one in California recently,
, citing risks to endangered species. Companies such as First Solar that install many solar farms now track risks to species on their Web sites. (
)
All of which means that the biggest story in Apple's solar-farm announcement is that it's not a big story.
At the time of publication, the author was long AAPL and GOOG.
This article is commentary by an independent contributor, separate from TheStreet's regular news coverage.