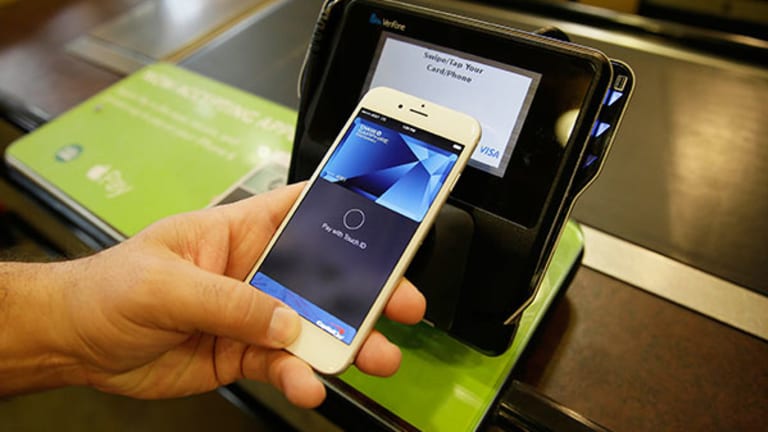 Apple Pay, Google Wallet Making Inroads, but Consumers Still Not Buying It
Apple and Google have done a decent job getting some consumers to use their digital wallets, but a lot of work has to be done to help broaden acceptance.
NEW YORK (TheStreet) -- Digital wallet use among consumers may not match the level of the media buzz that greeted Apple Pay when it launched last fall, but the newfangled apps are gaining some acceptance with consumers and retailers.
Apple, (AAPL) - Get Free ReportGoogle (GOOG) - Get Free Report (GOOGL) - Get Free Report and the other digital payment providers are not releasing any hard numbers on how many people are ditching cash, credit and debit cards in favor of paying with a smartphone, but early indicators are that some retailers are seeing about 1% of their transactions coming from digital wallets, primarily Apple Pay.
In December the research firm ITG reported that 1% of all consumer transactions were with Apple Pay, while Google Wallet accounted for 4%. Last week Bank of America (BAC) - Get Free Report stated that since Apple Pay debuted in October, 800,000 of its customers have signed on, for a total of 1.1 million accounts.
"1% is not a huge number, but then again Apple Pay has only been around three months," said James Wester, IDC's research director of global payment strategies.
Matt Barr, MasterCard's (MA) - Get Free Report group head for emerging payments for the U.S region, said, "There are really some very encouraging green shoots so far, but this will be a long journey." Apple Pay uses MasterCard's Digital Enablement Service as its back end.
The technology is not right for everyone, as Amazon (AMZN) - Get Free Report today announced it was ditching its digital wallet.
Google Wallet, while still the industry leader, may be struggling compared to Apple Pay due to consumer perception and the fact that it is a downloaded app and not built into the Android OS.
"The bigger issue that Google is facing is people think Google will use their data and this needs to be addressed," Wester said, adding that Apple immediately stated it had no use for user data.
The top Apple Pay merchants so far are Whole Foods Market (WFM) , Walgreen Boots Alliance (WAG) , McDonald's (MCD) - Get Free Report , Panera Bread (PNRA) and Subway, according to ITG.
Whole Foods first partnered with Apple back in September, the company said, when the food store chain had already been using other near-field communication-based digital payment systems.
"All of WFM's checkout lanes across the U.S. are equipped with NFC readers as well as traditional magnetic stripe readers. We accommodate a variety of payment NFC-based payment services as an added convenience for our customers. We also use Square to provide Whole Foods Market customers with a seamless way to check out at our mobile and pop up venues, such as our food trucks," said Whole Foods spokesman Michael Silverman.
Silverman added that the initial customer reaction to Apple Pay has been overwhelmingly positive. Whole Foods conducted a large in-store customer awareness campaign when it launched Apple Pay, he said, to include signage and an Apple Pay logo on the NFC readers. Stores even gave out a free apple to customers when they used Apple Pay.
Although early acceptance has been good, several factors are holding back not only Apple Pay, but all the other digital payment apps to some extent.
Wester noted that there is no overriding reason for consumers to switch to using their smartphone. There are still not many retailers that accept such payments. And some merchants are not that interested in shelling out big bucks to re-equip their stores with new technology unless they see a return on investment somewhere down the road.
"While some big-name merchants are accepting these payments, it needs a retailer with a household name that is trustworthy," Barr said.
Some other retailers accepting Apple Pay are Office Depot (ODP) - Get Free Report , Staples (SPLS) , Macy's (M) - Get Free Report and BJ'S Wholesale Club.
Wester pointed out the one issue playing in favor of digital wallets is security. Consumers are protected when using a digital wallet from the type of hack that impactedTarget (TGT) - Get Free Report , Home Depot (HD) - Get Free Report and other retailers, because the customer's financial data is not given to the store nor held on the phone itself, but stored by the provider on a secure server.
Merchants may also start to see the benefit of switching over when they gain direct marketing and point-of-sale access to customers who use a digital wallet.
This article is commentary by an independent contributor. At the time of publication, the author held no position in the stocks mentioned.