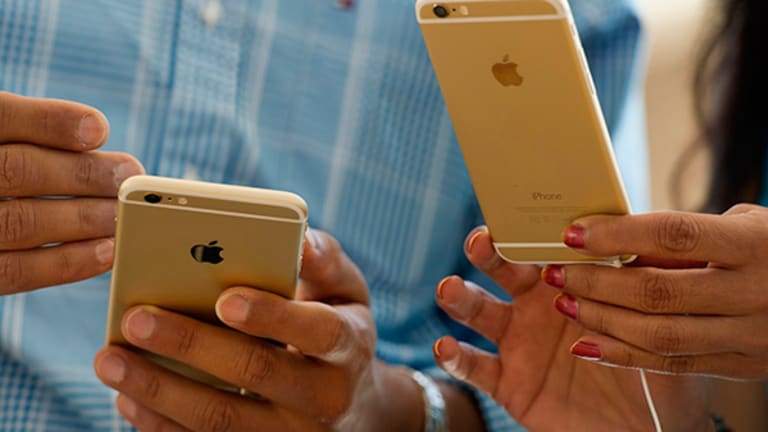 Apple Pay Battle vs. Walmart's MCX Is VHS-Betamax All Over Again
The fight is over which technology will be used at the terminals in stores. At stake is trillions of dollars in potential revenue.
NEW YORK (TheStreet) -- Mobile payments are just being implemented in stores but a battle is shaping up that could alienate consumers and jeopardize the whole payments system before it really gets started.
On one side is Apple's (AAPL) - Get Apple Inc. (AAPL) ReportApple Pay and the major credit card companies Visa (V) - Get Visa Inc. Class A Report , MasterCard (MA) - Get Mastercard Inc. (MA) Report and American Express (AXP) - Get American Express Company Report .
On the other is a consortium led by Walmart (WMT) - Get Walmart Inc. Report called the Merchant Customer Exchange, or MCX, which excludes Apple Pay and the credit card companies. MCX is reportedly in pilot testing and is slated to launch sometime in the first or second quarter of 2015.
The fight is over which technology will be used at the terminals in stores -- recalling the old Betamax vs. VHS videotape battle during the 1980s. At stake is trillions of dollars in potential revenue.
The opening shots were fired when national drugstore companiesCVS (CVS) - Get CVS Health Corporation Report and Rite-Aid (RAD) - Get Rite Aid Corporation Report -- both MCX members -- turned off the Near Field Communication (NFC) capabilities in their point of sale terminals and that immediately deactivated Apple Pay.
Collateral damage is this also shut down Google's (GOOGL) - Get Alphabet Inc. Class A Report Google Wallet on Android phones.
Rumors are plentiful that MCX -- shrouded in secrecy -- has sworn its member companies including BestBuy (BBY) - Get Best Buy Co., Inc. Report , CVS, Rite-Aid and Sears (SHLD) , among others, to a monogamous relationship excluding Apple Pay. MCX members account for about $1 trillion in retail sales.
Competing technologies are at the heart of the brawl. Apple's NFC-based Apple Pay is incompatible with MCX's QR code-based payments system called CurrentC.
An MCX plus: CurrentC's QR codes should work on just about every smartphone and, for merchants, getting on board to accept the system involves only a cheap software upgrade, a technologist involved with MCX told TheStreet.
To accept Apple Pay, merchants need a pricier terminal upgrade. Consumers also need a pricey iPhone 6 to use Apple Pay in stores.
But the money -- the real blood -- in this fight hinges on card processing fees.
Apple Pay has climbed into bed with Visa, MasterCard and American Express. The card processors stand to make more money processing Apple Pay transactions because they bill for "tokens," the new -- and allegedly highly secure -- way transaction data is stored.
MCX, by contrast, wants to sharply reduce -- possibly eliminate -- the fees charged by the big card networks. Thiago Olson, CEO of Ann Arbor, Mich.-based Stratos, a card innovation company, said the MCX will probably bypass Visa and MasterCard, instead processing payments over the much-lower-cost ACH network, which is how checks are processed.
Don't assume that is all good news for mobile payments. It may be quite the opposite.
Olson mused the Apple Pay vs. MCX dustup may engender consumer confusion that retards the adoption of mobile payments at retail.
His contention: iPhone 6 owners will be puzzled when they cannot use Apple Pay at WalMart, BestBuy or any of many more national retailers. Google Wallet users will be even more puzzled when they try to pay at CVS and other MCX partners and the terminal that last week accepted Google Wallet, no longer does.
That confused consumer may simply decide to just leave his/her phone at home and pay with the old, reliable, accepted just about everywhere plastic credit card, said Olson.
"This may just further delay mobile payments," he added.
At the time of publication, the author held no positions in any of the stocks mentioned.
This article is commentary by an independent contributor, separate from TheStreet's regular news coverage.