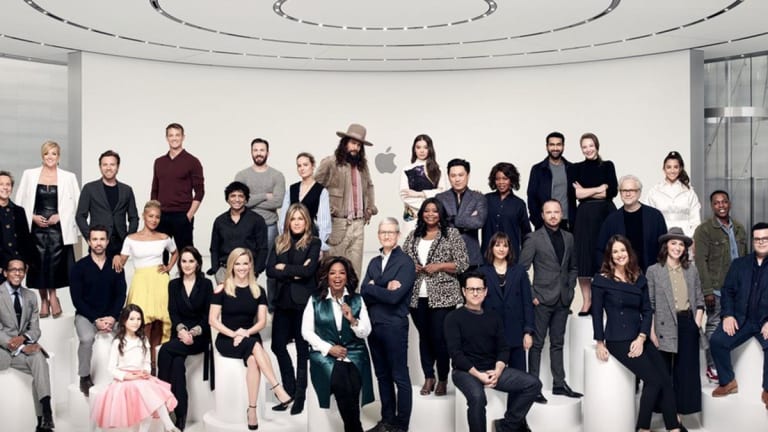 Apple's Services Have Some Big Trends Working in Their Favor -- and Some Against
Changes in consumer spending habits and the pressures facing game developers and print publishers should help Apple out. However, Apple also faces some challenges to adoption of its services.
In various ways, the digital content services that Apple (AAPL) - Get Apple Inc. Reportrevealed at its Monday event should benefit from major media, gaming and consumer trends.
At the same time, the services are going to face a few meaningful challenges. But these are challenges that the bundling of Apple's services could help address.
As many readers likely know, Apple used its Monday event to unveil (among other things) a magazine and news subscription service known as News+, a game-subscription service known as Arcade, a video subscription service known as TV+ and a platform for signing up for third-party video services that's known as Apple TV Channels. Aside from Apple's ability to negotiate favorable deals with many content providers, here are a few of the things working in the services' favor.
1. The Steady Growth of Online and Digital Media Consumption
It has been nearly 12 years since the original iPhone launched, and the amount of time the average consumer spends each day consuming digital media on mobile devices is still growing meaningfully. Research firm Nielsen estimates the average U.S. adult spent 3 hours and 14 minutes per day interacting with media on mobile devices in Q3, up from 2 hours and 57 minutes a year earlier. Likewise, research firm eMarketer estimated last year that U.S. adults would spend 3 hours and 35 minutes on average on mobile devices in 2018, an 11-minute increase relative to 2017.
Time spent watching video on TV-connected devices such as game consoles and streaming sticks is also growing: Nielsen estimated the average U.S. adult spent 47 minutes per day consuming video on such devices in Q3, up from 40 minutes a year earlier. Naturally, the more time that consumers spend interacting with media on phones, tablets and TV-connected devices, the more likely they'll be willing to pay for quality content.
2. The Need for Game Developers to Better Monetize Paid Titles
As Apple disclosed on Monday, there are now over 300,000 games inside of the App Store. And quite a few of those games are free to download and subsequently monetized via ads and/or in-game purchases. That can make life tough for game developers looking to profit from paid titles.
Moreover, even if a developer sees healthy sales for one or two paid games, building on that success can be challenging, particularly if consumers aren't loyal to a developer's brand or game franchises.
Apple's Arcade game-subscription service, which is promised to support over 100 paid titles (including some exclusive ones) when it launches this fall, gives developers looking to profit from paid games a new option. Apple is helping foot the bill for game-development costs, and will reportedly pay developers based on how much their games are played.
With dozens of indie and corporate game developers already supporting Arcade, many in the industry are clearly willing to give Apple's service a shot. And so might many mobile gamers who want to play quality titles without having to see ads or make in-game purchases.
3. Old Media's Desperation
Though Apple is reportedly taking 50% of the revenue produced by News+, the company has managed to include over 300 magazines (including many popular ones) on the service, which launched yesterday and costs $9.99 per month. And though there's some fine print related to how its content is shown, Apple also has the participation of The Wall Street Journal, as well as that of the L.A. Times and Toronto Star.
And while Netflix (NFLX) - Get Netflix Inc. Report is a no-show, subscription services from the likes of HBO, Starz, Showtime, Epix, Comedy Central and The History Channel will be supported by Apple TV Channels when it rolls out in May. Apple is reportedly taking a 30% cut on TV Channels sign-ups, and (though there was no announcement about this on Monday) has also been reported to have negotiated the right to bundle some channels.
Quite a few print publishers clearly see Apple and its massive installed base as a potential lifeline as traditional revenue streams keep declining, and so do many of the TV networks that have launched streaming services. That has helped it line up quite a lot of content for News+ and TV Channels in spite of (according to reports) demands for major revenue cuts.
4. The Shift from Goods Ownership to Subscriptions
In music, software, video and a slew of other fields, consumers have shown a willingness to forego the ownership of physical goods and/or digital licenses when competitively-priced subscription services make themselves available. That should work in Apple's favor as it tries to get gamers, magazine readers and online movie and TV show-watchers to sign up for one or more of its new services.
5. Favorable Demographics
While specific numbers have varied, studies have repeatedly found that the average income of iPhone owners is meaningfully higher than the average income of Android owners in the U.S. and other large markets. In addition, though Google Play now has far more users and downloads than the App Store, the App Store still produces far more revenue.
On the whole, iPhone owners are both wealthier than the average smartphone owner, and more likely to make purchases on their phones.
While Apple's services have several trends working in their favor, there are also a few that could work against them. Namely:
1. Content Overload
It's hardly a new observation to point out that between free content, paid downloads and subscriptions, consumers are flooded with good and reasonably-priced options for consuming digital content. In such an environment, convincing consumers to pay a monthly fee to obtain more content requires some effort -- it requires not just convincing them that the service in question provides good value for the money, but convincing them that they'll make good use of the provided content when they're already consuming a lot of other material.
2. Inertia
This is more of a concern for the new video services than for News+ and Arcade. Consumers who have become hooked on a digital content service are often quite reluctant to embrace a rival service that arrives on the scene, even if it has some good selling points. And certainly, quite a few consumers have gotten hooked on Netflix and Amazon.com's (AMZN) - Get Amazon.com Inc. Report Prime Video in recent years.
3. A Heated Market for Hollywood Talent and Content
Netflix's cash content spend topped $13 billion last year, and is expected rise again this year. Amazon is believed to be spending over $5 billion annually on content for Prime Video, and Disney (DIS) - Get The Walt Disney Company Report has promised to invest aggressively in original content for both Hulu and its upcoming Disney+ service.
All of this naturally spells a tough competitive environment for TV+, which will launch this fall and feature originals involving the likes of Steven Spielberg, Oprah, M. Night Shyamalan and Jennifer Aniston. It also means that Apple will often have to pay top dollar to sign up A-list talent for originals or (if it chooses to go this route) to obtain popular licensed content.
How Services Bundles Could Work
Creating bundles that provide access to multiple Apple services at a discounted price could help the company deal with some of these challenges. For example, a $15-per-month bundle featuring Apple Music and TV+ could win over some of the 50 million-plus people that now subscribe to Apple Music, including ones who may have been unwilling to pay, say, $8 per month for TV+ on a standalone basis.
In such a situation, Apple could also provide options for tacking on Arcade and News+ subscriptions at some kind of moderate discount. It could also sell costlier subscriptions that provide hardware upgrades at fixed intervals.
Given how many services it now offers or will soon offer, it's hard to imagine that Apple hasn't explored its many options for creating services bundles. And it wouldn't be surprising if the company rolled out some of those options later in 2019.
Apple, Disney and Amazon.com are holdings in Jim Cramer's Action Alerts PLUS member club. Want to be alerted before Jim Cramer buys or sells AAPL, DIS or AMZN? Learn more now.
Will You Have Enough Money to Retire?
Want to learn about retirement planning from some of the nation's top experts? Join TheStreet's Robert "Mr. Retirement" Powell live in New York on April 6 for our Retirement Strategies Symposium. For a limited time, tickets are available for $99 for this full-day event. Check out the agenda, learn about the speakers and sign up here.