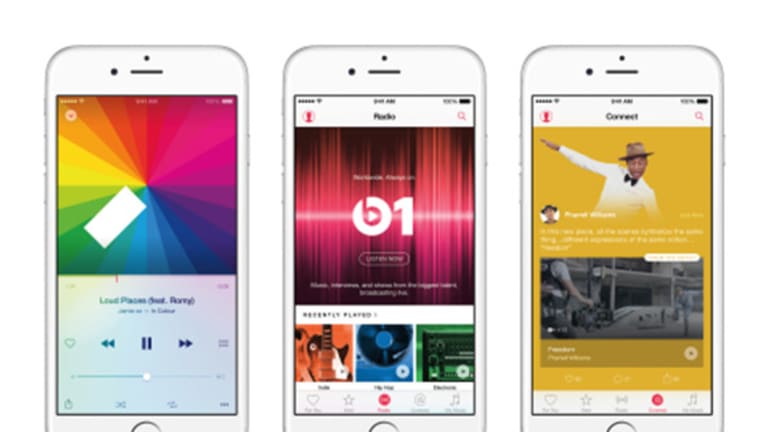 Apple Music Isn't Much of a Hit With Analysts: What Wall Street's Saying
Apple's new music-streaming service received a lukewarm response from analysts monitoring Monday's developers conference.
NEW YORK (TheStreet) -- Apple's (AAPL) new music-streaming service received a lukewarm response from analysts monitoring Monday's developers conference. 
The announcement of Apple Music and upgrades to the company's operating systems were in line with analysts' expectations. The streaming service, available starting June 30, will include a 24-hour radio station and access to more than 30 million songs currently available through iTunes. The service throws Apple into the online music streaming business currently dominated by companies such as Pandora (P) and Spotify. 
Another feature, Apple Music Connect, will allow artists and fans to interact in a social media-like environment. Artists will be able to post lyrics, new songs and other content and get feedback from their followers.
Shares of Apple dropped 0.88% on Monday and fell 1.2% to $126.32 Tuesday. 
With the developments on the software front unsurprising, analysts were left to debate whether Apple as a whole was valued appropriately. Some said the conference confirmed the company's continued dominance and upped price targets a bit higher than trading price. Others predicted little or no movement, expressing disappointment at the lack of details on device sales. 
Here's what a few had to say:
Credit Suisse analyst Kulbinder Garcha (Outperform, $145 PT)
"With these announcements, Apple continues to demonstrate how its integration across hardware, software and services based on iPhone, iPad, Mac and Apple Watch could result in a sustainable differentiating advantage over rival platforms. This creates a virtuous circle for its business lines: high levels of usage and differentiation allows more devices to be plugged into the platform. We reiterate our Outperform rating and our TP of $145 and believe the current iPhone cycle will be more prolonged than anticipated."
Deutsche Bank analyst Sherri Scribner (Hold, $125 PT)
"Most of the announcements were in line with expectations heading into the event, and the operating system enhancements were generally evolutionary as opposed to revolutionary in our view. We were hoping for some unit updates on Apple Watch, but despite positive comments on the product, management did not provide an update on supply or demand. Overall, we felt the event provided some positive new features and we view Apple Music as interesting, but we didn't feel anything announced during the keynote was incremental enough to impact the stock."BMO Capital Markets analyst Keith Bachman (Outperform, $145 PT)
Cantor Fitzgerald analyst Brian J. White (Buy, $195PT)


"We believe Apple's digital ecosystem is often under appreciated, operating in the shadow of the company's mobile device portfolio. Once again, in our view, the market appears to be running scared as it relates to Apple, yet we believe the company's future prospects have never been brighter and the stock is trading at just over 10x our CY:16 EPS projection (ex-cash)."
"We don't see the Beats1 radio station as having a meaningful impact, as we think this means users are listening to someone else's song picks. Apple had previously launched iTunes Radio, which offers DJs who play types or genres of music. In contrast, Connect sounds very interesting as we see this as an online social and ecommerce music portal, connecting musicians with consumers. Broadly speaking, we think Apple needed to offer a subscription music service, and the company is providing a compelling services portfolio. Further we think Apple will benefit from a large client installed base and brand name. With that said, we don't think Apple is offering completely innovative services, aside from Connect."
Oppenheimer analyst Martin Yang (Outperform, $155 PT)
"While there were no big surprises, investors shouldn't overlook the multitude of tweaks Apple made to its OS. Cumulatively the updates will, in our view, further separate its eco-system and UI from the competition. This supports our thesis that Apple will continue to outperform smartphone sales expectations and gives us confidence in our above-Street estimates for 2016. Arguably there is even upside to our numbers with the addition of Apple Music and a rejuvenated iPad interface. We reiterate our Outperform rating."

Jefferies analysts Sundeep Bajikar (Hold, $135 PT)
"WWDC Was Neutral. We liked Apple Pay, Watch and Music updates, and think Apple is playing catch-up with Proactive, Maps and Multi-window. We could become more constructive on the stock with evidence of faster than expected growth in Apple Watch, iPad or Cloud Services, or lower investor expectations. We think investors might be dismissing the competitive threat from Samsung and Google."