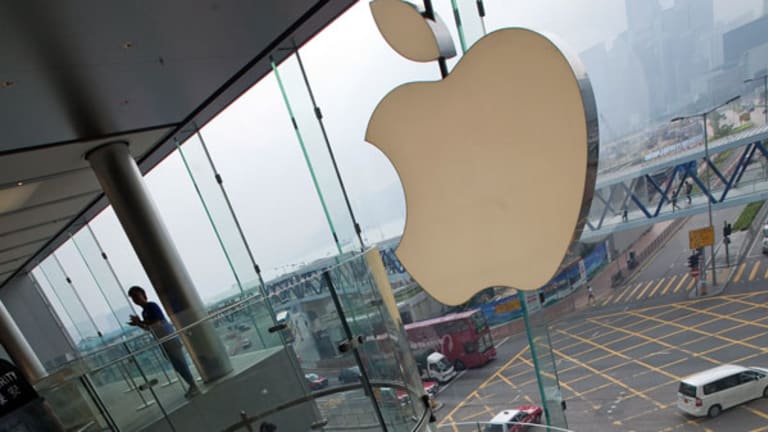 Apple, Microsoft Lead Dividend Stocks to Buy and Hold for 2014
Investors should anticipate and plan on at least one sweeping correction in 2014. Trust these stocks.
NEW YORK (TheStreet) -- Last year about this time I suggested five dividend stocks to buy and forget. Overall, the portfolio not only made money, but outperformed a rising market. For 2014, I have the following list of dividend stocks to buy and forget that I hope you will find informative and beneficial for your investing objectives. Let's first take a quick look at last year's picks: Corning (GLW) - Get Corning Inc Report; Coca-Cola (KO) - Get Coca-Cola Company Report; Wells Fargo (WFC) - Get Wells Fargo & Company Report; Intel (INTC) - Get Intel Corporation Report and General Electric (GE) - Get General Electric Company Report
Five-for-five winners and all double-digit gainers (admittedly, a rising tide lifts all boats in a bull market like we've experienced in 2013). However, the five picks were superior to the benchmark index because this portfolio experienced lower volatility and a higher dividend yield. In other words, had the overall market not skyrocketed higher, the small advantage would be much greater. (The stocks and benchmark are adjusted for dividend payments.)
[Read: Jim Cramer: Ride the Four Horsemen of Biotech]
When it comes to investing, you can't simply look at the returns, disregarding vulnerabilities. If you always focus on what you can lose, the winners will take care of themselves. In short, I'm proud of the results.
This year's list marks a change from the past. For 2014, we will examine stocks that don't fit the criteria of "buy it and forget it," but rather offer compelling risk to reward possibilities. With the market at record highs, suggesting any list of stocks should be "forgotten" isn't wise. Investors should anticipate and plan on at least one sweeping correction in 2014 and significant shifts in the economy as a result of edicts from Washington.
Predicting a year in advance is no small endeavor, especially if you want any hope of getting it right. It's on par with driving using your rear view mirror. Just because you're going to miss a turn or two on the way doesn't mean we shouldn't try. After all, the market is predictable to a certain degree, and by reviewing the past, we are able to make logical bets on the future.

My first pick is one that I've called an extraordinary dividend stock before. Microsoft  (MSFT) - Get Microsoft Corporation Report isn't the most loved company from a popularity survey, but if you care about making money more than owning the latest in stock that may be out tomorrow (think Twitter (TWTR) - Get Twitter, Inc. Report), Microsoft is one to own.
Chances are, the computer you're using has a Microsoft product installed on it. What's exciting is Microsoft growth in mobile. The company doesn't have anywhere to go but up considering their distant third place. However, the deal with Nokia (NOK) - Get Nokia Oyj Report ensures a steady stream of quality new handsets powered by Windows mobile. Other Asian brands are increasingly looking to Microsoft as an alternative option to Android. 
Microsoft pays a current dividend yield of 3% and on average shareholders receive a bump higher in payments about once a year. Today's 3% can turn into tomorrow's 6% rather quickly. The payout ratio is small enough that the high yield appears safe.
Possessing the stability of Gibraltar, Microsoft is the right choice for upside potential minus the sleepless nights. The shares have not kept pace with rising earnings and revenue, creating a value buy.

Apple (AAPL) - Get Apple Inc. Report is currently worth just under $500 billion and trades more than 5 million shares on a typical day. The company is relatively cheap based on earnings and revenue per share and pays an acceptable dividend with a low payout ratio.
Many investors, including Carl Icahn, want Apple to increase its yield, and Apple has over $40 in cash per share. The problem is that the cash is held outside of United States for tax planning purposes.
After a painful decline from $700 from the second half of 2012 until the first half of 2013, Apple stock tested the conviction of many buy-and-hold shareholders. I believe Apple will appreciate above $600 per share in 2014. Few companies present market dominance in every space the way Apple does, with an attractive dividend creates an opportunity at the current $550 level.

Apple currently pays $3.05 a quarter in dividends, up from $2.65 as of February this year. An increase to $3.50+ in 2014 is reasonable  considering the pressure on the Board of Directors to put the cash to work. A 50 cent increase is worth about $20 in share price demand. In other words, for every dollar Apple increases its dividend; expect the shares to climb about $40.

Tyson Foods TSN is an $11 billion farm, food processing, and marketer of chicken, beef, pork and related food products. The stock trades about 4 million shares a day.
I'm excited about Tyson because of its play in the Chinese market. Sure, the Chinese food supply chain isn't as secure as in other parts of the world, especially when compared to the United States. But after many parts of the country all but abandoned centralized planning in favor of free market capitalism, a new middle and upper middle class emerged. Tyson Foods is positioning itself to be the supplier of high quality and trusted meat products, especially chicken.
In a step away from the model used elsewhere, Tyson Foods is building farms and will control every step of the supply chain. Investors can expect the current farm investments to add to the top and bottom lines in 2015. In order to maximize the return, you will want to get in front of it and gain exposure in early 2014. If Yum! Brands YUM, McDonalds (MCD) - Get McDonald's Corporation Report, and Starbucks (SBUX) - Get Starbucks Corporation Report are useful guides, China may turn into the most significant market for Tyson. If that happens shares are way undervalued right now.
The current dividend of 7.5 cents isn't enough to push this one over the fence on its own. The yield is under a dollar, but the Board increased the dividend 50% this year. I traded Tyson in 2009 and 2010 when the company was facing a tremendously challenging time. I believe the memories are fresh in some investor's minds, which in turn are weighing on shares. The low earnings multiple combined with solid growth prospects give us a value buy to hold.
At the time of publication, Weinstein had no positions in securities mentioned.
This article represents the opinion of a contributor and not necessarily that of TheStreet or its editorial staff.