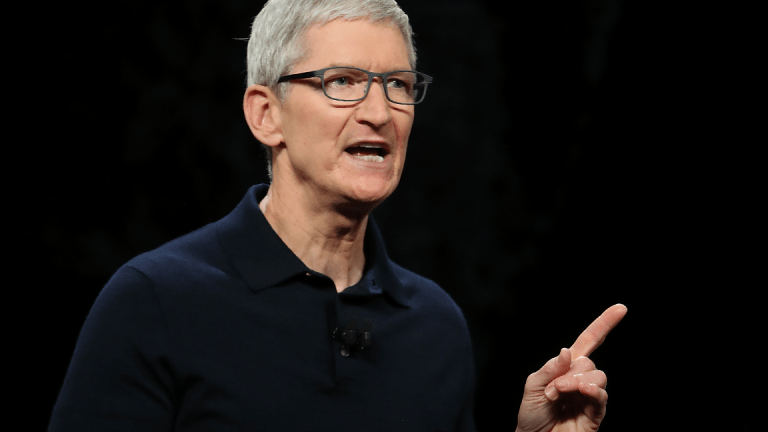 Apple Shares Hit All-Time High: 7 Key Takeaways From Its Strong Earnings Report
The tech giant got a boost from iPhone pricing trends and services growth, and also issued healthy guidance.
Solid high-end iPhone sales and services revenue growth helped Apple  (AAPL) - Get Report deliver another market-pleasing earnings report.
On Tuesday afternoon, Apple reported June quarter (fiscal third quarter) revenue of $53.27 billion (up 17% annually) and GAAP EPS of $2.34, topping consensus analyst estimates of $52.3 billion and $2.16. And -- though the dollar's recent rally will impact international revenue a little -- the company guided for September quarter revenue of $60 billion to $62 billion, which is above a $59.47 billion consensus.
Shares rose 4% in after-hours trading on Tuesday and were up around the same amount on Wednesday morning at a new high of $198. A slew of companies that directly or indirectly act as iPhone suppliers, including Cirrus Logic (CRUS) - Get Report , Skyworks (SWKS) - Get Report , Broadcom (AVGO) - Get Report , Finisar (FNSR) - Get Report , Lumentum (LITE) - Get Report and Universal Display (OLED) - Get Report , also rose.
Here are some takeaways from Apple's report and call:
1. iPhone X Demand Helped Drive Strong ASP Growth
Apple's iPhone average selling price (ASP) rose by $118 annually to $724, topping a consensus estimate of $693 and allowing iPhone revenue (56% of total revenue) to grow 20% in spite of just a 1% increase in unit sales. CFO Luca Maestri indicated on the call that iPhone X ($999 starting price), iPhone 8-Plus ($799) and iPhone 8 ($699) demand all contributed to ASP strength. Lower sales of the iPhone SE ($349 starting price) also appear to have helped.
2. iPhone Units Were OK Given the Circumstances
At 41.3 million, iPhone units were slightly below consensus. But with iPhone channel inventories having dropped by a healthy 3.5 million units sequentially -- this left total channel inventories near the low end of Apple's 5-to-7 week target range -- end-user sales were a little stronger than that.
In addition, with global smartphone sales pressured by lengthening upgrade cycles, Tim Cook asserted on the call that the iPhone outgrew the broader smartphone market last quarter, with share gained in the U.S., Germany, the Greater China region and elsewhere. Yesterday, Samsung reported soft sales for its mobile division and forecast competitive headwinds would continue for the business in the second half of 2018.
3. Services Revenue Grew Strongly Again... and Tim Cook is Eager to Talk About It
Apple's Services segment revenue officially grew 31% to $9.55 billion, and 28% after backing out a $236 million "one-time item" related to lawsuit settlements. The App Store, recently estimated by research firm App Annie to have seen 20% Q2 consumer spending growth on iOS, naturally helped out. Cook also noted Apple Music saw 50%-plus growth, has "well over" 50 million subscribers and is now the most popular music service in the U.S. and Japan.
Also mentioned: Cloud services revenue (inc. iCloud Storage) grew over 50%, AppleCare revenue rose at its fastest clip in 18 quarters, and Apple Pay transactions tripled to "well over 1 billion," resulting in Apple completing more mobile transactions than PayPal (PYPL) - Get Report . PayPal, it should be noted, reported its mobile transaction volume grew 49% annually in Q2 to $54 billion.
Strong installed base growth remains a tailwind for Services: Cook noted that both Apple's total and iPhone active installed bases grew by double-digits. Back in February, Apple reported having over 1.3 billion active devices overall.
And though Apple doesn't like to talk about it, growing search ad revenue-sharing payments from Alphabet/Google (GOOGL) - Get Report -- provided in return for making Google the default search engine for iOS, macOS and the Safari browser -- have also been boosting Services revenue.
Apple, Alphabet and PayPal are holdings in Jim Cramer's Action Alerts PLUS member club. Want to be alerted before Jim Cramer buys or sells AAPL, GOOGL or PYPL? Learn more now.
4. Apple Watch, Headphones and Apple TV All Did Well
After rising nearly 50% in the March quarter, wearables revenue -- it covers the Apple Watch, AirPods and Beats headphones -- rose over 60% in the June quarter. Watch revenue is said to have risen by a mid-40s percentage.
Cook also mentioned that Apple TV set-top units and revenue grew by a "very, very strong" double-digit percentage, thanks to last fall's launch of a 4K-capable set-top. Apple's total Other Products segment revenue, which covers the Watch, headphones, Apple TV, iPods, accessories and now HomePods, grew 37% to $3.74 billion.
5. Mac and iPad Sales Fell
Apple's Mac revenue fell 5% to $5.33 billion, with a higher ASP offset by a 13% drop in units to 3.7 million (less than expected). Maestri noted that MacBook Pro launch timings impacted unit growth -- whereas Apple refreshed the MacBook Pro in June last year, it waited until July this year. Nonetheless, with global PC sales roughly flat in Q2 and the high-end segment a strong point for the industry, the Mac's performance was a little disappointing.
On the bright side, the Mac installed base grew at a double-digit clip, and nearly 60% of Mac purchases are said to involve new users. Apple's reported plans to launch a new low-cost MacBook could provide a boost to Mac sales later this year.
iPad revenue fell 5% to $4.74 billion; units rose 1% to 11.6 million (better than expected), but ASP declined. Here as well, Maestri indicates launch timings had an impact, since new iPad Pros were unveiled in June 2017. Apple reportedly plans to launch Face ID-capable iPad Pros later this year.
6. China Sales Remain Healthy for Now
Trade tensions didn't stop Apple's Greater China revenue -- it covers China, Hong Kong and Taiwan, and had fallen in fiscal 2016 and 2017 -- from rising 19% last quarter to $9.55 billion. Cook indicated iPhone, iPad, Other Products and Services revenue all grew by double digits in the region.
He also once more criticized the Trump Administration's tariffs on Chinese imports. "[O]ur view on tariffs is that they show up as a tax on the consumer and wind up resulting in lower economic growth and sometimes can bring about significant risk of unintended consequences," Cook argued, while adding Apple remains optimistic that a resolution will be reached because of the "inescapable mutuality" that exists between the American and Chinese economies.
7. Apple is Making Good Use of its New $100 Billion Buyback
Three months after announcing (in the wake of tax reform) a new $100 billion stock buyback authorization, Maestri disclosed Apple spent $20 billion to repurchase 112.8 million shares last quarter, courtesy of both the new authorization and what was left of a prior $210 billion authorization. That provided a bit of a lift to EPS.
He also reiterated that Apple, which had $129 billion in net cash at the end of June, aims to eventually become net cash neutral (i.e., possess an equal amount of cash and debt) as it proceeds with its capital returns.
TheStreet's Eric Jhonsa previously covered Apple's earnings report and call through a live blog.