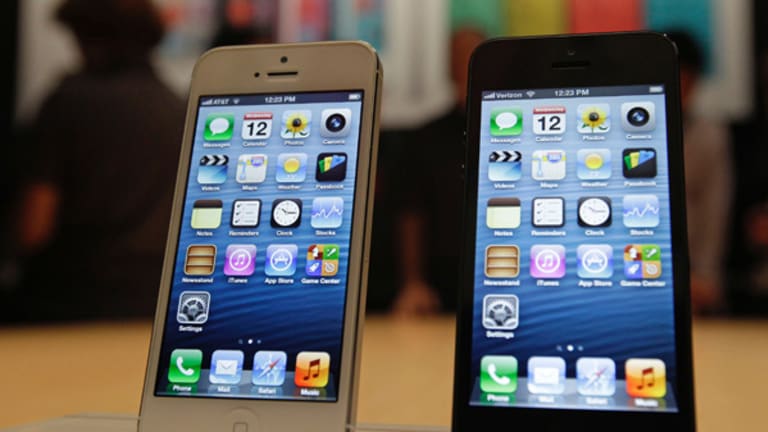 Apple Loses If It Beats Itself
There's no competition set to overtake Apple; only a lack of innovation can cut it to the core.
NEW YORK (TheStreet) -- It almost feels like I am feeding you a line: Just a few years ago, Research in Motion (RIMM) dominated the smartphone space.
Back in the day, people were "addicted" to their "CrackBerries." It's insane. Now, RIM even embarrasses Canadians. The former management team looks almost as inept as National Hockey League commissioner Gary Bettman.
What happened to RIM? Certainly mismanagement happened, but it was more a case of, as my favorite Little League Baseball coach Jon Teaman used to say,
Play the ball, don't let the ball play you
. The ball played RIM; RIM did not play it.
When
Apple
(AAPL) - Get Free Report
launched the original iPhone, it changed the game. Steve Jobs dictated unfamiliar terms. Companies like RIM either did not embrace them (
you don't need an app to surf the Web
) or they were simply unable to innovate effectively in some other way.
RIM's not the only company to miss. They just missed much worse than everybody else. But, at day's end, in terms of missing the revolutions Apple set into motion, not a whole heck of a lot separates companies such as
Intel
(INTC) - Get Free Report
and
Microsoft
(MSFT) - Get Free Report
and definitely
Dell
(DELL) - Get Free Report
and
Hewlett Packard
(HPQ) - Get Free Report
from Research in Motion.
Maybe I live an alternative reality, but there's no comparable threat in Apple's headlights -- certainly none of the above. And, who's left?
Google
(GOOG) - Get Free Report
?
So very weak.
Google played its cards already: The company thinks it makes sense to employ a lowball, price war strategy. That will never succeed.
How about
Amazon.com
(AMZN) - Get Free Report
?
You know how much I love Amazon, but (A)
they're not dumb enough to compete head-on with Apple
and, (B) even if they were ... well,
:
When you pick up an iPad mini, it just feels right. Down to the last detail... it's like dashing kisses along a beautiful woman's collarbone on the way to intimate, absolutely perfect ecstasy.
The Kindle Fire ... more like going in to kiss your Grandmother and awkwardly bumping heads because you were going for the cheek and she was going for the lips.
If Apple's going to lose, it's going to beat itself.
Somebody called me yesterday and asked about the "pay cut" Apple CEO Tim Cook took. The media can't get enough of this non-story.
The dude received a freaking $376 million stock award that vests in what is now four and nine years in 2011. He's loaded beyond belief. And, for all of the skepticism -- some likely from inside Apple -- he's probably pretty secure with himself.
For guys like Cook -- he doesn't strike me as an egomaniac -- compensation ends up being a symbolic gesture. If he took a $1 salary, it's symbolic. If he brought in $50 million in 2012 instead of the $4.2 million he earned, it's just as symbolic.
He's not an engineer or some other rank-and-file spare. We're not talking about the difference between renting in San Francisco's Mission District or buying a Victorian in Pacific Heights. It's not a matter of one guy pulling in $350,000 a year and the other $225K.
Here's what it comes down to for Tim Cook and Apple right now:
Crush the holiday quarter with record earnings in January.
Enjoy that ride for a few weeks, maybe months while working your butt off.
Try to stave off another period of bearishness by innovating sooner rather than later.
As I have tried to tell anybody willing to listen, AAPL started dropping because of capital gains tax-related, end-of-year selling.
Hysteria from the media and Wall Street analyst hacks
intensified that selling, which has now spun out of control. The concerns about life in a post-Steve Jobs world -- concerns I have been expressing since the guy died -- have come
.
Let's approach the subject again around March, when Apple is rumored to have another iPad coming. That could be a mistake. You can only up the ante incrementally so many times. Then, come summer, let's revisit these long-term worries again. At that point, Tim Cook will have to pull "one more thing" from his sleeve, assuming it's there (I think it might be).
If he doesn't and Apple loses, the company will have beat itself because there's no competition in sight up to the task.
--Written by Rocco Pendola in Santa Monica, Calif.
Rocco Pendola is
TheStreet's
Director of Social Media. Pendola's daily contributions to
TheStreet
frequently appear on
CNBC
and at various top online properties, such as
Forbes
.