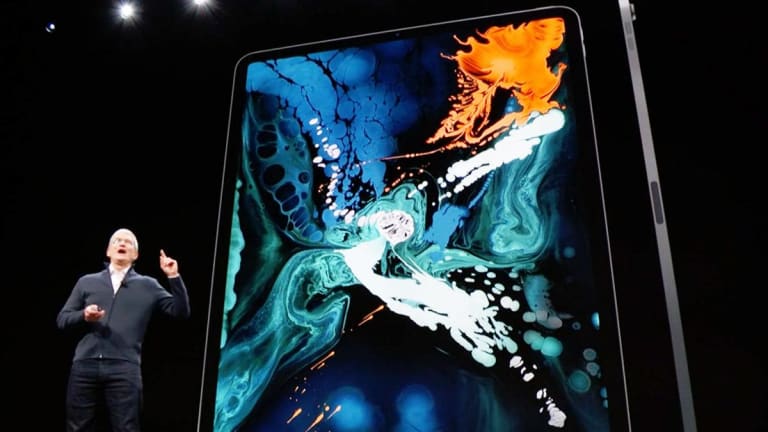 Apple Launches New iPad Pros and Macs: 5 Key Takeaways
The tech giant's latest iPads pack some PC-like features, while its newest Macs aim to win over more cost-sensitive desktop and notebook buyers.
As Apple Inc.  (AAPL) - Get Apple Inc. (AAPL) Report  launched a pair of products aimed at more cost-sensitive PC buyers, it also made a fresh bid to convince PC buyers to use its high-end tablets instead.
Making good on recent reports, Apple unveiled a pair of iPad Pros with smaller bezels and Face ID support at an event held in Brooklyn on Tuesday morning, along with new MacBook Air and Mac Mini models. Here are some notable takeaways from the event.
1. The New iPad Pros Could Change How Some Consumers and Businesses Look at the iPad
Though it has tried hard over the last few years to market the iPad Pro as a notebook alternative, the sales pitch has (judging by iPad sales trends) only seen modest success. The latest iPad Pros won't necessarily cause a sea change in this fight -- many consumers clearly prefer to do lengthier and/or more demanding computing activities on a device with a mouse/keyboard UI -- but they do make Apple's pitch a little more compelling.
The new iPad Pros are powered by an A12X Bionic system-on-chip (SoC) promised to deliver up to 90% better multi-core CPU performance and two times the GPU performance of the A10X Bionic chip found in 2017 iPad Pros. And Apple was eager to stress that the A12X can help deliver computing experiences comparable to one would normally associate with a decent PC.
Apple is a holding in Jim Cramer's Action Alerts PLUS member club. Want to be alerted before Jim Cramer buys or sells AAPL? Learn more now.
An Adobe  (ADBE) - Get Adobe Inc. Report exec demoed an upcoming iPad version of Photoshop (due in 2019) that has a desktop-class feature set. The desktop rendering engine for Autodesk's (ADSK) - Get Autodesk, Inc. Report AutoCAD drafting/design app will also be arriving on the iPad, as will a game for Take-Two Interactive's (TTWO) - Get Take-Two Interactive Software, Inc. ReportNBA 2K franchise that was promoted as providing Xbox One S-caliber graphics.
In addition to more horsepower, Apple's new iPad Pros will feature USB-C connectors rather than the Lightning connectors found in older models; this will let them support a wide array of third-party accessories and external displays. And whereas Apple chose to up the display size of its smaller iPad Pro by half an inch -- it now has an 11-inch display, albeit with similar length and width -- it kept the display size of the larger model at 12.9 inches, while reducing its form factor.
This change, together with reductions in thickness and weight, could make consumers and office workers more comfortable using the 12.9-inch iPad Pro as a "walk-around" device, rather than simply a device used while at a desk.
2. Apple Now Cares More About Having Competitive "Cheaper" PCs
Apple still has no interest in going after the low-end (sub-$500) PC market. However, with PC demand having proven more resilient than many expected -- Intel (INTC) - Get Intel Corporation (INTC) Report recently forecast the PC total addressable market (TAM) would grow this year, after having previously forecast a decline -- the company is showing more interest in targeting what might be classified as the mid-range or upper mid-range of the market than it has in recent years.
The MacBook Air, which outside of a small 2017 CPU/memory update was last refreshed in March 2015, has been fully overhauled. It now sports a retina display, Force Touch trackpad and Touch ID fingerprint sensor. It also runs on dual-core, 8th-gen, Intel Core i5 CPUs rather than 5th-gen chips, has a revamped keyboard and speakers and is now a little thinner and lighter.
The Mac Mini, which last received an update of any kind in October 2014, has also been overhauled. It now packs 4- and 6-core 8th-gen Intel desktop CPUs, supports up to 64GB and 2TB of flash storage and contains four Thunderbolt ports.
Apple's Mac revenue and unit shipments were down 5% and 13%, respectively, year-over-year in the June quarter (we'll know the September quarter numbers on Thursday). The new hardware should provide a boost to December quarter sales.
3. Prices Continue Moving Higher
The iPhone isn't the only product for which Apple is charging more for newer devices relative to comparable prior-gen models. Whereas the old MacBook Air started at $999, the new one starts at $1,199. And whereas the prior-gen Mac Mini started at $499, the new one starts at $799.
Likewise, the new 11-inch and 12.9-inch iPad Pros have respective starting prices of $799 and $999, up from the $649 and $799 starting prices assigned to last year's Pro models. Apple is, however, still selling the 10.5-inch iPad Pro at its old price, and (though its specs are pretty antiquated at this point) also still selling the $999 version of the old MacBook Air.
Much as it has with its flagship iPhones, Apple is wagering its strong customer loyalty and ecosystem stickiness, together with the large amounts of time that consumers spend using its hardware, will make consumers comfortable paying more for its newest hardware when it's time to upgrade.
4. Apple's Mac Co-Processor Keeps Getting More Powerful
Back in 2016, Apple launched MacBook Pros that featured a co-processor known as the T1. Among other things, it handled fingerprint encryption and powered the OLED Touch Bars founds on some MacBook Pro models. An in 2017, Apple launched Macs featuring its T2 co-processor, which added new encryption, secure boot, audio controller, camera image-processing and solid-state drive (SSD) controller functions.
The T2 chip found inside the new Mac Mini can also handle video encoding based on the popular HEVC standard. Apple claims the T2 can help the new Mini transcode HEVC video up to 30 times faster than its predecessor.
Back in April, Bloomberg reported that Apple plans to launch Macs powered by its own processors (rather than Intel's) as soon as 2020. Clearly, the company's willingness to have its T-series co-processors take over more and more functions traditionally handled by a PC's CPU will continue to fuel speculation about Apple's chip plans for its desktops and notebooks.
5. The Mac Installed Base Continues to Grow
Tim Cook disclosed that the Mac active installed base has topped 100 million systems, up from 80 million as of mid-2014. He added that 51% of Mac sales are to first-time buyers, and that the figure is 76% in China.
The disclosures come about nine months after Apple announced that its total active device installed base has reached 1.3 billion, up from 1 billion as of early 2016.
There are some parallels here with the iPhone, which has also been seeing healthy installed base growth in spite of subdued unit sales growth. In each case, the stats suggest Apple is seeing lengthening hardware upgrade cycles among existing users, but also growing the number of active users it can monetize via services and cross-selling other Apple hardware.