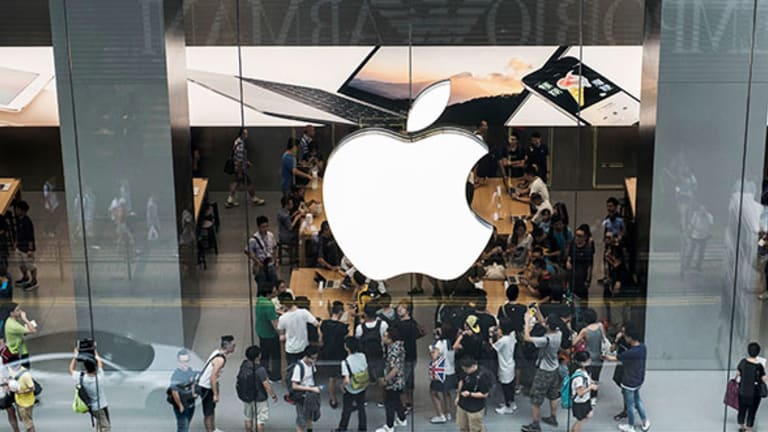 Apple Launches CareKit Apps
The Cupertino, Calif.-based tech giant adds CareKit to its existing line of health apps.
Want help managing your depression? You can turn to your iPhone. Need assistance in controlling diabetes? The App Store has you covered. And need help tracking your pregnancy? Don't worry, smartphone app developers have your back.
Apple   (AAPL)  on Thursday announced the launch of four apps created with CareKit, an open-source software that allows developers to produce apps to help iPhone and Apple Watch users manage their myriad conditions. The Cupertino, Calif.-based tech giant is making CareKit available to all developers.
The new software adds to the HealthKit and ResearchKit. HealthKit, which Apple launched in June 2014, lets developers use iPhone sensors to pick up certain health metrics. ResearchKit, which Apple released in March 2015, lets developers build apps to let medical researchers gather data more frequently and accurately from participants. 
"[CareKit is] more of an extension from the HealthKit offering that they have out there," Angelo Zino, an S&P Global Market Intelligence analyst, said. "This is more of an extension toward the physician and the actual patients. This still in its early stages. Apple has identified the healthcare industry as an area they want to penetrate more into."
The company hopes to build on what it says was a successful launch of the ReserachKit.
"We're thrilled with the profound impact ResearchKit has already had," Jeff Williams, Apple's COO said in a March statement announcing the CareKit software, "on the pace and scale of conducting medical research, and have realized that many of the same principles could help with individual care."
One app released Thursday will aid diabetes patients, developed with New York-based diabetes management platform operator One Drop. Two others by Glow, which uses data to track personal health, will help track pregnancies, Glow Nurture, and in the first year of parenting, Glow Baby. A fourth app, developed by Iodine, helps users manage depressions. Developed by Iodine, another app helps users with their depression.
"We believe that giving individuals the tools to understand what is happening with their health is incredibly powerful," Williams said in the statement, "and apps designed using CareKit make this a reality by empowering people to take a more active role in their care."
"When you look at CareKit, HealthKit, the whole focus is to continue to grow that ecosystem and just have more offerings out there and have the best possibilities for consumers out there," Zino said.
Apple's website also announced other apps that include one developed with Houston's Texas Medical Center to help patients recover post-surgery and a second created with New York's Beth Israel Deaconess Medical Center to help individuals manage chronic conditions.
The apps developed could help the company, which reported its first-ever drop in iPhone sales Tuesday when it announced its second-quarter earnings, retain users." 
"This creates more 'stickiness' and further enhances the ecosystem," Zino said. "Think about it: if you have diabetes, you are able to monitor that via your Apple devices. If you have all that information plugged into your Apple ecosystem, it becomes more difficult to leave because you have all that data in the gadget."
One medical professional sees the potential for these apps, even if it may be slow to materialize.
"This platform is about the future no doubt about," Arthur Caplan, director of medical ethics at the NYU School of Medicine, said, adding though "there's not going to be a sales boost tomorrow morning."
"[Healthcare] is not right now a field where the doctors are waiting for the next big app," Caplan continued. "Many come begrudgingly into the digital age. We've only seen a shift to electronic medical records recently."