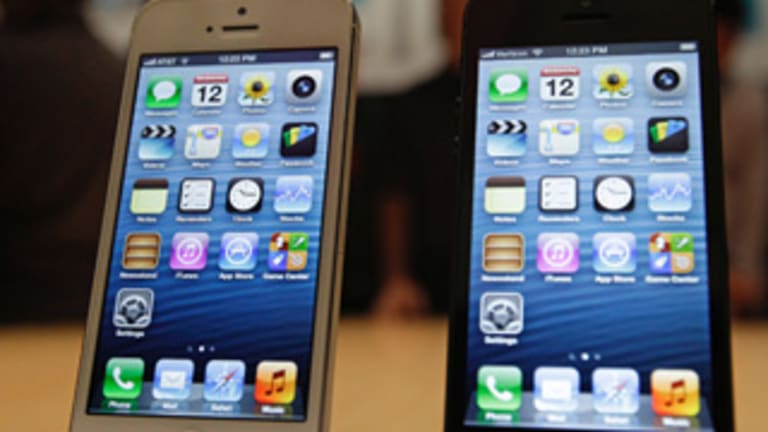 Apple Just Released Another 'Cheap iPhone'
You can score deals on iPhone 4 and 4S. And now, via T-Mobile, Apple offers another less expensive iPhone 5 option.
NEW YORK (TheStreet) -- On Tuesday, I confused the math. My bad. Thanks to readers for pointing it out in the comments section of the above-linked article.
My
mea culpa
aside,
T-Mobile will finally offer Apple's (AAPL) - Get Free Report iPhone 5
. And it's pulling out all the stops marketing-wise to convince customers it's different than traditional wireless carriers.
Also see: 8 Ways to be Frugal on Easter
Let's break this story down into three sections: Implications for T-Mobile and Apple and then a rerun of the math to see if you really get a better deal by ditching the big three.
T-Mobile
To be clear, other than adding iPhone to its stable, this is nothing new for T-Mobile. It's basically looping the iPhone into the mix with the smartphones it already offers. As I'll detail in the math section, that's merely a "no-contract," pay-almost-full-price-for-your-device installment plan.
Absolutely excellent marketing, but probably less of a game changer than I initially thought. But that doesn't mean this isn't a big deal.
Apple
This shakes up the industry in a significant way. Apple's acceptance of T-Mobile's installment plan signals yet another shift in the way the company does business. I have to think that before Apple signs off on giving T-Mobile iPhone, it approves how it will be presented and sold to the consumer.
Make no mistake about it -- alongside existing deals on iPhone 4 and 4S -- this is the 'cheap iPhone' we have been hearing rumors about. Or at least it better be. Because
a "cheap iPhone" would be absolutely awful news for Apple
.
So if Apple is going to go "cheap," it might as well do it in a way that will not impact its margins much, if at all. I presume T-Mobile pays Apple the same way every other carrier does, except the "un-carrier" will make back that upfront cost direct from the installment plan, not via monthly usage charges.
Also see: Cramer Greets the 21st Century: Uber
This represents a compromise by Apple, but it definitely will not dilute its brand image like offering a $100 or $200 phone made of plastic would.
The Math
So here's the math, as compared to buying an iPhone 5 via
Verizon
(VZ) - Get Free Report
.
For the phone, you pay Verizon $199. That's it. With T-Mobile, you put $99 down and pay $20 each month over 24 months, bringing the total cost of the device to $579.
For a one-line plan with 2GB of data and unlimited voice and text, you'll pay $100 a month on Verizon ($40 for the line and $60 for the data plan) and $80 a month with T-Mobile ($50 for unlimited talk/text, $10 for the 2GB data plan and $20 a month for the smartphone).
Total cost for the plan over two years on Verizon equals $2,400 plus $199 up front for an iPhone 5. You're looking at $2,599.
Total cost for the plan over two years at T-Mobile comes to $1,920 plus the $99 iPhone 5 down payment. That comes to $2019.
Total savings: $580 at T-Mobile over Verizon.
And, of course, at the end of two years, you have paid for your phone and no longer have to shell out $20 a month. It's reasonable to believe, however, that that's not much of a perk for most of us who prefer -- and quite possibly require -- a new phone at least every couple years.
Also see: 9 Dumb Mortgage Moves
While it sounds great to say you have no contract, you, in effect, do. You're on an installment plan for the phone. You make the down payment of $99 and then you owe T-Mobile $480 for the iPhone 5 it sold you.
Want to skip out early, you need to pay off the remaining installments. So, how is this not a contract? From that perspective, it's hardly any different than the predicament you're in with Verizon,
AT&T
(T) - Get Free Report
or
Sprint
(S) - Get Free Report
. Granted, if you bail from a traditional contract, you'll pay more.
As much as I hate to admit it, I recently escaped from an AT&T three-line contract with roughly one year remaining. That set me back $647.32. That's quite a bit more than the $220 you would pay to get out of your
it's not really a contract
with T-Mobile after one year.
If T-Mobile improves its network by expanding 4G LTE (
and fast
because there's nothing like the experience I have daily with Verizon's 4G LTE) and comes through with a trade-in/resale program so users have versatile upgrade options, this news could really change the game.
At this point, however, T-Mobile does save you money, but it's still a contract and the experience won't be quite the same -- warts and all -- as it is with AT&T, Verizon or Sprint.
--
Written by Rocco Pendola in Santa Monica, Calif.
Rocco Pendola is
TheStreet's
Director of Social Media. Pendola's daily contributions to
TheStreet
frequently appear on
CNBC
and at various top online properties, such as
Forbes
.