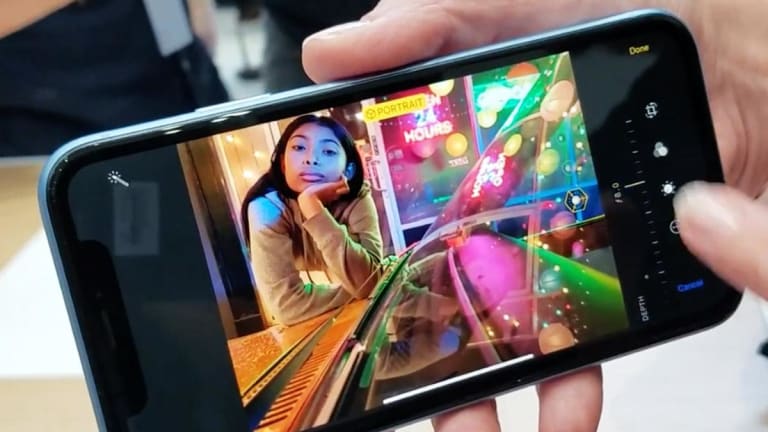 Apple Seems to Be Responding Aggressively to the iPhone XR's Soft Start
The tech giant is reportedly offering iPhone XR subsidies to Japanese carriers and resuming iPhone X production. All of that suggests its 2019 iPhone launch strategy could be quite different.
It doesn't look like Apple (AAPL) - Get Apple Inc. Report is waiting until next September to respond to the iPhone XR's softer-than-expected debut.
This raises the odds that next year's iPhone launches will go differently than this year's. And it also raises the possibility that Apple's chip and component suppliers, many of which have seen their shares fall sharply in recent months, will get a sales boost from the measures that Apple is reportedly taking to boost near-term iPhone sales.
Over the weekend, The Wall Street Journal reported that Apple has begun offering iPhone XR subsidies to carriers in Japan, where its smartphone share has been estimated to be near 50%. Not long afterwards, top Japanese carrier NTT DoCoMo cut the price of the XR ($749 U.S. starting price) by about $100, when purchased with a 2-year contract.
Also reported by the WSJ: Apple, which had discontinued the iPhone X after launching the XS and XS Max, has resumed producing last year's flagship phone. Sources note that Apple has a history of selling certain older iPhone models in select markets, and also that the company is trying to make good on OLED panel purchase obligations made to Samsung.
Apple is a holding in Jim Cramer's Action Alerts PLUS member club. Want to be alerted before Jim Cramer buys or sells AAPL? Learn more now.
Apple's shares, which had fallen over 20% this month, rose 1.4% on Monday amid a 2.1% gain for the Nasdaq. However, shares have given back their gains in after-hours trading after President Trump stated in an interview that a 10% tariff could be placed on Chinese iPhone imports.
The WSJ's iPhone report comes after a slew of reports stating Apple has cut production orders for the iPhone XR, with some also signaling smaller production cuts for the iPhone XS and XS Max. They also follow sales warnings from iPhone suppliers such as Lumentum (LITE) - Get Lumentum Holdings Inc. Report , Qorvo  (QRVO) - Get Qorvo Inc. Report and Austria's AMS that came within three weeks of the XR's late-October launch, and news that top Apple contract manufacturer Foxconn plans $2.9 billion worth of 2019 cost cuts as it contends with (in its words) "a very difficult and competitive year."
As others have noted, there are some parallels between the iPhone XR's consumer reception and the reception granted to the iPhone 5C back in 2013. Just as the XR has an inferior display and rear camera relative to the XS and XS Max, the 5C had an inferior processor and cameras relative to the iPhone 5S, which launched at the same time. And just as the XR has an aluminum frame rather than the stainless steel frame possessed by the XS and also lacks 3D Touch support, the 5C had a plastic body rather than the aluminum body sported by the 5S and lacked its costlier sibling's Touch ID fingerprint sensor.
While the iPhone 5S sold well, the 5C underwhelmed. Apple didn't launch a successor to the 5C the following year, when it rolled out the highly popular iPhone 6 and 6 Plus. The 16GB and 32GB versions of the 5C were discontinued at that time, while an 8GB version was kept around until Sep. 2015, when the iPhone 6S and 6S Plus launched.
Perhaps the big takeaway from both the iPhone XR and 5C's debuts is that when Apple launches new flagship iPhones, it's better off continuing to sell the prior year's flagship iPhones at a moderate discount rather than trying to launch a new, cheaper iPhone that features notable hardware compromises. Things like display quality, camera quality and build materials matter a lot to high-end phone buyers. And in one or more of these respects, both the XR and 5C came up short not just relative to the new flagship phones that launched around the same time as them, but also relative to the flagship phones that had launched a year earlier.
On that note, the fact that Apple has reportedly restarted iPhone X production just two months after discontinuing the phone, and just a month after the XR began reaching consumers' hands, is certainly eye-opening. Though it remains to be seen just how many iPhone X units Apple orders, and in which markets they're sold, selling the phone at a starting price of, say, $849 or $899, in a handful of large markets would likely provide a sales lift.
There's some risk, of course, that bringing back the iPhone X at a discount could dent sales of the iPhone XS ($999 U.S. starting price), whose looks are almost identical to the X's. However, the fact that the XS has a superior processor and cameras, as well as a somewhat better display and battery life, should keep a lid on cannibalization. Meanwhile, consumers who have their hearts set on buying the 6.5-inch XS Max ($1,099 U.S. starting price) are unlikely to settle for a 5.8-inch phone.
Apple's shares, already beaten up on iPhone sales worries, now trade for just 13 times the company's fiscal 2019 (ends in Sep. 2019) GAAP EPS consensus, and about 11 times that consensus after backing out Apple's net cash. Considering everything that Apple still has going for it, that feels like an excessive selloff for sales challenges that seem to be caused in part by a business decision that Apple could easily reverse next year, and already appears to be taking measures in response to.