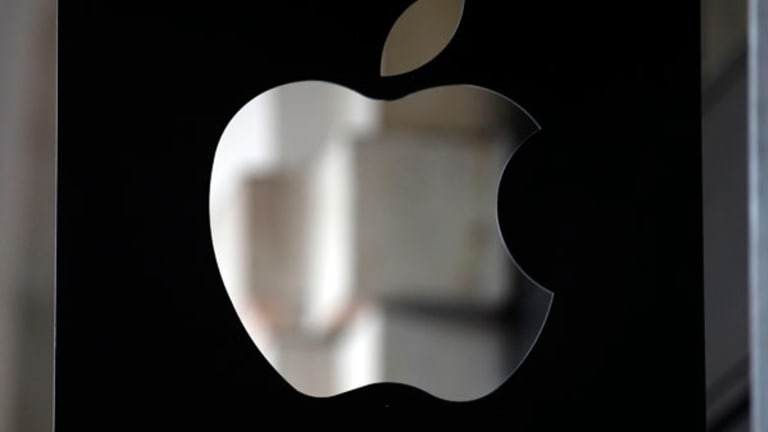 Apple Is Quietly on the Move
It's hard to imagine Apple stock getting back above $700, but the move higher may be starting again.
NEW YORK (TheStreet) -- People love to talk about Apple (AAPL) - Get Apple Inc. Report.
When the stock was above $700, everyone was talking about it. When the stock dropped below $400, everyone was talking about it.
Ever since the big stock drop earlier in the year, I notice most people talk about Apple now in a more skeptical and even negative way. It sounds almost pre-determined that Apple jumped the shark. It was once the king of the hill but now it's lost its way.
It no longer has Steve Jobs. Its margins are lower. Where's the innovation? You've heard these choruses over and over.
Yet, very quietly, Apple is now closing in on $510/share.
I can't help but be reminded of the pessimism surrounding
Facebook
(FB) - Get Meta Platforms Inc. Report
back last November in the teens. When things are bad (and good), people love to pile on. Especially in this age of
Twitter
, no one misses a chance to take a shot at a company or person when they're really down on their luck.
At the same time, when a company is getting slammed it's next to impossible to imagine it getting back on top again. If someone had told you last November -- right before the IPO lock-up expiration -- that Facebook would have a chance of getting to $60 by the end of 2013, you would have laughed in his or her face.
By the same token, today it's difficult to imagine the scenario where Apple stock gets back above $700. Yet, the move may just be starting again.
Next week, we will find out how Apple's September quarter ended up. That will include a couple of weeks of sales for the new iPhones. Based on the recent
Verizon
(VZ) - Get Verizon Communications Inc. Report
data, most are thinking that 32 million iPhones sold in the quarter is a lock and some are predicting several million more.
However, the bigger deal in the near term for the stock is how the holiday quarter shapes up. Analysts will be listening closely for indications from Tim Cook and Peter Oppenheimer and what kind of modified guidance they provide for the coming quarter -- keeping in mind that guidance is usually very conservative.
Most are also looking forward to new iPads and possibly new Macs coming out in time for the holidays. We will have the event later in the month.
But no one really has a firm hand on what will come after that. Investors don't know and therefore haven't been able to price it in. Yet, it's that unknown that could really swing the stock in the next year.
Most are expecting a new watch, a new TV and new kinds of iPhones in 2014 that probably will include bigger screens which people have been clamoring for for two years now. All of these new products should be very helpful to Apple's stock as they get announced and then digested by analysts.
At present, very few are expecting any of these new products to be the kinds of hits the initial iPad and iPhone were. It's unlikely they'll be more successful, but that doesn't mean they still won't be huge and have a material impact on Apple's stock price.
Then there's the chance that we could have a completely new product or products no one has got wind of yet. I'd estimate there's about a 50% chance of at least one totally new product in 2014.
Beyond that, investors can look forward to the possibility of increased stock buybacks at a faster pace than anyone is expecting, which isn't unreasonable with Carl Icahn hanging around.
There's also a new head of retail and online -- Angela Ahrendts from
Burberry
-- for the first time really since Ron Johnson quit a few years ago. Hopefully, that will also start to pay dividends in 2014.
The bottom line is stocks often start their move upwards when the whole story is not yet clear. We don't have the full picture on how things are going to play out for Apple yet in 2014.
Yet, the stock has made a strong 10% move in the last month while the U.S. government threatened to drive off a cliff. I think $600 next year seems a very safe bet from here.
At the time of publication the author was long AAPL and FB.
This article was written by an independent contributor, separate from TheStreet's regular news coverage.
Eric Jackson is founder and Managing Member of Ironfire Capital and the general partner and investment manager of Ironfire Capital US Fund LP and Ironfire Capital International Fund, Ltd. In January 2007, Jackson started the world's first Internet-based campaign to increase shareholder value at Yahoo!, leading to a change in CEOs in 2007. He also spoke out in favor of Yahoo!'s accepting Microsoft's buyout offer in 2008. Global Proxy Watch named Jackson as one of its 10 "Stars" who positively influenced international corporate governance and shareowner value in 2007.
Prior to founding Ironfire Capital, Jackson was President and CEO of Jackson Leadership Systems, Inc., a leadership, strategy, and governance consulting firm. He completed his Ph.D. in the Management Department at the Columbia University Graduate School of Business in New York, with a specialization in Strategic Management and Corporate Governance, and holds a B.A. from McGill University.
He was previously Vice President of Strategy and Business Development at VoiceGenie Technologies, a software firm now owned by Alcatel-Lucent. In 2004, Jackson founded the Young Patrons' Circle at the Royal Ontario Museum in Toronto, which is now the second-largest social and philanthropic group of its kind in North America, raising $500,000 annually for the museum. You can follow Jackson on Twitter at www.twitter.com/ericjackson or @ericjackson.
You can contact Eric by emailing him at Dr.eric.jackson@me.com.