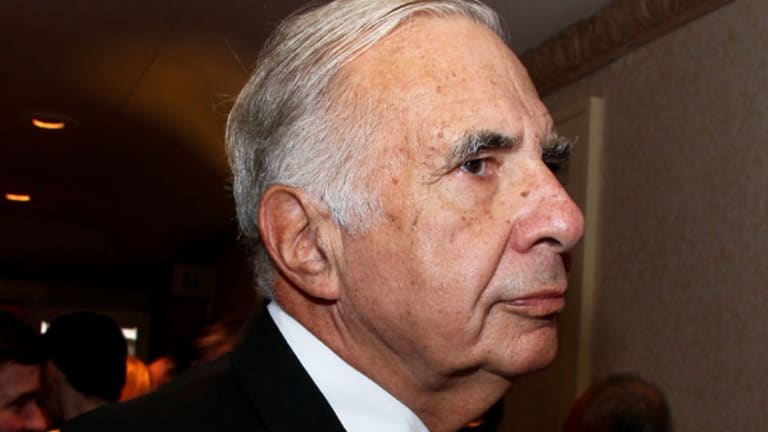 Apple: Is Carl Icahn Acting Unethically?
The billionaire investor receives access to Apple few of us could ever obtain, but nobody wants to question it.
NEW YORK (TheStreet) -- Pardon me while I reiterate two points I made Friday in Is Tim Cook Certifiably Inane?
Refer to that article to see Carl Icahn's Tweet about plans for dinner with
Apple
(AAPL) - Get Apple Inc. Report
CEO Tim Cook. At this dinner, according to Icahn, the billionaire will learn about the "magnitude" of Apple's stock buyback. Tim Cook's puppet strings have already been pulled -- by Icahn and David Einhorn -- now it's just a question of how far he's willing to go.
This has nothing to do with Apple's eventual success or failure. In
my recent articles
, I have rhetoricized the possibilities in that regard -- along a crowded spectrum from positive to negative -- six ways to Sunday. Make no mistake -- Apple remains best in breed; whether or not it can stay that way nobody knows.
Point One
If Carl Icahn Tweeted he was short AAPL because he thought Tim Cook was no brighter than Bill Ackman and the stock cratered 40 points, there would be a line of people calling not only for Icahn's head, but demanding something be done about market "manipulation" by "scumbag" shorts.
I guess that's the human condition. All is fair in love and war. When you blow the enemy's head off, it's all good. But if they're coming for you, they crossed the line of morality you scribbled in the sand.
Point Two
And this is the immediately more important one because it doesn't deal with a hypothetical.
When does wielding your power cross the line?
I recognize there's nothing illegal about Carl Icahn tweeting his love for Apple, announcing a position in the stock and watching it fly. After all, he owned AAPL long before he posted the tweet. However, ethical issues, not all involving legality, do rise.
Why did Icahn join Twitter? Nobody except the man himself can answer that question. People join and leave Twitter every day, so, in and of itself, it's really not a big deal. However, a logical man could speculate that he joined to serve his own interests. Is this just being one heck of an opportunist or something worse?
I don't know.
You buy a stock. You know your own strength. You use your Twitter account to make an announcement you know will drive the shares ... instantly. Again, nothing technically wrong with that I guess, but the impact is, arguably, greater taking the Twitter route than merely letting the SEC paperwork run its course.
As
Netflix
(NFLX) - Get Netflix Inc. Report
CEO Reed Hastings proved, for better or worse, we live in different times with different ways to communicate the same old flavors of news. It's tough to get crazy over anybody -- from Icahn to Hastings -- using social media to relay information and, if they even considered it, move a market.
The more interesting question, however, considers this dinner Icahn will have with Cook. He is long the stock. It appears that, by his own admission, he will receive, in some fashion, material information about Apple, specifically the "magnitude" of the company's buyback, that will not have been released to the public. Otherwise, what's the point of talking?
And what's material? Cook telling Icahn Apple will consider increasing the buyback. Or Cook telling him they will. Or something more implicit, such as
Carl, you and I have the same goals
or
We see eye-to-eye, brother man
.
Is this, in and of itself, illegal? I'm not 100% sure. Is it unethical? I think you can reasonably make that case.
Most of us do not have this type of access. By the same token, most of us do not have as massive a position in our entire portfolio (though my contract prohibits me from owning individual stocks other than
TheStreet
(TST) - Get TheStreet, Inc. Report
), let alone one stock, as Icahn does in AAPL. So does this reality automatically grant him such an incredible advantage? One that is not available to the rest of the public.
Again. Very debatable.
Let's just riff here.
You own AAPL. You set up a dinner with Tim Cook. He, as it sounds like will happen with Icahn in September, discusses with you details about the "magnitude" of Apple's stock buyback. You walk away with a much better sense -- and maybe even specifics -- about the subject.
Maybe you don't buy any more AAPL. However, the components of the meal, beyond the escargot, influenced you one way or the other. On the basis of whether you liked or disliked the contents of your non-public -- as far as we know -- discourse with Cook, you can feel more comfortable about your time frame in the stock,
vis-à-vis
when to hold 'em or when to fold 'em.
Is this perfectly cool with market regulators and such? A private conversation between a billionaire with a gigantic position in AAPL and the company's CEO. Would it be better if they webcast the pow-wow so we could all see how it goes down and what's being said?
More riffing -- you decide you're going to add to your position because you really liked what Tim Cook had to say. This really would enter borderline territory. Every time I have seen a company introduce a buyback or, as could be the case here, increase the size of it, it triggers a public announcement.
Apple did this when it initially decided to go ahead with a dividend and buyback in a March 19, 2013
.
Now, I'm not to proud to admit, I'm a young guy. I have only 20 years or so worth of experience paying attention to this stuff. Not nearly as long as the 77-year old Icahn. And, quite honestly, the rules that sort of, kind of govern this type of thing aren't really all that clearcut. I'm not even certain rules that specifically address exactly what I'm talking about exist.
I just need some help on this. I mean if Icahn was short AAPL there would be no shortage of opinions blazing across
TheStreet
and the entire financial media every second of every day about his ethics, intentions, morality or legality of what he is or isn't doing.
But he's long. The stock's up so there's not a whole ton of discourse surrounding billionaires having, at least, a perceived unfair advantage over the lowly, work-a-day rank-and-file retail investor.
This is a lot like protecting free speech. You can't cherry pick. Agree or disagree with the speech, it's best to be consistent about protecting it. Long or short, it's unsettling that so many of us are willing to give in to a double standard for billionaires who can move stocks with a tweet and influence CEOs on the phone or over dinner.
--
Written by Rocco Pendola in Santa Monica, Calif.
Rocco Pendola is a columnist and
TheStreet's
Director of Social Media. Pendola makes frequent appearances on national television networks such as
CNN
and
CNBC
as well as
TheStreet TV
. Whenever possible, Pendola uses hockey, Springsteen or Southern California references in his work. He lives in Santa Monica.